In a business environment that has seen industries decimated by the rise of digital, one sector showing resilience is that of books.
"Books are not like recorded music," says Shaun Symonds, general manager of Nielsen Bookscan.
If anything, the total global market for books is growing, as confirmed in research by PwC and others: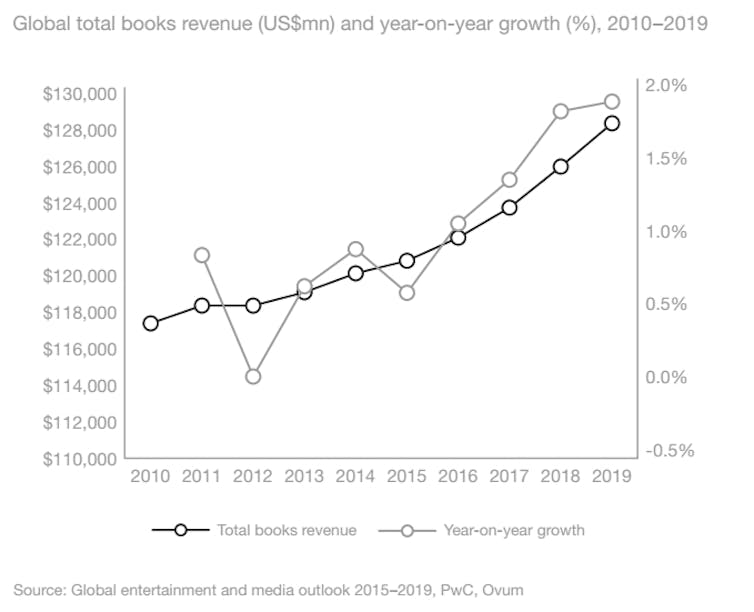 If you adjust for the effects of the closure of major book chains such as Borders there is in fact only one or two years of decline in sales volume over the last decade in most major markets. Every other year including the most recent year's figures reflect a modest year-on-year growth in total books (including eBooks) sold on the year before.
That's not to say there's not been significant disruption and consolidation in the industry. A large part of the highest-value highest-margin segments of the business such as hardback fiction are steadily migrating to eBook and online fulfilment. And of course the rise of online pure-play booksellers such as Amazon, Flipcart and The Book Depository has meant a new level of global competition for local independent bookstores and chains alike.
The migration to eBooks has meant the total dollar value of books sold has declined but the profitibility of some publishers has actually increased as they've removed a lot of their printing, wharehousing and distribution costs. A growing source of the industries profits are from eBooks at analysis by Bain shows.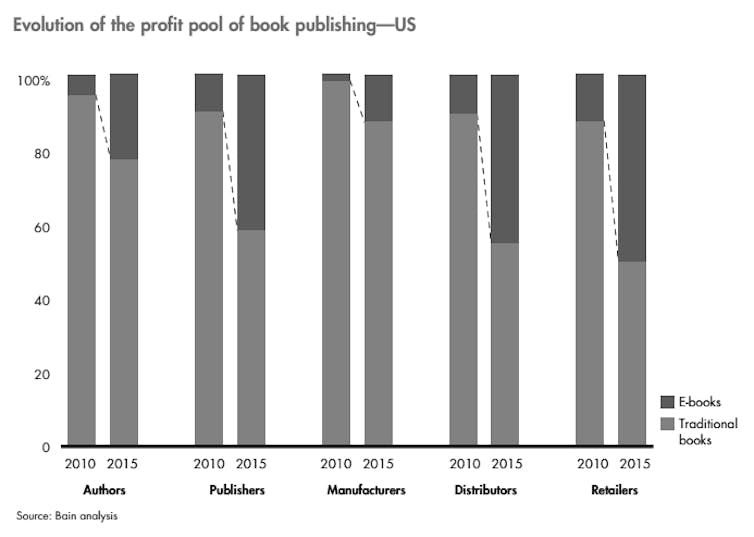 On the retail front while some bookshops have not managed to survive this last decade, many have held on. And some are thriving and flourishing - delighting their customers in ways only they know how. And being remembered for it.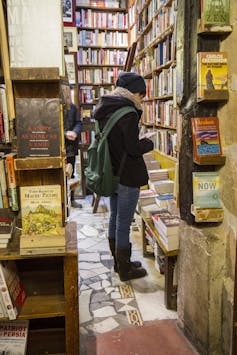 In an economy increasingly governed by attention, the need for companies and retailers to have their brands recognised and remembered has never been greater. Being forgotten is one of the greatest clear and present dangers in the global, web-connected and digital economy.
Using web data it's possible to measure the collective visibility of today's leading bookstores from around the world.
Towards a global Top 40
Novelist & co-creator of kids TV series Hi-5 Posie Graeme-Evans recently wrote about her Top 10 Favourite Bookstores.
What if you could find out who everyone's favourite bookstores were, around the world? And what if this list included all the legendary independent stores like Shakespeare and Company in Paris, as well as online bookstores like Amazon and bookstore chains like Waterstones, Barnes & Nobles and Dymocks. Using large scale data collections from the web, I set about doing this.
The Top 40 Bookstores list is based on how many people think about these stores and how often.
Perhaps not surprisingly online stores lead the list with Amazon.com followed by the online goliath Flipkart of India just ahead of the world's largest bookstore chain Barnes & Noble. France's giant cultural and electronics retailing chain Fnac is fourth with the UK's largest bookstore chain Waterstones rounding out the top five.
What may come as a surprise is leading independent single stores or small chains including Shakespeare and Company (Paris); Powells (Portland) and City Lights (San Francisco) all feature in the top 20.
Here is the list in full:
World's Top Bookstores 2015
Ranked by Bookstore Mind Share 1.01; Paul X McCarthy, June 2015
The methodology
To create the Top 40 I created a "Bookstore Mind Share" (BMS index) derived from web data such as global visits to each bookseller's Wikipedia page. This approach is a proxy for popularity or notoriety. I then standardised the results to allow comparisons across categories and across the world. As the BMS is based on the English-language web it is mainly representative of English-language countries and English-language bookstores but interestingly still includes bookstores in Korea and Brazil.
By using a standard measures across global web platforms like Wikipedia traffic data, Google Books N-Gram and Google search term frequency you can create interesting and fascinating comparisons that span across time and geography.
Another example of this type of web data use is the MIT Media Lab's Pantheon project where you can browse rankings of many people across history from ancient times to today including:
This is an experimental data project and I would encourage readers to comment or make suggestions for improvements or additions.