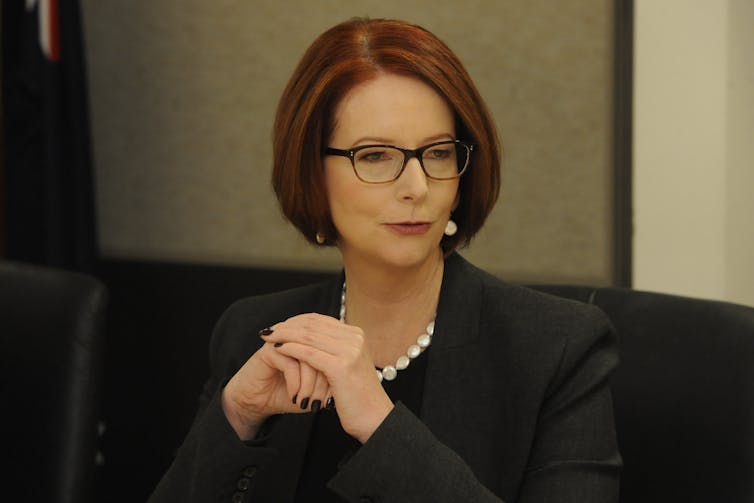 Julia Gillard has been hit by another bad poll at the start of the crucial final week of parliament, with Newspoll showing the ALP primary vote at 29%, down one point, and Tony Abbott widening the gap to have a 12 point lead as better prime minister – 45% to 33%.
This is the first time since July last year – when the carbon tax started - that Labor's primary vote has been below 30% in Newspoll, published in The Australian. Labor also was on 29% in last week's Nielsen poll.
Abbott's lead as better PM is his largest ever over Gillard in Newspoll.
Despite the consistently bad polls, Kevin Rudd appears to be cornered, as memories flood back of that night, three years ago today, when Julia Gillard and her supporters knifed him.
Unless something unforeseen happens and assuming Gillard holds her nerve, if Rudd wants to reclaim the prize that was snatched away the onus will be on him to try to grab it.
The leadership is not going to be handed to him in some consensus fashion.
Either Rudd decides to front up and challenge or before week's end, he concludes the numbers are not there and backs off, claiming he was never trying in the first place.
It's one thing for Rudd supporters to tell journalists he has the numbers (although Ruddites claim the Gillard forces said this); it's another to be sure when the time comes for a ballot. To run and lose would look pretty bad.
There is also that awkward categoric declaration from March – when Rudd said he would never be leader again. Messy to explain away.
It wouldn't matter if he were drafted but it would be complicated if he were challenging. It would just demonstrate that he was as duplicitous as the rest of them.
If Rudd decided the risk and the costs were not worth it - that he would inherit a divided party and probably do badly at the election – and retreated, he'd have to wear the odium of having caused a lot of trouble for no result.
He could plead that he had done nothing, that he had said he wouldn't be leader again - but it wouldn't wash.
He might be seen in the long term as the person who could have saved the furniture but in the short term colleagues would be angry – both the Rudd supporters who had tried to get momentum going again and the Gillard supporters who had had to cope with the destabilisation.
As crunch time approaches ministers have been prodded and goading Rudd. They are not trying to avoid the subject any more.
Senate leader Stephen Conroy said today that "I don't believe she will be stepping down. If it's to be brought to a head, well Kevin Rudd will have to decide to challenge". He said he would not serve in a Rudd cabinet.
Defence Minister Stephen Smith said: "None of the cabinet colleagues I've spoken to are proposing to tap [Gillard] on the shoulder. … If someone wants to disturb the current arrangements, they need to so something about it". He said he took Rudd at his word that he would not challenge.
On Friday Resources Minister Gary Gray said: "I genuinely think that if Kevin Rudd wishes to challenge, he should do so. He should stop this confusion and the mumbling and the mumbo jumbo. He should test his level of support or he should get on with the campaign to ensure Labor's vote is as strong as it can be".
Climate Minister Greg Combet had already said earlier in the week: "If he has got the support he's suggesting it's available to him to make a challenge".
Key power broker Bill Shorten again pledged support to Gillard on Friday. The Rudd camp always casts doubt on whether Shorten really means it but the symbolism of his saying it is what matters.
Sources in the Rudd camp were sounding slightly concerned at their situation today.
But the battle continued, particularly via The Sunday Telegraph. The paper carried an interview with Rudd's daughter Jessica, in which she said "We've moved on as a family". Really.
It also reported that if Rudd were leader the ALP could be better off by $6 million (the amount extra in public funding the ALP would get if Rudd lifted the vote to 40%).
A third article, headed Rats in the Ranks, reported Rudd supporters were accusing Combet of "hinting to intermediaries he would not stand in the way of a Rudd return, while maintaining public support for the Prime Minister". "It's all crap," Combet told the paper, plus a couple more colourful words.
Players are not pulling their punches at the moment, or even minding their language.