It began as a joke. Niamatullah, deported exactly a year ago from Denmark, had at last found a cousin in Kabul. This cousin, well-known in the community, suggested Niamatullah keep him company while he visited various dignitaries. As an April Fool prank, he told one of the provincial council candidates they visited that Niamatullah could deliver 30 votes. An hour later, Niamatullah's phone rang. It was the candidate telling him to come back to his office. Niamatullah was ushered to the nearest butcher and 3kgs of the best lamb were selected and handed over as a "gift".
A few days earlier, I was sitting with an Afghan National Security Forces (ANSF) commander when his phone rang. After a brief conversation, he hung up looking puzzled. Then a slow smile crept over his face. He looked at me and grinned. "I am going to have good dinner tonight at the expense of one of the candidates. I wasn't sure what he wanted from me, but of course … they want me to tell my men to vote for him."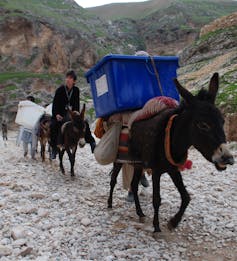 This is how politics is traditionally done in Afghanistan – and no doubt many votes will be delivered in this way this time round. But what is interesting in these cases is that, though the "gifts" were accepted, in both cases, the recipients will not deliver. This younger generation want their leaders to earn, not buy their votes. Both are in their late 20s and both feel a certain contempt for this way of doing business, though there are marked differences between the two men.
A hard-won right
The commander is Pashtun, a man who leads from the front and is respected by his own men and the members of ISAF with whom he works. He has been trained abroad and returned willingly to Afghanistan. He is determined not only that the elections will take place, and that a new president will be legitimately elected, but that he and his men will contribute to the construction of a stable, peaceful Afghanistan.
The commander said that at dinner he would agree to whatever was required (it would be difficult to refuse politely) but that he would tell his men to vote for whoever they wanted so long as they voted. As he put it: "Why would we risk our lives to protect this process, only to spit on it by selling our votes for a plate of Qabli Pilau?"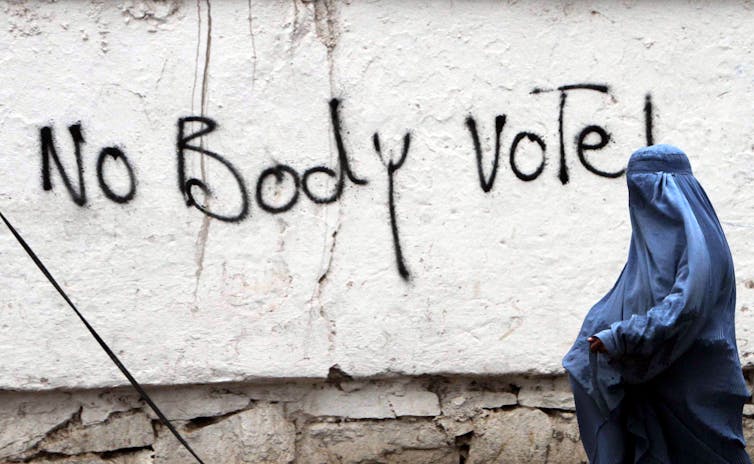 Cynicism widespread
Niamatullah is Hazara and shares a single room with three others who have been deported from Scandinavian countries. Like them, he has no work and no income. They rely on the odd day of labouring and on money sent from family members abroad. So he was delighted to bring home 3kgs of meat and last night they cooked and ate until they couldn't move, enjoying the joke played on the candidate.
Niamatullah's room is beside a registration centre in Karte Seh, and queuing for the card and watching others queue had passed the time for him. He told me he had noticed one old man who had come every day for 10 consecutive days trying get registered.
On the 10th day, Niamatullah had asked him where he was travelling from, and on hearing that the old man had paid 20 AFN – the local currency, Afghan Afghani – (US$0.35) each wasted day to come from the far side of Dashti Barchi, the Hazara area, he remonstrated with the old man that he should have spent those 200 Afs on his family instead.
The old man replied that it was his right and his responsibility to vote. Niamatullah scoffed: "Responsibility? Do you think that if Abdullah Abdullah or Zalmai Rassoul or Ashraf Ghani get elected they will let you cross the threshold of their office? You will not be able to get into any one of those ministries. They will kick you out. They don't care about Hazara."
I pointed out that each of those candidates had a Hazara running mate. But Niamatullah wouldn't be appeased: "Habiba Sarabi is okay but she is weak, she can't defend us. Mohaqiq and Sarwar Danish, Khalili's man, are thieves and criminals – they have done nothing for us."
Habiba Sarabi was the governor of Bamyan, and is the only woman vice-presidential candidate. Mohaqiq and Khalili are Hazara warlords and, given the uncertainty of today's Afghanistan, many Hazara, especially those who lived through the civil war and the Taliban period, prefer to have a "strong" and experienced leader in government. They are prepared to overlook the bloodstained hands of these vice-presidential candidates in the hope that they will be able to protect the Hazara after the foreign troops withdraw.
But not all Hazara feel this way. Unlike many Hazara in the cities, Niamatullah has not benefited from the educational and employment opportunities available to that ethnic group in the past 10 years. He feels keenly the discrimination that many continue to face. So he won't vote for anyone – certainly not the man who was stupid enough to hand over 3kgs of lamb for 30 non-existant votes. Instead, he is looking for a way to leave again.