For you. You'll soon. You'll give her name. In the stitches of her skin she'll wear your say.
The foundational challenge of Eimear McBride's novel is plainly visible in its opening lines, above: the incomplete sentences; the repetition and verbal accumulation; the elision and substitution of grammatical units.
A Girl is a Half-Formed Thing has been credited with creating its own literary style, the author anointed a genius, awarded the Baileys Women's Prize for Fiction and accorded a plinth in the Irish pantheon. But are such breathless compliments justified, or are they symptoms of reviewers' initial vertigo getting the better of their critical judgement?
Looking again at those first lines – and this is a novel that demands much pausing and rereading – the main ingredients of its story are subtly installed and its narrative mode established.
The protagonist and narrator is the unnamed "girl" of the title, and she deals entirely in pronouns or generic kinship terms (mother, aunt, friend). She speaks to and about her older brother, alluding to their mother's preferential treatment of him.
Twin narrative strands explore how his childhood brain tumour slowly returns and eventually kills him in early adulthood, reflected through the prism of the narrator's sexual awakening and the deadly consequences of her life experiences.
The book's title alludes to the threat of violence implied in this anti-bildungsroman: the narrator's first sexual experience at 13 is a deeply ambiguous account of molestation at the hands of her uncle, and her subsequent pursuit of anonymous sex becomes increasingly violent and wilfully degrading.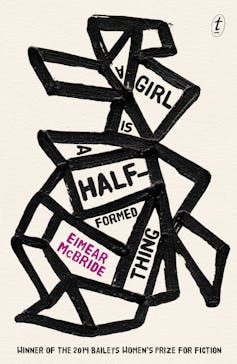 Her intense anti-rational self-awareness is embedded in the fragmentary narration, which, in spite of its remarkable consistency across the novel, devolves into garbled verbiage during the most violent sexual encounter.
McBride's narrative of trauma also negotiates the burdens of Irish literary, religious and cultural history. The narrator frequently draws upon the poetry of Yeats (especially, at pivotal points, The Wild Swans at Coole and The Stolen Child), and her ubiquitous use of the present tense recalls Beckett's trauma-monologue Not I (an incessant stream of broken words and phrases spoken by an anonymous female mouth).
The greatest direct debt to Beckett is to his late experimental prose text, Worstward Ho, cited at least a dozen times in McBride's novel, by my count, and evident everywhere in the devolution of language and its role in creating and de-creating a narrative world.
There are traces of John Banville's The Sea (a "touched" brother and "knowing" sister, precocious sexuality, ambiguous suicide, literary gauze clouding direct narration), and the fixation upon detritus and garbage towards the novel's end fits well with the imagistic predilections of Ireland's poets of the Troubles, such as Ciaran Carson, Tom Paulin and Paul Muldoon.
McBride's novel, as it attempts to come to terms with the male Irish literary canon, stakes its claim in an incredibly rich vein of Irish women's writing.
An early review cannily likened A Girl is a Half-Formed Thing to Edna O'Brien's first novel, The Country Girls (1960), with its then-scandalous focus on female sexuality and the agonistics of early adulthood under the long shadow of the Catholic Church (prayer appears in whole or in fragments throughout McBride's novel).
The narrator's self-sabotaging refusal to accept a conventional social identity sees her entrenched in isolation and alienation, a surprising reminder of Lois, the singular, arrested protagonist of Elizabeth Bowen's The Last September (1929).
Other more recent Irish portraits of marginalised women asserting a self-immolating power over their fates include the tinker Hester Swane in Marina Carr's play By the Bog of Cats (1998), and, in counterpoint, Nuala Ní Dhomhnaill's poetry revels in seizing the potency of unrepressed sexual expression (Annunciations, The Unfaithful Wife).
Yet the prominent theme of increasingly violent sex, sought out in Dublin bars or in anonymous dogging episodes near the hometown lake, remains deeply ambiguous: is this a product of her adolescent molestation by her uncle? Or is it an amplified expression of her apparent collusion in her initial sexual experience?
Is it a way of dealing with family trauma – a lost father, a hostile religious hypocrite mother, a dying brother – or else a means by which to negate the pain of agency and identity? Here I think the narrative's conclusion may offer a way through.
The narrator's eventual drowning (echoing Kate Chopin's shattering novella The Awakening in the open question of suicide) is entirely predictable: she is dragged under by her failure to coalesce an identity sufficiently resilient to the burdens of her experience.
But only a page or so from the end she refers to Lir, the personification of the sea in Irish mythology, as she drowns. Lir's wife Aoife turns his children into swans in a fit of jealousy, and they are released from this curse only on Saint Patrick's conversion of the Irish people.
McBride's experiment reaches back into the archaic and the incoherent: it is not so much an expression of genius as of ungenius, a dismantling of the scaffolding of thought, of culture and the Church, expressing instead the profundity of fragmentation and psychological disrepair.
For her narrator there is no way out, no exit. In order to articulate anguish a meremost minimum is required of language and narration: the novel's end is not a capitulation to literary forces but a profound recognition of the powers submerged beneath them.
A Girl is a Half-Formed Thing, by Eimear McBride, is published by Text Publishing.