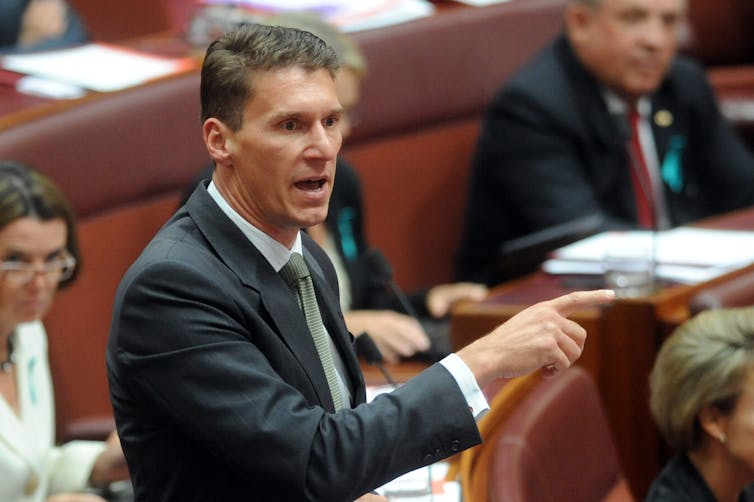 As Liberal MP Ewen Jones walked out of the Coalition parties meeting, Tony Abbott gave him a pat on the back and some praise. "Well said," the PM told the Queensland backbencher.
Jones had just delivered a strong defence of non-traditional families, after right wing South Australian senator Cory Bernardi commended a weekend article by Social Services Minister Kevin Andrews.
Andrews' article stressed the importance of keeping marriages together and defended the government providing couples with a $200 voucher for marriage and relationship counselling.
It quoted Barack Obama's statistics about the risks for children who grew up without a father (although Andrews wrote that this was not to criticise single parents "who often do a heroic job in very difficult circumstances").
Reading from the article, Bernardi joked that such references were fraught with danger, adding that "if you get enough of these dangerous ideas you can put them in a book". In his controversial The Conservative Revolution published a few months ago Bernardi wrote that "it's clear that married heterosexual parents are the best role models for children".
The Bernardi speech prompted Jones to jump up. He said he had a relative in a gay relationship and he himself had been a single parent. A good family was one where the child was loved, he said, adding in comments outside the party room that it was "not up to a senator from South Australia with no constituency" to be the judge of family structure.
After Jones's speech Abbott intervened to tell the meeting: "We need to be as supportive as possible of people regardless of their circumstances."
Later Abbott's gay sister Christine Forster chipped in to the fray via Twitter, endorsing a tweet that said it had been an excellent slap down of Bernardi by his colleagues. "Couldn't agree with you more", she tweeted.
Forster told The Conversation that Bernardi's view on families didn't represent mainstream Australian or mainstream Liberal opinion, and should not be the view of elected federal Liberals. "Loving same sex or sole parent families are every bit as successful as traditional nuclear families," she said.
In the scheme of things, the Jones/Bernardi clash was a small frisson.
But as it played out it threw up a contrast between Abbott and his Liberal prime ministerial predecessor John Howard. Can anyone imagine Howard telling Jones "well said"?
It also raises the question of whether Abbott's opposition to same sex marriage is now rather more a formality than a deep personal belief.
As a strong Catholic he will never vote for gay marriage. But it may be that the influence of his sister has worn away at the strength of his conviction on the subject. It has certainly educated him in the reality that these can be very loving relationships and well-functioning family units.
Not that he wants the gay marriage issue to come to parliament.
Labor's deputy Tanya Plibersek is attempting to find a Liberal co-sponsor for her marriage equality bill. She has said that "the introduction of the bill will be contingent on Tony Abbott allowing his MPs a conscience vote."
The question of a free vote on the Liberal side, which Abbott has said would be up to the party room, would divide his troops.
If a bill reached parliament and there was a free vote for Liberals, he would then have to decide whether to push his personal view on colleagues or stand above the battle. It's a dilemma he'd prefer not to face.
For her part, Forster says that it is "extremely important a bill only goes before Parliament again when it has the best chance of success".
Listen to the new Politics with Michelle Grattan podcast with Communications Minister Malcolm Turnbull here.