Chinese President Xi Jinping and US President Donald Trump will meet for the first time at Trump's opulent Mar-a-Lago golf resort in Florida on April 6-7. There's no indication yet that they will discuss Africa. But both major powers have extensive and often complementary interests that are of benefit to the continent.
A familiar list of more intractable economic and security issues will likely be on the table. It could be a positive counterpoint if both Beijing and Washington affirm a willingness to explore trilateral cooperation with African governments.
Trump has shown little awareness so far of the history of cooperation between China, the US and Africa. He also seems unaware of the extraordinary degree of bi-partisan support for US engagement in Africa and Sino-American cooperation. But if he's the consummate dealmaker he purports to be then low risk, high returns of greater US-China-Africa cooperation should be irresistible.
Xi would have to take the lead. He has a much deeper knowledge of African affairs than Trump and has travelled extensively on the continent. Last year he co-chaired the Sixth Forum on China-Africa Cooperation with South African President Jacob Zuma. He's also able to draw on assessments that have already been done of key areas where practical and mutually beneficial cooperation among China, the US and Africa has occurred or could be beneficial.
History of co-operation
It's been several years since Xi's then special representative on African affairs Zhong Jinhua and US Special Envoy to Sudan and South Sudan Princeton Lyman began informally discussing African issues of mutual concern. They were, at the time, working to resolve the Sudan crises. This work continued later under the auspices of the independent Carter Centre in Atlanta. Zhong and Lyman, who is Special Advisor to the President of the US Institute for Peace, also served as their nation's ambassadors to South Africa.
Mohamed Ibn Chambas, a distinguished Ghanaian lawyer, diplomat, academic, and currently special representative of the UN Secretary-General and Head of the UN Office for West Africa and the Sahel, is the other coequal African partner in this exploration.
On March 3 Chambas, Lyman, Zhong and Carter Centre Associate Director John Goodman published the project's initial report. It concludes that Africans, Americans, and Chinese agree on five broad goals:
Economic growth and development

Combating disease

Mitigating conflict

Enhancing political stability

Fighting violent extremism and organised crime.
Economic growth and development may be the least promising area for immediate practical steps in trilateral cooperation. But the report cites numerous examples of progress in the other areas.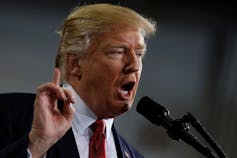 For instance, since 2010 China and the US have coordinated efforts in a larger multilateral effort to eliminate piracy off the Horn of Africa. The report also envisions growing opportunities for trilateral cooperation to ensure greater maritime security in the Gulf of Guinea. This includes, as the report explains, applying antipiracy lessons learned in the successful Gulf of Aden antipiracy campaign.
An inter-regional cooperation centre called for in the "Yaounde Code of Conduct" is a promising partner for China and US assistance. The code was drawn up by 22 central and west African states to protect the region's waters. It was subsequently endorsed at the African Union Summit in Lome, Togo.
The code urges that a forum among these states should regularly share information about maritime activities. This could possibly evolve into a cooperation centre, similar to one that exists for states with interests in the Gulf of Aden.
The trilateral report also suggests extending intra-regional security cooperation north of the Gulf of Guinea. This would address the extremist threats posed by organisations causing havoc across the region – among them al Qaeda in the Islamic Maghreb, Ansar Dine and Boko Haram. China and the US are already separately rendering counter-terrorism assistance to African governments. Greater coordination will be needed in this realm, too.
And the report recommends that China and the US to provide greater support for the AU's goal to end the continent's wars by 2020.
It's been difficult for both Washington and Beijing to share information to avoid duplication and facilitate effectiveness. Mutual suspicions run deep. These have been exacerbated by Trump's rhetoric and incoherent policies. And his recent budget proposals would cut US support for critical programs vital for Africa and in areas where Sino-US cooperation could be vital.
Ironically, US policies toward Africa and China have enjoyed exceptional bi-partisan support in Congress and successive US Presidents for decades. Trump's renunciation of America's commitment to cooperate with China and other nations to mitigate climate change and help Africa adapt would be especially damaging.
But there are conflict and security issues that Trump appears willing to invest in. These are highlighted in the report. And although Trump proposes deep cuts for international health, China and the US worked quickly and effectively in helping Africans overcome the deadly 2014 Ebola crisis in West Africa, before it spread abroad – including to the US.
Let's hope Xi at least nudges Trump in the direction of cooperation. If managed correctly, it could greatly benefit all three parties.