From the perspective of the global north, Australia has always been an oddity. Its policies often seem as strange and inexplicable as its fauna. "They are strange those Australians, strangers to the world," a reader commented last year on an article about Australia's "PNG solution" for dealing with asylum seekers arriving by boat that appeared in the French newspaper Le Monde.
Even the experts are puzzled. In June, the High Commissioner for Refugees, Antonio Guterres, said Australia was in a "very strange situation" when it came to asylum policy.
As if the former Rudd government's decision to let Papua New Guinea house and process asylum seekers rescued by the Australian navy was not strange enough, Tony Abbott's government has recently pioneered two new "solutions".
Earlier this month, 41 asylum seekers from a boat originating in Sri Lanka were handed over to the authorities of the country they had fled. As immigration minister Scott Morrison later confided to a sympathetic shock jock, their claims were assessed while they were already "on the way back".
Upon their return home, they were charged with departing Sri Lanka illegally – much like so-called Republikflüchtlinge in pre-1989 East Germany. Contrary to Article 13(2) of the Universal Declaration of Human Rights, Sri Lankan authorities prosecute people who leave the country without official permission.
The 41 Sri Lankans had not intended to seek asylum in Australia. Perhaps knowing only too well that Australia has adopted a hardline approach to irregular migrants arriving by boat, they had hoped to reach New Zealand. Had they made it to their destination, they may of course not have fared all that much better, as New Zealanders have also been anxious about irregular boat arrivals, even though they have not yet experienced any thus far.
We do not yet know the exact terms of Morrison's second innovative "solution". We do know that a second boat with 153 Sri Lankan asylum seekers on board was intercepted in late June less than 24 nautical miles from Christmas Island. All its passengers are being held in prison-like conditions on an Australian customs or navy vessel, pending the outcome of proceedings in the High Court.
Commentators in Australia and elsewhere have rightly pointed out that the government's asylum seeker policies are strange, if not bizarre. For good reason, the United Nations High Commissioner for Refugees (UNHCR) has publicly voiced its concern about the manner in which the 41 asylum seekers were processed and returned to Sri Lanka. Even the New York Times has weighed into the debate and criticised Australia's "draconian measures".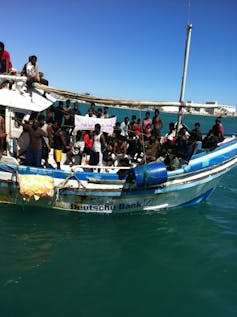 That the New York Times deemed Morrison's "solutions" worthy of an editorial was widely noted in Australia and cited by many government critics. "World media boil over", the Age reported.
A perverse pride seems to inform such reports. It is as if some Australian media outlets were trying to say that Australia's asylum seeker policies are appalling, but at least they are in the limelight of the world's media. The pride does not seem to be affected by the fact that often international media outlets merely regurgitate news items and commentary that are produced in Australia.
Such pride also ignores the international context within which international media such as the New York Times and Le Monde report Australia's policies. And that is where Australia's asylum seeker debate is truly strange.
In Australia, one could be forgiven for thinking that the arrival of "boat people" is a purely domestic problem, and that its contours are defined by the outcome of decisions made by the High Court, debates in parliament or opinion polls.
According to the UNHCR, at the end of 2012 (the last year for which data are available), more than 45 million people were displaced. The tendency is rising. In 2013, more than 600,000 people lodged asylum applications in industrialised countries, twice as many as in 2006.
In the United States, since last October alone, more than 50,000 unaccompanied children and teenagers from countries such as Honduras, El Salvador and Guatemala have crossed the Mexican–US border without a visa and applied for asylum. Many of them are fleeing violence.
In 2013, only 1669 of them were deported. The resources of the agencies dealing with the young people from Central America are stretched. US president Barack Obama is considering changes to a 2008 law that has provided greater legal protections for so-called unaccompanied alien minors.
Italy expects that more than 100,000 "boat people" will have landed on its shores by the end of 2014. With the backing of the EU, Italy launched Operation "Mare Nostrum" in 2013. Its decision came in response to the drowning of hundreds of asylum seekers on their way from the North African coast to Lampedusa and Sicily. Rather than turning boats around, the Italian navy and coast guard rescue "boat people" and take them ashore in Italy.
In Europe, too, the dramatic increase of irregular arrivals has exhausted the capacities of many local governments and voluntary organisations, not just in Italy. It has led to calls, particularly in France and Britain, to refuse entry to asylum seekers.
Both in the United States and in Europe attempts to refuse entry to or deter prospective asylum seekers by legislative means may be populist and, in many quarters, popular. However, plans for punitive measures similar to those implemented in Australia would face stiff opposition.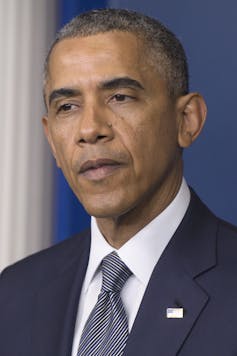 In the United States, Obama has to contend with senior Democrats who are opposed to a weakening of protection for under-age asylum seekers. In Europe, German president Joachim Gauck has joined Pope Francis in calling for solidarity with irregular migrants.
The debates about how to respond to irregular migrants that are taking place in the United States and in Europe may help Australians to see issues in perspective. Australia is not the only industrialised country dealing with asylum seekers. The challenges Australia faces are no more daunting than those experienced elsewhere.
More importantly, the debates in Europe and North America demonstrate that displacement and irregular migration are global phenomena. Australia's policies, as well as the debates about these policies, must appear strange to outsiders because they are particularly parochial.
Reporting what the New York Times says about the Abbott government's asylum seeker policies hardly adds an international dimension to Australia's discussions. An in-depth engagement with so-called push factors, such as human rights violations in Sri Lanka, with the situation of Tamil refugees in India, or with the response to the increasing number of people seeking refuge from conflict and persecution in the United States and in Europe, would.