Finally for this quick burst of ATNIX updates to inaugurate the new column, let's move on to week 36 – frankly, a pretty average week, as we'll see in a minute. In fact, as overall patterns go, you'd be hard-pressed to see any significant differences between the news sharing patterns for this week and the previous one!
ATNIX Week 36: 3-9 Sep. 2012
Week 36 is also a very quiet one – only some 128,000 links to Australian news sites were shared on Twitter this week, compared to the 142,000 in week 35 and the whopping 160,000 the week before that. Towards the end of the year, we'll have a look at the weekly cycles of activity, I think – and I wouldn't be at all surprised if we'd see some longer-term ebbs and flows in news attention over that timeframe. The distribution of attention across our major sites also matches that from last week almost exactly, give or take a rounded percentage point here or there – the top ten sites are placed exactly as they were.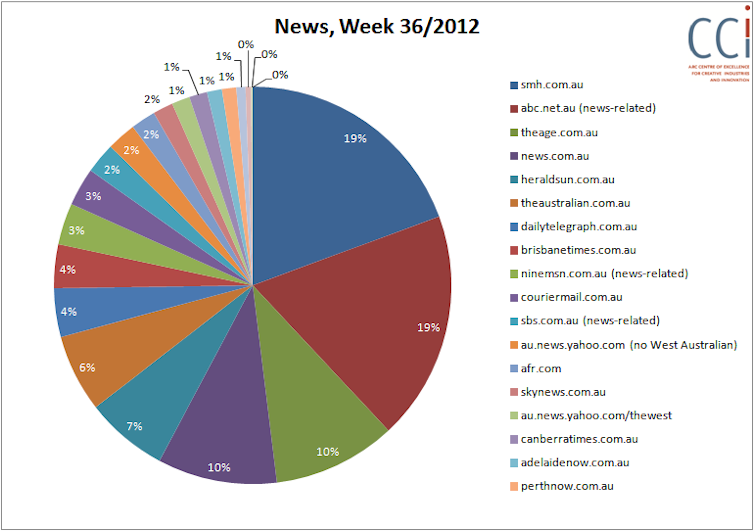 The amount of links to opinion and commentary sites and sections has also shrunken (from 18,800 to 15,700), and at least here there's a bit more movement on the leaderboard. The Conversation regains its customary second place, leapfrogging The Age's opinion section, and New Matilda has an especially good week (in fifth place); ABC The Drum (or more precisely, abc.net.au/unleashed URLs) drops well out of the top five, by contrast.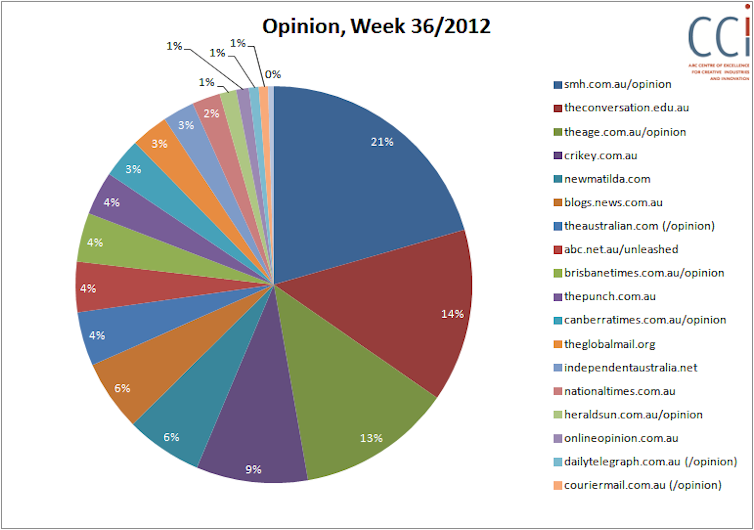 On to the daily results, then. For the news sites, there's nothing much to see here: much as last week, a clear illustration of the standard attention patterns (strong at the start of the week, then steadily dropping off towards the weekend), though it's notable that the Sydney Morning Herald hasn't been able to maintain its somewhat stronger weekend position (boosted by the weekend magazine's feature articles, I'd wager) this time around.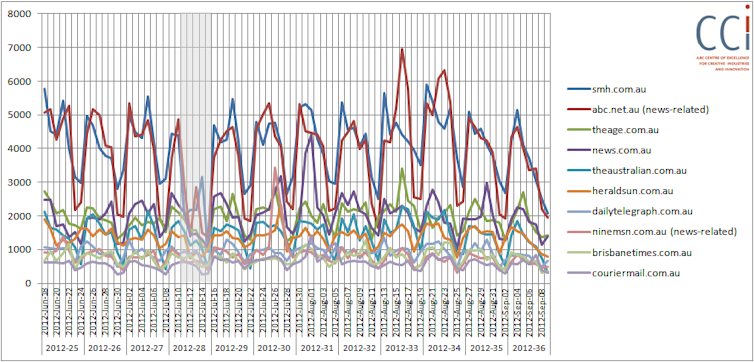 Amidst the overall steady-as-she-goes patterns, there is a smallish spike in numbers for The Age, though: its piece on the latest salvo in the Australian 'Christian' Lobby's ugly campaign against same-sex marriage was shared some 530 times. Looking at the comments made by users sharing the Age article, let's just say that this particular demonstration of fundamentalist rhetoric did not find many supporters on Twitter. At all.
As far as the daily opinion and commentary sharing patterns are concerned, it's difficult to speak of spikes in activity when for the most part, that activity remained at or below the long-term average.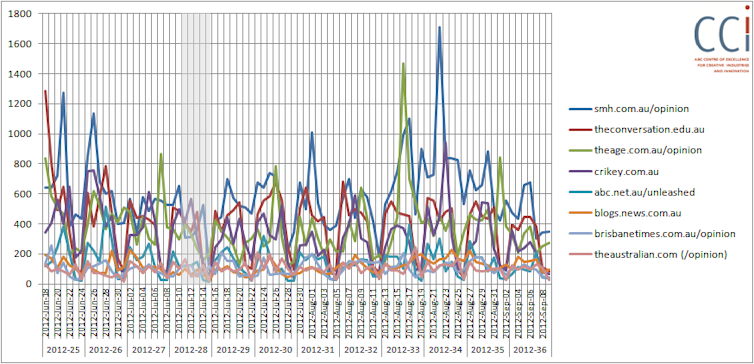 But for what it's worth, the small rise in activity around the Sydney Moring Herald opinion section is due largely to an article about Malcolm Turnbull's call for more honesty in Australian politics, which received some 165 tweets sharing it during 5 and 6 Sep.; another piece, on the question of whether the Prime Minister should attend an ACL function after the organisation's repeated outbursts against homosexuality, received another 50-odd links.
Finally – not pictured on the graph above (as it's not normally a leading opinion site on Twitter), New Matilda scored a major hit (by its standards) with an interview with Noam Chomsky about Julian Assange that was shared nearly 200 times on 4 Sep. (accounting for more than half of all links to New Matilda being shared on Twitter that day). We're back in very familiar territory here, of course – stories about Assange have regularly generated large spikes in Twitter sharing for Australian news and opinion sites in the past, as the international WikiLeaks and Assange supporter community picks them up and passes them on. That day, New Matilda briefly became the second most shared Australian opinion site on Twitter, thanks to this single story.
But we should note, again, that that's against the backdrop of a very slow news week. Let's see if next week picks up a bit…
Standard background information: this analysis is based on tracking all tweets which contain links pointing to the URLs of a large selection of leading Australian news and opinion sites. For technical reasons, it does not contain 'button' retweets, but manual retweets ("RT @user …") are included. Datasets for those sites which cover more than just news and opinion (abc.net.au, sbs.com.au, ninemsn.com.au) are filtered to exclude irrelevant sections of those sites (e.g. abc.net.au/tv, catchup.ninemsn.com.au). For our analysis of 'opinion' link sharing, we include only those sub-sections of mainstream sites which contain opinion and commentary (e.g. abc.net.au/unleashed, articles on theaustralian.com.au which include '/opinion' in the URL), and compare them with dedicated opinion and commentary sites.
See the posts tagged 'ATNIX' at Mapping Online Publics for a full collection of previous results.