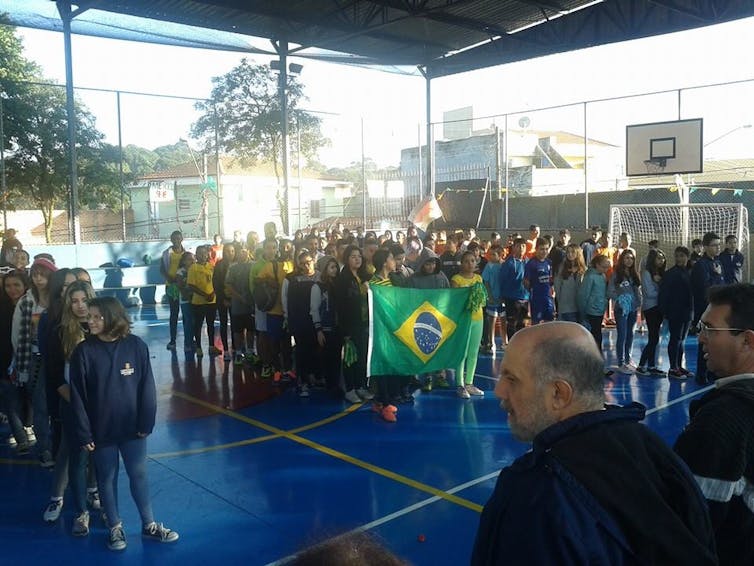 Miriam Balicas is a Brazilian citizen who lives and works in the southern hemisphere's largest city – São Paulo. As with many other Brazilians in the lead-up to the World Cup, she was very upset with Brazil and the tournament. She saw and felt that the average Brazilian urban resident's life conditions were becoming harder, leading to an explosive social situation on the streets. She became very concerned.
However, Miriam, who has been teaching for 23 years, is a very committed physical education teacher within Sao Paulo's public educational system. Despite her bitter feelings towards the World Cup, she thought her students had the right to enjoy the tournament. She could appreciate how her students (aged between 11 and 15) were excited about having international football stars that they could only see in their sticker albums in their own country.
Accordingly, Miriam's lessons in the last few months incorporated the World Cup and all the potential themes that it mobilises.
Brazil is a large country with more than 200 million inhabitants, hence its enormous education system. According to the 2012 national educational statistics, there are nearly 193,000 schools, where more than 50 million students are enrolled in the basic compulsory education years – years one to nine.
84% of students attend public schools, and 16% are in private schools. Municipality schools account for the majority of the public school enrolments (about 60%); Brazilian state schools account for 37% of public school enrolment, while just a few attend federal public schools.
Having every Brazilian child enrolled in a school was one of the major aims of the national education system during the 1990s and the 2000s. In addition to the basic aim of education universal access – which is yet to be realised, as 3% of all Brazilian children still do not attend any school – Brazil's educational system currently faces another challenge: achieving quality education as a right for every student in the public system.
It's within this context that the pedagogical practices that Miriam implemented within her school must be understood. In Miriam's view, the World Cup represented a chance to involve her students in a quality and authentic learning process that would help them to engage with their schooling process, and therefore support them to aim for further progress in their studies.
New buildings, disruptions, stadiums, incessant media coverage: Miriam knew how the World Cup invaded every sphere of her and her students' lives. She realised that she should bring these daily issues and challenges presented by the World Cup to her school from the streets and mediate their understanding with her students.
Then, Miriam engaged the students in a cultural-sporting tournament called 'mini-World Cup'. Apparently, there were no big novelties. Children studied the World Cup countries' cultures and traditions, while playing an 'international' football tournament. It was a dialogical process where the students could think critically about each participant country's history, culture and chances in the World Cup – while having fun.
Miriam's work was highlighted on the Sao Paulo's educational department's website as evidence on how to engage students in authentic learning experiences and practices that brought 'the joy back to the school'.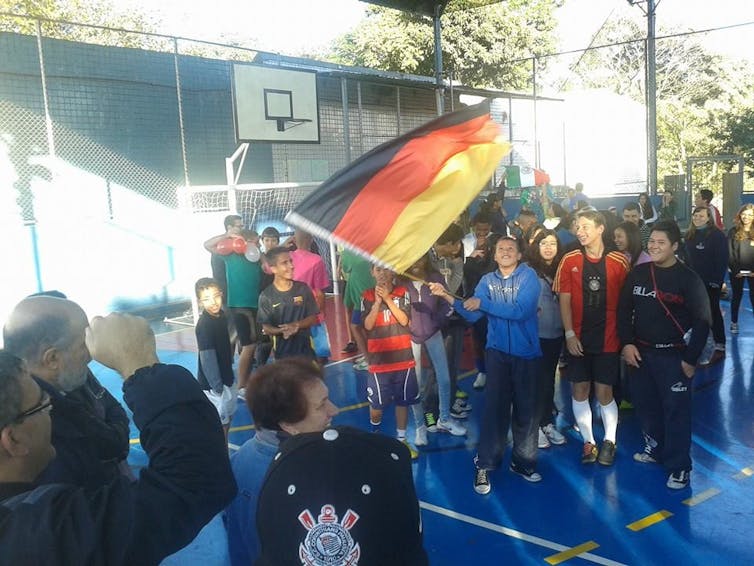 Similar to Miriam's work – but targeting high school students in a private school – is the pedagogical work of Mildred Sotero. Also an enthusiastic physical education teacher who has worked for more than 20 years in Sao Paulo's private and public educational systems. Mildred's students engaged with an education project named 'Football Art'.
As the World Cup approached, Mildred wanted her students to learn about sport and football from several perspectives. She wanted them to develop a critical view about competitive sports. As a former athlete as well as a sport consumer, she wanted to examine the connections between the sport and the entertainment industries, and how sport can be used as an oppressive tool to alienate people.
Mildred's lesson planning in the months before the event included a chance for her students to practice football and to develop their sporting skills. She not only wanted her students to deepen their understanding of the game's rules, tactics and strategies, but also to critically reflect on how the media can use sports news to manipulate ideologies and people.
Aside from being sports lovers and consumers, Mildred's aim was to develop critical citizens who could understand and even interfere in the political process of the sports realm.
To achieve these goals, Mildred used several pedagogical tools. She taught them new football skills within a game-based learning context. She saw how an inclusive, co-operative atmosphere – where the most skilful players taught the not-that-skilled ones – could positively operate to everyone's improvement. Mildred also included ballroom dancing classes in the students' activities, realising that footballers must have dancing skills if they are to achieve "football-art".
Mildred also engaged her students with several media products, and as the World Cup approached, she understood the intensity of the media coverage – knowing that they would inevitably see or read something about the tournament. Therefore, she wanted her students to be not only consuming but also critically analysing all sorts of media messages.
Weekly, each student would produce a written report about the same media channel, trying to figure out the discursive changes it produced as the World Cup approached. Politics, streets demonstrations, social disruptions: everything was on the media's radar – and on Mildred's students' radar as well.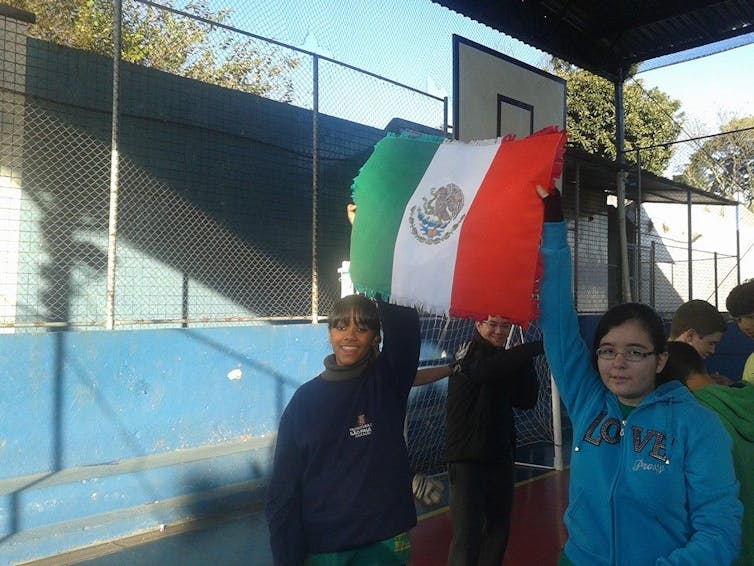 As I have previously pointed out, the World Cup has had a huge impact in Brazilians' daily lives. From minor to major interventions, the World Cup's effects will linger across Brazil longer after the 'circus' has left the country.
These World Cup legacies go much further than the tangible ones such as stadiums and airports. They have a profound cultural and political meaning for the life of the host country and its citizens. Brazil will never be the same after the 'best World Cup ever'. As Brazil progresses to the next stage of its incipient democracy, the World Cup has highlighted many of its social contradictions that urgently need solving.
Education systems must be alert and prepared to support their students with analysis and understanding of the World Cup's positive and negative effects in Brazil. New generations must learn how to live with the tournament's legacy. They have to thoughtfully consider this legacy so they can have an active voice in the future to decide whether Brazil should host the World Cup again or not.
Mildred's and Miriam's pedagogical practices are exemplary ways on how teachers, schools and education systems can use a mega sport event – which is in fact a super invasion of a country's life – to achieve one of the most difficult but key elements in contemporary education. They engaged students in their school lives to improve their social consciousness while having fun and enjoying themselves.
Could educators aim for a more commendable objective than this one?
(This post is dedicated to Mauro Betti and Patricio Casco, two of the greatest Brazilian educators)