Multiple bombshells have dropped on the recently minted Queensland Labor government. Billy Gordon, a new Labor MP, faces allegations of violence from his former partner, and revelations of property and probationary offences stemming back to the late 1980s. On Sunday, Premier Annastacia Palaszczuk moved to expel him from the party and called on him to resign his seat.
Labor, independent Speaker Peter Wellington and the Liberal National Party opposition all appear determined to force Gordon from office, which would generate a byelection in his far-north Queensland electorate of Cook. However, Gordon said he will consider his position after an eye operation on Monday, and stressed his entitlement to "natural justice". Gordon has a legal right to remain in parliament and vote, issue by issue, as an independent.
Politics trumps law for potential MPs
The federal Senate's president in the 1940s, Gordon Brown, actually "enjoyed" several stays in Brisbane's Boggo Road gaol, as a young socialist rabble-rouser. He was proud enough about that to title his memoirs My Descent from Soapbox to Senate.
But in contrast to Gordon, Brown could say his indiscretions not only had political motives, they were hardly secrets.
It's a little-known fact that a politician can be convicted while in office, and yet remain in parliament. It is little-known because, when it comes to qualifications to be a politician, politics trumps law. It is hard to imagine an MP hanging on while convicted. But the politics of these matters are a curious mix of public interest, ethics and appearances – and brute numbers.
An elected MP's right to remain in parliament is so strong that any attempt to induce their resignation is the serious crime of bribery. And any attempt, beyond harsh criticism, to intimidate them to resign is the serious parliamentary offence of contempt.
Queensland parliament, unlike the national, does retain an ancient power to expel any MP. It moved to do so in late 2013 against the LNP member for Redcliffe, Scott Driscoll, for numerous counts of knowingly misleading parliament about his pecuniary interests and outside roles. Driscoll resigned before he could be expelled. Gordon has done nothing in his admittedly short time as an MP to make him liable to parliamentary sanction.
Options for reform
All this may strike some voters as odd. Surely Gordon must go? However, Australian parliaments do not have a mechanism, as exists in parts of the United States, where citizens can "recall" an MP. This is overall a good thing, as it would be threatened and misused by parties to keep dissident MPs in line.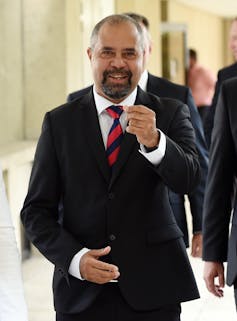 Could we restrict people from nominating for parliament in the first place? Generally, it is not a wise thing to disqualify too many people from standing for parliament. At a national level, we already exclude millions of public servants and dual citizens from standing.
Also, it is very hard to police qualifications. The electoral commission, facing snap elections – such as Queensland's earlier in 2015 – and during a short campaign, cannot be expected to do background checks.
If parliament is to represent the people, we might actually want MPs with a complete range of life experiences. If Gordon had disclosed his chequered past, he would not have been preselected. He could, perhaps, have had a friend leak some of it to the media, and played the "my past is past, look at me now" card.
Everyone has a legal right to invoke the Rehabilitation of Offenders Act. But it is not a good look for someone in public office.
Ultimately, we should let voters have as wide a choice as possible. However, it must be an informed choice. Political opponents and the media usually uncover and hound would-be MPs with skeletons in their closet.
Given Gordon's political sin is less his chequered past than not disclosing it, a reform option could be to require all candidates to make declarations on certain issues. A false declaration could then be a trigger for the MP in question to vacate their seat.