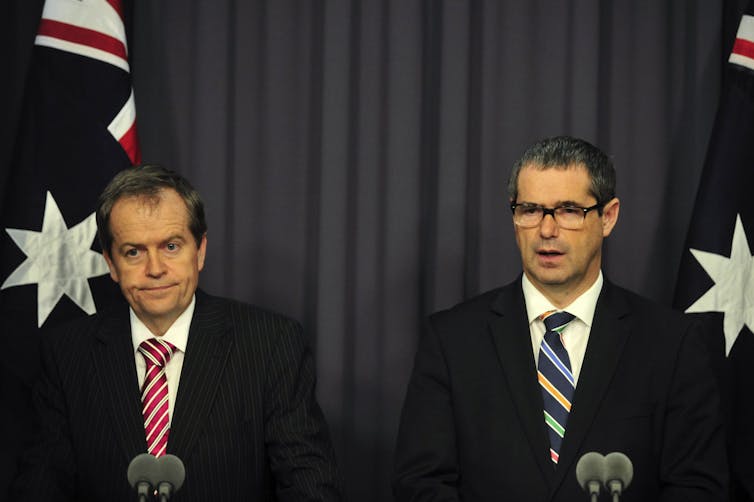 The NBN asbestos affair is, apart from being a major concern in itself, particularly bad for the government because it triggers memories of the mishandled pink batts scheme.
That's why the opposition is going all out to attempt to pin some blame on Workplace Minister Bill Shorten, despite Telstra accepting general responsibility.
Shorten in 2009 wrote three letters to Telstra about asbestos in their telecommunications pits. He was writing as an MP and responding to concerns from his old union, the AWU. As parliamentary secretary for disabilities he had no role in the area. As he summed it up today, Telstra in its responses indicated it had things under control.
The third of those letters was to Telstra CEO David Thodey, who at a meeting of stakeholders the government called in Canberra today indicated Telstra took general responsibility for issues in its infrastructure as it is prepared for the NBN rollout.
This follows recent incidents which have seen asbestos removed as part of the NBN construction without adequate safeguards.
In this letter of November 2, 2009 Shorten asked for details of pits and their removal, and went on "I would be interested to know your view about a prioritised removal program. That is, total graded removal over a period of time.
"I understand that one risk management approach to asbestos can essentially be to leave asbestos where it is until it's disturbed and then deal with it.
"Unfortunately in practice when such materials are disturbed, an organisation's employees and contractors can be exposed to fibres before it's handled in a very safe manner.
"May I suggest that a formal program of total removal would be a great legacy.
"I am sure you appreciate that there will be children not yet at work who could be harmed by this material in situ".
In his "Dear Bill" reply of December 14 2009 Thodey said that only contractors qualified to remove asbestos were engaged to do this and Telstra required them to have a safe system.
"Telstra is unaware of any of its asbestos pits finding their way into the community post-removal and we would appreciate any information you may have regarding this issue".
Responding to Shorten's suggestion of a removal plan, he wrote: "Given the low risk of in situ pits, the potential risks of removal, and the prohibitive associated costs, we do not believe that a pro-active pit removal process is justified at this time. This is particularly so given the rollout of a new fibre network by the National Broadband Network Company".
The opposition suggests that Shorten, who became Workplace Minister in 2011, with responsibility for Comcare, workplace safety and asbestos matters, should have followed up further.
"The attempt to push this all off to Telstra is frankly a lawyers argument", opposition communications spokesman Malcolm Turnbull asserted. "The big issue here is the level of awareness of the government and the amount of attention paid to this issue."
Turnbull said it was hard to understand why Shorten with knowledge of the asbestos risk in the Telstra infrastructure and a track record of being very concerned about asbestos issues "failed to raise that issue with Telstra or NBN Co after November 2009" and also apparently didn't raise it with Communications Minister Stephen Conroy.
Fingering Shorten does seem a long bow, after the assurances he had got from the very top of Telstra. NBN Co and Conroy as overseer of the company would seem ahead in the firing line, behind Telstra.
No wonder Thodey was apologetic today. He might have done well to have ensured his own 2009 assurances were being met. As a result of the recent revelations, an independent taskforce has been set up to keep an eye on Telstra's conduct to prevent exposure to asbestos.
Comcare CEO Paul O'Connor told a Senate committee that most of the asbestos-related issues in telecommunications pits recorded since the mid 1990s had been this year, and pointed to contract management systems. "What we have seen in recent weeks is an unfolding of a number of very serious apparent failures of the cascading of those contractual arrangements".
Turnbull said the contractors were under a lot of cost pressure "and I fear that with all of that pressure there hasn't been the attention to workplace safety".
Shorten accused the opposition of playing politics with the asbestos issue, which of course it was, just as the government was as well.
Labor recalled Tony Abbott's 2007 slighting of dying asbestos victim and protester Bernie Banton (Abbott apologised at the time), and made mention of deputy opposition leader's Julie Bishop's role as a solicitor in asbestos-related action involving CSR.
The government, with today's meeting, Shorten's visit to Penrith residents at the weekend, and the announcement of a national asbestos exposure register, is making every effort to reassure people who are understandably nervous, as reports of problems are coming from round the country.
Telstra has some eight million pits with up to 20% containing asbestos, although not all would be involved in the NBN rollout.
The asbestos problem adds to NSN Co's existing difficulties of a slow rollout and cost increases, and will reinforce Coalition criticism of the company's management.
Despite earlier implementation troubles Labor's NBN remains more electorally popular than the opposition's alternative – one of the few things going for the government. But the asbestos scare is potentially of a different ilk, and comes at the worst pre-election time.