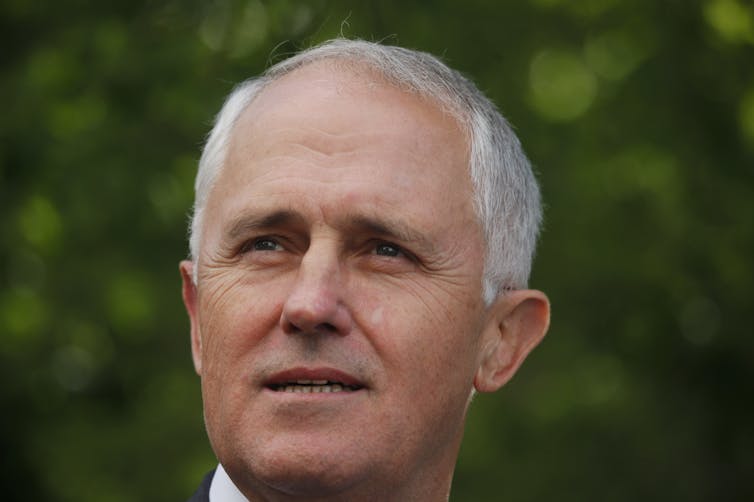 Malcolm Turnbull, who for years after the 1999 referendum defeat was reluctant to talk about a republic, has now set out a detailed blueprint for achieving the goal, including suggesting an online plebiscite for the model.
In an unusual joint appearance, Turnbull and Treasurer Wayne Swan will come together in Canberra today to back the cause, launching a collection of essays, Project Republic: Plans and Arguments for a New Australia, for which Turnbull has written a foreword.
It's a case of bipartisanship at an individual rather than party level. Tony Abbott (who's seen Turnbull's contribution) has been a leader of the anti-republicans.
The reigniting of the republic debate would not be helpful for Abbott because Liberals are split on the issue.
Division in Coalition ranks, including over the model, helped John Howard sink the 1999 push.
Swan does not want the switch to have to wait for the end of the Queen's reign, but Turnbull believes that it will have to.
While still personally committed to a model with a president selected by parliament Turnbull accepts that an elected president, the option favoured by the public in polls, could work with proper safeguards and good behaviour by early incumbents.
In a speech for today's function, Swan avoids the debate over the method of selection.
But he is much stronger in his pitch for a republic than Julia Gillard has been since becoming prime minister or her predecessor Kevin Rudd was when he was PM.
Turnbull writes that the first step in a new attempt to get a republic should be a plebiscite which doesn't just put the in-principle question but also asks whether voters believe the president should have the same powers as the governor-general, and whether he or she should be appointed by parliament in a bipartisan manner or directly elected.
"The plebiscite should ideally be more than just a set of questions with boxes for yes and no, but briefly and impartially explain the core issues".
Turnbull suggests the plebiscite be online with voting available via computers at public libraries and other places for those without internet access.
Voting should be compulsory, and some (unspecified) incentives could be offered to stimulate participation. Internet voting would allow explanatory material to be presented before the vote (making for a more decision) and would cost a fraction of a conventional ballot, Turnbull argues.
He says that initially a broad commitment needs to be secured to a process of consulting and engaging Australians.
"And then we need to ensure that all republicans agree to respect the decision, whether it is for direct or parliamentary appointment, and then to make it work so that the consequent constitutional referendum can be passed".
Swan, who will pay tribute to Turnbull for being in the "future business" says in his speech that Labor's process is consistent with that of the Australian Republican Movement, which Turnbull headed.
There should be a "two stage process", with the best model - including the method of choosing the head of state and the powers he or she would be given - determined by plebiscite, followed by a referendum.
"Personally, I strongly believe we should kick-start that formal process sooner rather than later", he says.
"In the meantime, it is the task of all of us who believe in the idea of an Australian republic to reinvigorate the national dialogue on the issue. … After a long decade or more of inertia, I believe we're ready as a nation to take this on".
Swan will tell the function: "Just as there are people who will say that the time is never right to tackle climate change, there'll always be those who will say the time is not right for an Australian head of state".
The road to an Australian republic has been a long one, without a timetable and it is long overdue for a "respectful national conversation to be renewed".
His personal answer to the question "why now" is "because as we enter the Asian Century, the right time is now".
"With the economic and political balance now shifting to our part of the world, the idea of an Australian head of state who resides in Windsor Castle outside London seems very far fetched", Swan says.
"Bringing our head of state home is an obvious and appropriate way to focus our minds on the fact that we are now an independent nation that can only succeed fully by taking full advantage of the success of our region", he says.
"This is the right time to make a big statement on the global stage also because our nation has never been more successful or envied by the other nations of the world.
"As Australia rightly and proudly takes its spot next year at the head of the table of the G20, it defies logic that we don't have an Australian at the head of our own table", Swan says.
But Turnbull writes: "This issue of timing is absolutely fundamental to the republic cause and it seems to me that the next best opportunity to create that sense of timeliness is after the end of the Queen's reign. I may be wrong about this - I hope I am and that we could become a republic earlier – but every instinct and experience of referendums tells me that the best next chance is the post-Elizabethan era".