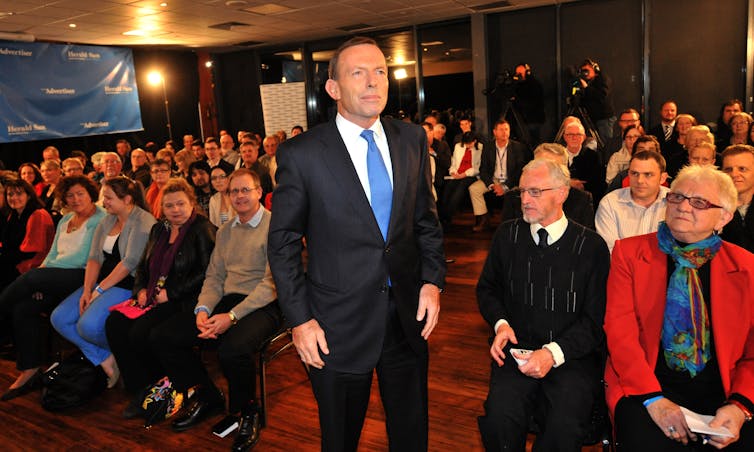 As the economic debate sharpens just weeks before the budget, Tony Abbott is pushing Kevin Rudd's 2007 mantra – "the reckless spending must stop".
Contemplating the reality that in a few months he is likely to be inheriting a big deficit, which he would then own until his government got out of it, the opposition leader is now seeking to project an image of "tough Tony".
He baulked at being cast as "Mr Austerity" in a Sky weekend interview because "I want the Australian people to have much better services than they do now", but the "reckless spending" line seemed safe enough.
Of course one person's "reckless spending" is another's responsible initiative. But leaving aside that quibble, politicians on all sides, and the public, have to consider some sobering fiscal facts which are highlighted in a new report from the Grattan Institute's CEO John Daley.
Based on an examination of federal and state budgets, it warns that they are in danger of deficits in the coming decade of 4% of GDP. This would mean governments would need to find savings and revenue increases of $60 billion a year to keep out of the red.
Government health spending has been the biggest runaway area of the last decade, growing by 74% in real terms, but contrary to much conventional wisdom, it's not the ageing of the population that is the main problem but people generally consuming more and better medical and hospital services and drugs.
Education increased by 48%, with spending on schools rising 37%.
Welfare spending grew by only one third in real terms, well under the growth in GDP; this level of restraint was largely because the total cost of unemployment payments fell in real terms.
Daley argues one would expect Australian governments should be running comfortable surpluses at this point in the mining and economic cycles, to pay back the money spent in the GFC and to create a buffer. But instead they are relying on current minerals prices remaining high to maintain deficits or thin surpluses. This is a high risk situation if mining investment and earnings slow substantially.
The messages from the paper are that in Australia's case (in contrast to European countries) demography is not destiny – rather it is the decisions that are made, and given that health, welfare and education dominate Australian government expenditure, "it will be hard to reduce future deficits without substantial reforms in these areas".
The paper argues the Australian economy now is probably as good as it will get and it is vital that we get to the job of surplus building, as a buffer against shocks and to be fair to future generations.
But both sides of politics have committed to big promises and the idea that when belt tightening is on, there will be some political losers is these days very often a no-no (as we see with the schools funding, where there is no hit list).
Abbott is now trying to talk surplus at the same time as the Coalition admits that in government it would have a deficit.
Of course it had no choice but to make that admission, albeit belatedly. The coming budget will unveil a substantial deficit. Treasurer Wayne Swan at the weekend did more softening up, saying there has been a $7.5 billion revenue write down for 2012-13 on the budget projections since the mid year review, due to the high dollar combined with lower terms of trade hitting profitability. This comes on top of a $4 billion write down in the mid year review.
With the Coalition believing it has the election in the bag, Abbott is also doing some softening up, in preparation for government.
He told a community forum in Geelong last week that a Coalition government would do some unpopular things that "hurt".
Asked on Sky about the government's tertiary education cuts – which the opposition has criticised – Abbott said: "I don't think anyone should expect those cuts to be reversed". He also said: "government is going to have to spend less… There are lots of promises that the current government will make going into the election that the Coalition simply won't match".
Asked if the total cost of Coalition promises would be less than Labor's he said: "exactly right".
But what about the issue of a surplus?
One can't make too much of the fact the Coalition is accepting it will have a deficit, given there would be no other option initially. The questions are: when would it get out of it, and how?
Abbott needs to provide a precise pathway back to surplus, setting out measures he would take and a credible timetable.
He mustn't fudge, in an attempt to minimise losers or lull people into thinking they can have it all.
This would only build up future trouble. He is also in a position of political luxury: given that the Coalition has been so consistently in a winning position, it is easier (and better for later) to be as frank as possible about what needs to be done.
He has been saying for some time that he won't run a promise-a-day election campaign. But he's also previously locked himself into unnecessarily expensive promises – his paid parental leave scheme, his direct action plan on emissions reduction – and is now stuck with such commitments.
Abbott says his position is that "we need to get back to surplus as quickly as possible."
If lighting a road back will be a test for Abbott, the same applies to Swan, whose numbers from 2015 have now been hit by the situation with the European carbon price, to which the Australian scheme is to be linked in a couple of years.
Labor faces tougher choices and less room to manoeuvre than Abbott. Its whole attempt to save seats is based on plans that spend a lot of money and, given its electoral situation, alienating too many "losers" is not a politically attractive option.