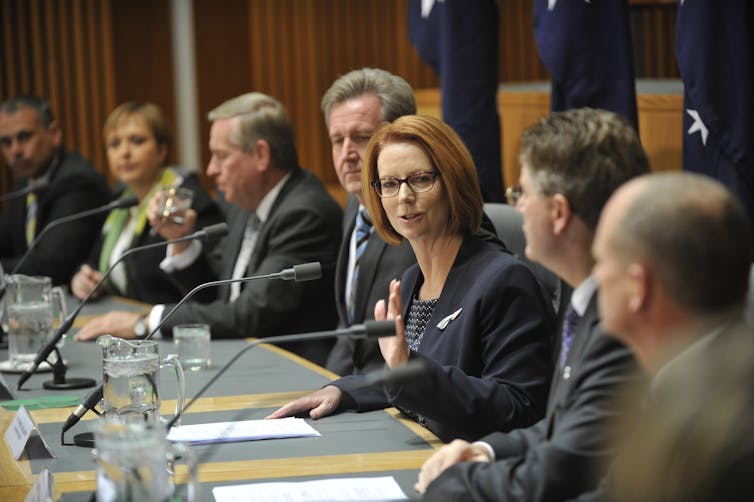 Predictably, Julia Gillard did not get a single state to sign up to her school funding reforms at the Council of Australian Government's meeting. The much talked-up meeting has been a staging post at best.
As soon as it was clear that the real deadline was June 30, the states were all going to hold back. There was no advantage in being first mover.
Even the Labor states, which are keen to clinch a deal, could not afford to be seen rushing, because their voters might think they were not hanging out for the best agreement possible.
What's unclear after the meeting is whether the PM will be able to move from staging post to finishing line with key, albeit not all, states and territories. The government seems confident it can.
Leaders sent out a mixture of signals after COAG. They all talk up their commitment to education and school kids, their passion, their determination to do their best by their states. But a number had complaints about the model and laments about the money they would be required to contribute.
Everyone is willing to continue to talk. Even West Australia's Colin Barnett, who said during the week he wouldn't be signing, wanted his state to "always be part of the discussion".
NSW's Barry O'Farrell said: "We are determined to deliver this package if it is in the best interests of New South Wales," while even Queensland's Campbell Newman said: "We are going to do our best to come up with an agreement."
Newman, however, had objections about centralism and extra bureaucracy. He was also "deeply concerned" about the federal government's university cuts, announced last weekend, which will help pay for school funding.
The new Chief Minister from the Northern Territory, Adam Giles, produced the sort of typically colourful line one might expect from a Territorian - the present proposal was "almost death or Siberia", though he stressed the door would remain open.
There are upsides and downsides for the Prime Minister having the issue continue unresolved for the next 10 weeks, but the government insists it's all good.
Labor sources claim Tony Abbott leaned on the conservative states not to sign up at COAG – O'Farrell admits he and Abbott spoke – and this has given Gillard 10 weeks to campaign on an issue that's Labor's strong ground.
Labor polling in the last few days is said to have found overwhelming support for the Commonwealth's injection of funds – two out of three voters in favour.
The federal government will have the more difficult states on the back foot. With the government offering to pay two thirds of a $14.5 billion funding injection over six years, the onus will be on any premier who wants to say "no". (WA , with high school spending already, is probably a special case.)
The opposition suggested that perhaps the PM had orchestrated a fight with the premiers rather than seeking an outcome, "I suspect she has an election plan rather than an education plan," opposition education spokesman Christopher Pyne said after the meeting.
Gillard, however, does need to deliver a substantial outcome on her June 30 timetable. She has to show she can achieve. There are already too many half finished issues around.
The communique was full of things on which further work has to be done. It was short on solid decisions. For example on gang violence, organised crime and illegal firearms, leaders "agreed to continue to cooperate to ensure that law enforcement agencies have the powers they need to act effectively across Australia." There will be work to "further examine options to fight nationally gang violence and organised crime." This falls short of the federal government's earlier rhetoric suggesting action was urgent.
But the government believes that if it can get NSW and some other states and the Catholic system into the tent on the schools plan, it is in a very good place for the election campaign.
It can say when campaigning in states that have signed up: "protect your schools money against the opposition trying to repeal these deals". In those that don't sign its line would be: "Tony Abbott is stopping your kids getting these benefits."
The collective talk is over. There will not be another COAG on the schools plan, Gillard will now move to arm twisting the individual leaders.
"I will be pursuing this every day," the PM said, reiterating her determination to deliver on one of her central planks for the September election.
One talent is often referred to when Gillard's abilities are canvassed. That is her strength as a negotiator. The coming weeks will test that talent. The stakes are high.