The bid by British Airways' owner, IAG, to buy Aer Lingus is yet another step towards the establishment of the three dominant network carriers in the EU airline market. The Aer Lingus board is currently considering a third bid by IAG for the airline of €2.55 a share. While the Irish government, which has a 25.1% stake in the airline, will have justified concerns about the takeover, it makes business sense for the two to merge.
The other major stakeholder is Ryanair, which owns a 29.8% share in Aer Lingus following its own failed takeover attempts. A European Commission competition ruling dictated that Ryanair must sell all but 5% of its shareholding, however, so Ryanair will simply be looking to gain as large a profit as possible from the sale.
Resistance from the Irish government is to be expected. The government's main concerns will include potential job losses following the merger, and the loss of the Irish Aer Lingus brand.
IAG has, however, spoken directly to these concerns, assuring them that Aer Lingus will operate as a separate business with its own brand, management and operations. Precedent for this can be seen in recent cross-border European airline mergers, which did not lead to the disappearance of the brand of the acquired airline. KLM, Austrian, Swiss, and Iberia (also part of IAG) brands are still alive and well. And, Aer Lingus will obtain access to more prized Heathrow airport take-off and landing slots.
Widening their network
In the current global airline market, it makes sense for a network airline to offer a comprehensive set of routes to many destinations. This can be achieved by either creating an extensive network, or by becoming a member of a global alliance. Aer Lingus currently does neither. At 77 destinations, its network is small compared to British Airways (which flies to more than 180 cities throughout the world).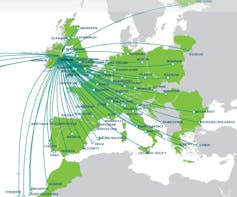 Aer Lingus is also not a part of either of the three global alliances – Star Alliance, Oneworld and SkyTeam – which incorporate the majority of the world's major airlines. While the airline is able to offer its passengers some connectivity beyond its network through a set of codesharing agreements, these connections tend to be less convenient to the passengers compared to those done within the same alliance. For example, alliances tend to consolidate all their operations in the same terminal at the major hub airports.
From this point of view, joining forces with one of the world's major carriers makes perfect business sense for Aer Lingus. Its customers will obtain improved access to British Airways' extensive network, allowing for seamless travel to more destinations, more convenient connections at Heathrow – after its merger with BA, Iberia's services were moved to British Airways' Terminal five hub, and we can expect the same to happen with Aer Lingus. Frequent fliers will also obtain access to all the benefits of the British Airways' loyalty program.
The Atlantic problem
There is one potential downside to the proposed acquisition. Aer Lingus has recently been working hard to establish itself as a small-scale but robust competitor on the transatlantic market, facilitated by the convenience provided by US Immigration pre-clearance at Dublin airport. The airline flies to several North American destinations, had plans this year to open flights to Washington DC, and increase the frequency of services on some of its transatlantic routes.
There is a chance British Airways may see this strategy as a potential threat, and decide to curtail Aer Lingus' transatlantic program. Yet, if history is any guide, previous cross-border airline mergers in Europe saw the acquired airlines retain a considerable degree of control over their strategic business decisions. Aer Lingus and those of us looking to increase our transatlantic flight options hope this will be the case this time as well.
On the European front, competition should not be affected. Unlike with Ryanair, Aer Lingus overlaps with British Airways only on Ireland-UK routes. While we can anticipate increased concentration on Ireland-London markets should the merger happen, we can also suggest that the continued presence of low-cost carriers will ensure enough competitive pressure to prevent any kind of BA-Aer Lingus price controlling.
Overall, it makes perfect business sense for Aer Lingus to join forces with a major network airline of British Airways' calibre. Without decreasing much the competition on the Ireland-UK markets, this merger will bring significant gains to both Aer Lingus and its customers. I, however, hope that Aer Lingus will retain its position on the transatlantic market, where recent consolidation has diminished competition.