Earlier this summer, the famed New York City jazz club Blue Note announced that it would be opening a venue in the basement of the old American Embassy in Beijing.
In addition to the Beijing club, Blue Note expects to push ahead with new operations in Shanghai and Taipei in coming years.
"China is an emerging market for live Western music," Steven Bensusan, president of Blue Note Entertainment Group, told The New York Times. "We'll be on the forefront of helping build that music."
Will Blue Note's Far East expansion result in a Chinese renaissance for a genre once banned as subversive? Or – as some skeptics wonder – will the venue have a limited impact, and simply act as a gathering ground for a Chinese elite with nominal musical taste?
For years, jazz didn't vibe with Chinese censors
In the years following China's 1949 communist revolution, jazz – with its tradition of free expression – was branded as "yellow music," cast in the same light as pornography.
Back then, it was a real threat to be caught indulging in the ideas and culture of the West. Even today, musicians continue to be censored for challenging the policies of China's communist regime: in 2008, Icelandic singer Bjork was banned when she called for Tibetan independence at the end of a Shanghai concert.
Often homing in on material they deem "vulgar and in poor taste," ham-handed Chinese censors have also banned selected recordings by Guns N' Roses, Backstreet Boys, Lady Gaga and Katy Perry, among others.
Still, despite the country's tenuous relationship with free expression, the impending arrival of Blue Note Beijing might best be seen as a continuation of nationwide trends.
Official approval of Western popular music first surfaced at the end of the Cultural Revolution, in 1976. In the 1980s, rock and roll gained a popular following among young people before being squelched in the wake of the Tianenman Square massacre, but the rise of the internet in the 1990s allowed Chinese music fans to circumvent the censors. Now Western pop acts ranging from Linkin Park to Beyoncé play before adoring crowds.
A tale of two cities
Today, Beijing is known for a tight-knit acoustic jazz community that arose in the 1990s, with most of the musicians supplementing income from their jazz gigs with rock and pop performances.
By contrast, jazz in Shanghai has a long history dating to the 1930s, when black jazz orchestras were booked at the luxurious Canidrome Ballroom. Back then, the city was called "the Paris of the East, the New York of the West."
Shanghai exhibits a more cosmopolitan culture than Beijing, partly due to its role as the country's financial capital. Jazz is regularly featured in the city's clubs and hotel lounges, which provides work for locals as well as a cadre of American and Australian expats.
Shanghai is also home to China's crusading jazz impresario Ren Yuqing, a bassist who abandoned rock in 2004 to open the JZ Club and created the JZ Music Festival, one of the largest jazz festivals in Asia. In 2006, he established the JZ School, which has attracted international faculty from institutions like Berklee College of Music, Eastman School of Music and Manhattan School of Music.
Jazz's growth in China has been fueled by other factors. A rising middle class with more disposable income means that budding jazz musicians can travel to and study in the United States, where they can hone their craft at the source.
Those who can't make the trip to the US take to the internet. Most Chinese jazz performers utilize music sharing sites, where they can find all styles of jazz, whether it's through live webcasts of jazz concerts or prerecorded performances. Then, of course, there's the myriad free content on YouTube.
Trombonist Andy Hunter lived in Shanghai for about two-and-a-half years between 2000 and 2007.
"When I first arrived," he said, "players were learning jazz the old-fashioned way: by listening and transcribing music from recordings, and occasionally meeting internationally known musicians."
Hunter went on to explain that jazz no longer carries the cultural and political baggage that it wielded in years after the Cultural Revolution.
Trouble on the home front?
Meanwhile, back in the US, some periodically wonder whether or not jazz is a dying genre.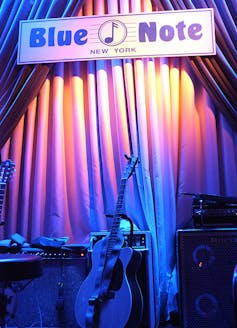 The numbers lend some credence to the argument. Nielsen's 2014 music report found that classical music and jazz had a market share of only 1.4%, which includes album sales, digital downloads and streaming. (It should be noted that Nielsen figures do not include the increasingly widespread sale by artists of self-produced CDs at clubs, concerts and festivals.)
That said, there's still a solid infrastructure for the continued studied and pursuit of jazz. Jazz education, band participation and competition can begin as early as middle school.
In college, the most talented students benefit from programs offered by the Thelonious Monk Institute, Jazz at Lincoln Center and the SF Jazz Center in San Francisco. At the post-secondary level, there are specialized research centers such as the Institute of Jazz Studies at Rutgers University, in addition to popular and scholarly publications.
Music for the rich or for the masses?
China, on the other hand, lacks this sort of musical infrastructure.
Saxophonist, bandleader and composer MurrayJames Morrison has lived and worked in the southwestern city of Chengdu since 2010.
"The challenges jazz faces in China are more mundane than whether its existence might be at stake," he explained. "For starters, jazz has very little institutional support in China, especially outside Beijing and Shanghai. Outside of those cities, the things the music needs to thrive – education, record labels, outreach organizations, nonprofits – are in short supply."
Nonetheless, Morrison noted that the Chinese jazz musicians "are getting better all the time. There are gigs here."
However, avant-garde reeds player Dave Liebman, who just returned from a Chinese tour, expressed doubts about jazz's ability to catch on.
"The audiences were friendly and open," he said, noting that they were made up of "many young people."
But, he added, Blue Note Beijing will likely "be a commercial operation tied to the upper class. They are people with money who can afford to see one second of Herbie Hancock and drop $150 for dinner. Patrons…will probably not be the more adventurous listeners."
Despite the reservations of some, others note that Blue Note's expansion into the world's most populated country can only mean more exposure and income for jazz musicians.
"I am very excited about the news, since this will bring great opportunities for all jazz musicians," said Le Zhang, a Shanghai-born jazz singer residing in Brooklyn.
While Zhang thinks Shanghai would have been a more logical option for Blue Note's first Chinese club, he's "[hoping] for the best, and maybe things will change in a few years."
It seems that with Blue Note Beijing – and jazz, in general – the Chinese are playing in the key of E: Economics. What generates money in China is good.
And in this case, what is good for the Chinese economy bodes well for jazz.