Rolf de Heer's new film Charlie's Country, which opened yesterday, examines the day-to-day experiences of an older man in Arnhem Land as he struggles for independence and respect in his home town.
The eponymous character is played in an extraordinary performance by Australian acting legend David Gulpilil, a frequent collaborator with de Heer – in The Tracker (2002) and Ten Canoes (2006) – and also co-writer of the film. While the story is fictional, it draws upon recognisable realities of Indigenous community life, drawn from David Gulpilil's own life experiences – notoriously, even a recent experience as an urban long grasser and his stint in a Darwin prison.
In their 2005 book Australian Cinema After Mabo, Felicity Collins and Therese Davis have suggested that, because Gulpilil's career has played out historically through an ever-changing national political understanding of indigeneity as minority culture, the star's screen persona has necessarily had to be "defined by the way he has played to and undercut the Eurocentric fantasy of an exotic or mystical figure".
In Nicholas Roeg's Walkabout (1971) – the film that started Gulpilil's career – he played a traditional figure who guides young white children to safety in the desert while he himself is doomed. In The Tracker, the conventional character type often relegated to minor significance in fiction is transformed into avenger and hero through the generic ruse of a postcolonial Western.
In Charlie's Country, Eurocentric fantasies about Indigenous men are deconstructed. For example, the main character works as a tracker – but for the police. Rather than being able to live off the land, his inability for long-term survival in the swamps of Arnhem Land is revealed.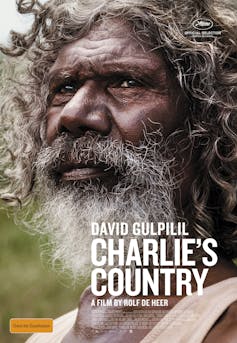 Gulpilil and de Heer's decision for the film to be a character study allows the banal daily problems and ongoing prejudices in Ramingining and Darwin to convey a much bigger social commentary about disadvantage and cultural misunderstanding and miscommunication.
Charlie lives in a self-made humpy because he feels the government provisions are inadequate. The film progresses through a register of emotional states, charting Charlie's struggle to do things in his way. He tries to go bush in the traditional sense, but he's all on his own and an unfortunate early wet season means he contracts bronchial disease.
Then, released after extensive rehabilitation from Darwin Hospital, he falls in with itinerant drinkers in the city and is eventually incarcerated, and for a while, silenced.
The hilarious visual gags – such as when Charlie helps drive a giant buffalo carcass on the hood of a 4x4 – recall a specific genre of Australian comedy: stories about the down-on-his-luck battler, the big-dreaming everyman with the heart of gold. Think Darryl Kerrigan in The Castle (1997) or David Wenham's character in Gettin' Square (2003).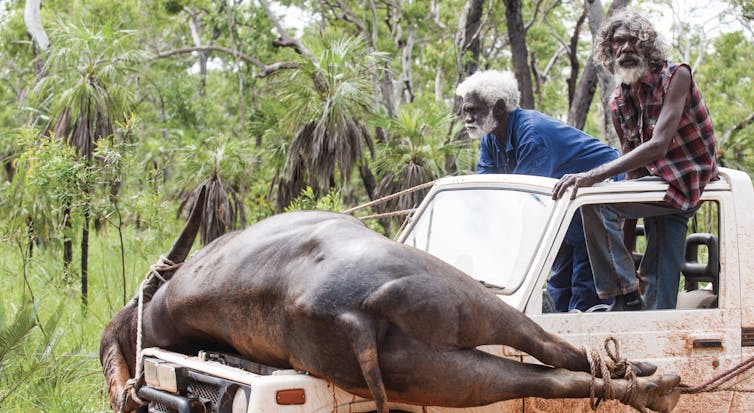 It is likely that Charlie will prove endearing to an Australian audience because he tries so damned hard. He is always on the verge of giving up cigarettes, throwing them one by one into the fire – perhaps next time he'll be able to keep off them.
The outcome of the everyman comedy is usually triumph and success but that trajectory is warped in this film. As an Indigenous character inserted into this trope, the outcome is not quite the same for Charlie, and the small wins are subdued. The status quo – for Charlie at least – persists.
As such, Charlie's Country is more Wake in Fright (1971) than Crocodile Dundee.
When I spoke to de Heer earlier this week he told me he was hopeful about raising the profile of Northern Australian social inequality into the national public forum via the film's release, and provoking critical debate about the political and social obligations of the nation. As he said:
they're important issues to think about, to talk about, and if the film can form a small part of that debate, that's a fine thing.

Charlie's Country is released nationally. Gemma's full interview with Rolf de Heer can be read here on her research blog Jump Cut Outback.