Closing Uluru to climbers empowers Indigenous people to teach visitors about their culture on their own terms, which is more sustainable for tourism in the long run.
Uluru is a drawcard for international and domestic tourists, and is visited by over 250,000 people per year. A substantial number of these choose to climb the rock. On busy days, the number can be in the hundreds. This is despite being asked by the traditional owners, the Anangu people, to respect their wishes, culture and law and not climb Uluru.
The Anangu people actually offer visitors a range of eco-cultural tourism activities that focus on sharing Indigenous culture, knowledge and traditions, which don't involve planting feet on a sacred place. These activities including nature walks, painting workshops, bush yarns and bush food experiences.
This decision to close the rock to climbers comes after many years of conceding rights back to the Anangu, and is possibly one of the few times where Indigenous values have truly been prioritised over other interests.
Giving power back to Uluru's traditional owners
The Uluru-Kata Tjuta National Park, declared in 1950, was handed back to the Anangu on October 26, 1985. While the agreement required the park to be leased to the Australian Parks and Wildlife Services under a co-management arrangement, the handover was a symbolic high point for land rights.
In practice, however, aspects of the park's operations were contrary to the traditional owners' approach to conservation and management. For instance, park management models stated the need to place:
… emphasis on developing acceptable patterns of use of the physical environment and not on recognition of social and spiritual values of land to Indigenous people.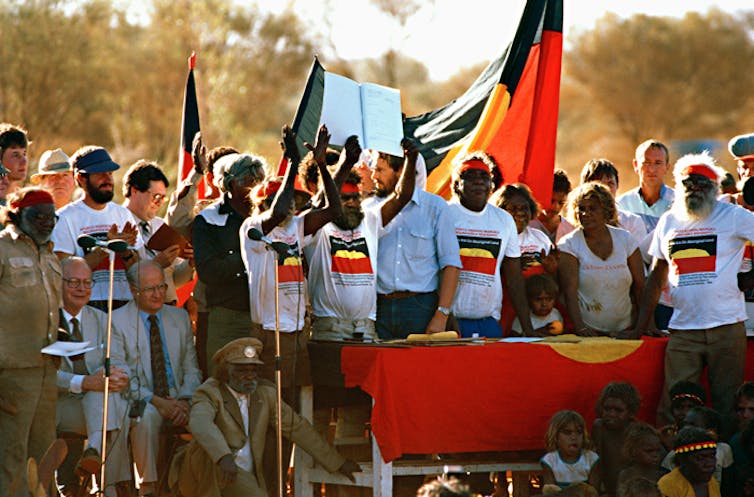 In 2010, the park's management plan proposed to close the rock if the proportion of visitors who wished to climb Uluru was below 20%. An independent analysis of track counter data and visitor statistics undertaken by the Griffith Institute for Tourism over a four year period revealed that in almost all circumstances (and even with allowance for track counter inaccuracy) the proportion was under 20%.
Finally on November 1, the Uluru-Kata Tjuta National Park Board of Management, consisting of eight traditional owners and four government officials, voted unanimously to close Uluru (Ayers Rock) to climbers. The local tourism industry supported the decision.
Indigenous tourism on the rise
Increasingly, visitors around the world are seeking such opportunities to experience various aspects of Indigenous culture. Not surprisingly, Aboriginal and Torres Strait Islander peoples are realising the sociocultural and economic opportunities of tourism and have now become an integral part of the Australian tourism industry.
But for Aboriginal and Torres Strait Islander peoples, getting involved in the tourism industry comes with its own set of problems. They have been tasked with juggling their heritage, customs, culture and traditions with government initiatives that prioritise economic over socio-cultural development. For example, as Quandamooka Dreaming "targets big dollars from tourism" in SE Queensland, the traditional owners are successfully balancing their socio-economic aspirations with cultural lores by determining that some sacred sites will remain accessible only to elders and initiated Indigenous Quandamooka people. But other sites will be open to eco-tourists.
However, too often, tourism development is associated with issues of commercialisation, lack of authenticity and exploitation of culture.
Empowering Indigenous Australians
Given the considerable pressure tourism places on local resources and places, the involvement of local communities and different groups within them is now considered critical for achieving sustainable tourism.
A recent report concludes that participation and empowerment of local communities are success factors to managing tourism growth. It's the local community that looks after the destination, and it can make or break a tourist's experience. The report finds developing tourism without input from the local people has often led to conflict.
Closing Uluru for climbing should be seen as a shining example of sustainable tourism being a vehicle for the preservation, maintenance and ongoing development of culture, traditions and knowledge.
And when reconciliation principles are practised not preached, traditional custodians of the land are afforded due respect. This then leads them to share their 60,000 year old knowledge of the management of the land we are privileged to utilise as tourism destinations.