In the wake of Tarana Burke's #MeToo hashtag being revived last fall after the exposé of Harvey Weinstein, some men took responsibility for their abusive behaviours. To do so, they used hashtags like #ItWasMe.
As Alexia Lafata reported for Elite Daily, some of the hashtag users "even admit to having been a perpetrator themselves, ignoring physical boundaries, objectifying women, and generally behaving like a 'piece of s***.'"
The day before Brett Kavanaugh's confirmation as a U.S. Supreme Court justice, Don Palmerine, a former reporter and columnist based out of Pittsburgh, published a lengthy piece in The Washington Post in which he disclosed being both "an observer and participant in a teenage rape" in 1969.
But confessions of sexual assault are rare. We usually need to do a bit of digging and reading between the lines to reveal the truth about sexual assault. Kavanaugh denied the allegations against him and released supposed documentation — a calendar and yearbook to "prove" that no such assault occurred.
Hidden confessions
Like Kavanaugh, 17th-century British sailor Edward Barlow was an avid chronicler of his life. His written and illustrated journal provides detailed accounts of his time as a member of the British navy. By his own account, Barlow was an accomplished sailor who later married and had children.
The Guardian's Maev Kennedy wrote that Barlow "sailed as a teenager on the same ship as Samuel Pepys to bring Charles II back to England, survived several shipwrecks and captivity, and eventually rose to become a captain."
It was around this time that Barlow confessed to sexual assault. In his meticulously kept journal, Barlow wrote a hidden confession. Conservation workers at the National Maritime Museum in Greenwich recently discovered a hidden journal entry. In the entry, he expressed extreme regret for his actions, confessing that what he did was unlawful and uncivil.
"The confession went unseen for more than 300 years," wrote Kennedy, "because the sailor pasted his second account so neatly over the top of the original that scholars missed it."
Edward Barlow's confession is incredibly rare as far as sexual assault cases go. It is rarer still because his admission of sexual assault included a recognition of the harm he caused. Barlow eventually married his victim, Mary Symons.
Reading between the lines
The stories of Edward Barlow, Don Palmerine and the men posting on the #ItWasMe hashtag, however, are the exception to the rule.
More often, our attempts to discover the truth about sexual assault by examining the words of the accused will be much more complicated than simply peeling off one journal entry to reveal another. It is much more difficult than searching for a hashtag to look up a confession on social media.
Unlike Barlow's journal, it is doubtful that Kavanaugh's version of his diary — his calendar from 1982 and his yearbook — revealed anything more about what Ford says happened to her at a Maryland house party in 1982.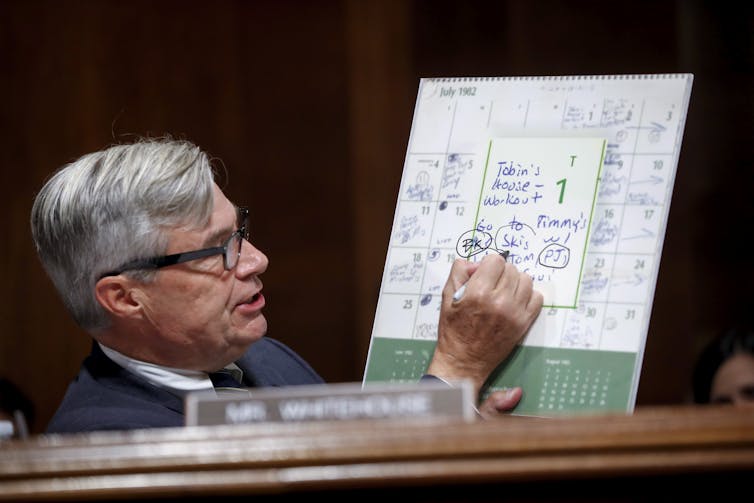 However, when the FBI chose not to interview Kavanaugh or other witnesses who could speak directly about the calendar and yearbook entries, we lost a crucial chance to figure out what other information could have been discovered by reading between the lines.
As Slate's Heather Schwedel argues, yearbook entries (and other documents) can be "character witnesses."
Kavanaugh's calendar, as well as his high-school yearbooks, are key pieces of evidence to consider. Kavanaugh argued that his calendar did not mention a party in which he was in attendance with Ford and others that she named. However, as many people observed, including Democratic Sen. Sheldon Whitehouse, Ford's testimony about attendance at parties seemingly coincided with Kavanaugh's own calendar entry for July 1, 1982.
As for the yearbook, Kavanaugh himself admits that it "was a disaster." Kavanaugh firmly denied that "Renate Alumnius" was a derogatory sexual reference about a female classmate's supposed sexual availability, and argued that "Devil's Triangle" was a reference to a drinking game rather than a sexual act.
Numerous classmates have both contested and supported Kavanaugh's arguments about the yearbook and the calendar. They do not explicitly mention sexual assault, and that is part of the great difficulty of making sense of them.
Kavanaugh's calendar and yearbook entries can be read as examples of a student and athlete with a full social calendar who engaged in admittedly puerile humour: this is the reading that Kavanaugh himself has offered.
However, there is also compelling reason to believe they can be read as documents that indicate the kinds of sexist attitudes that shaped Kavanaugh's social life during his youth, and as potential corroboration of Christine Blasey Ford's memory of her assault.
Perpetrators don't often willingly step forward to confess sexual assault. It's time we believed survivors, and that we fully investigate allegations levelled by them — whether that means talking to former classmates or putting old yearbooks, journals and calendar items under the microscope.