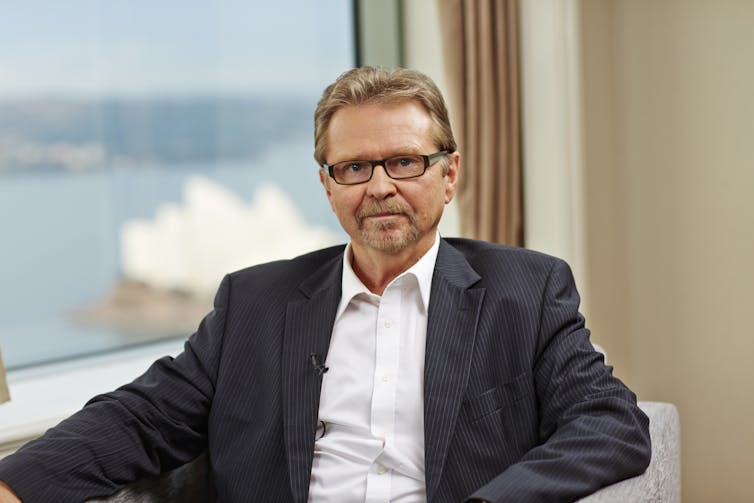 Kevin is not the only Rudd chasing votes in Queensland. Brother Greg today set out from Brisbane on a 10-day trip that will take him to Cairns and back, campaigning as an independent candidate for the Senate.
Before starting, he lodged his how-to-vote ticket - he's swapping preferences with Clive Palmer's PUP. He'd previously ruled out deals with minor parties, but talks with the LNP came to nothing and Labor wasn't interested.
The political pitch of Greg, 59, one of Kevin's two older brothers, is the need to take day-to-day politics out of the "bedrock" issues facing Australia.
"When a parliamentary democracy is not working well, you stimulate it by putting more democracy into it", he says. Like stimulating a flagging economy with more spending.
This should be done by a two-year-long parliamentary debate on core economic and other issues, including taxation, infrastructure, flexibility of the workforce, education, health and, because it has become so difficult and divisive, policy on boat people.
After the two years a conscience vote of the whole parliament (House and Senate) should be held to lock in the "Bedrock Economic Policy" (BEP).
The BEP could only be amended every five years, after another conscience vote and two years of debate.
This would isolate some 25-30% of policy, leaving plenty to be handled in the traditional way, he says. But elections should be fought around which side would better manage the "core" program.
He instances tax policy as an issue that's suffered from being in the political maelstrom. "Over 50 years we've probably had 10 major tax reviews", most recently the Henry one. "But day-to-day politics makes it impossible to do anything serious".
Greg Rudd's campaign is also very Queensland. Indeed this election seems all about Queensland, with Kevin desperately needing to win seats there and former state premier Peter Beattie flying back from the United States to try to secure one for Labor (though not going well, according to polling). In a campaign press release Greg says that "unlike other senators, I will be able to fight for Queensland 100% of the time as I don't have a party to tell me what to do. I only answer to Queensland".
Greg worked for Con Sciacca, who was a Labor parliamentary secretary then a minister, from 1990 until Labor was defeated in 1996.
Later he established a lobbying business, which he had to sell (for not much, to an employee) when his brother became PM in 2007. Greg says the sale was his decision, but Kevin already had declared he'd be banned from lobbying federal ministers.
It was not the first time that being a Rudd had had financial fallout. There was 1996 when he was looking for a job in Queensland. Kevin had worked for the recently-fallen Goss government and gained a reputation as a hatchet man. "I quickly found out that with a name like Rudd I was unemployable", so he turned to lobbying.
After he sold his business he moved to Beijing where he worked as a consultant, giving investment advice to Chinese businesses about Australia, Papua New Guinea and Indonesia.
Even in China, being Kevin's brother was "difficult because of expectations". The Chinese expected the PM's brother to be in a privileged position; "I was offered many bribes". On it becoming clear that Australia has a different system "they look at you after a while and say 'what's the use of you?'"
Greg returned to live in Australia after three years and spent 2011 based in Canberra, when he talked to many politicians about his political ideas. He moved back to Queensland last year to start his Senate campaign.
The relationship with Kevin is best described as distant (the two were never particularly close). Running into him at a business function in Brisbane about six weeks before the counter-coup, Greg told Kevin that the "presidential" or "messiah" brand of politics practised by him (and Barack Obama and earlier Tony Blair) didn't work.
"You promise to do a lot – you were all about ending the blame game - but however well-intentioned, the structure doesn't allow you to deliver", Greg told him. "He listened and nodded for 15 minutes", but had little to say.
Greg didn't believe his brother should pursue a return to the leadership. "I didn't think it would work out well for him – it was probably better to go down in history with the perception of being a person who had had the rug pulled out from him prematurely and unfairly."
He can see both sides of the 2010 coup. "I know Kevin inside out and back the front. I can understand why they did it - and Kevin would have done exactly the same". But "to me it was a two-way fault" - his colleagues should have stood up to him.
On his brother's testimony, "Kevin from a young guy has been consistent – he wants to do something good for Australia".
His advice to Kevin now, as Labor's campaign is struggling (Greg predicts an Abbott win, on a margin of 10-15 seats), is "focus on that, give us a journey, give concrete examples on a narrative pathway. Stop being so much a politician, and give the schools a miss".
Greg says he is not tribal, in a political sense. But ultimately, he's of the Rudd tribe and, despite the strains in their relationship, it appears blood is thicker than politics. "I wish him all the best," says Greg, who lives in Kevin's Brisbane seat of Griffith. "I'm voting for Kevin, as my brother. I'm not voting for Labor".