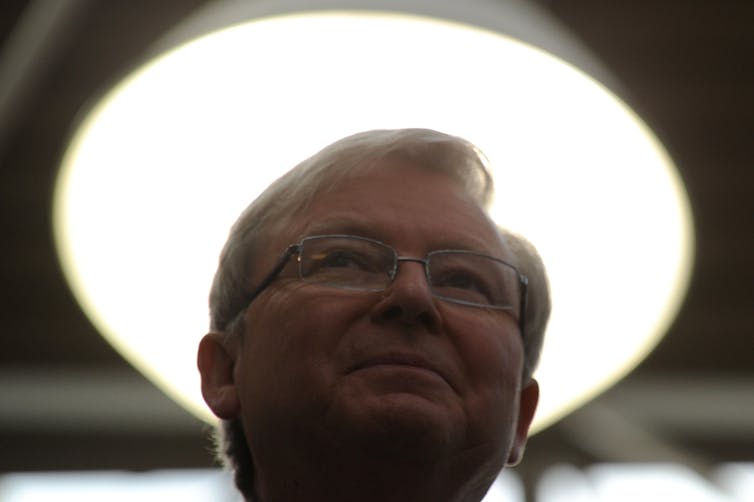 The best way of looking at this election is as a contest between voters' long standing desire to get rid of the Labor government and their personal warmth towards Kevin Rudd.
At the end of Week 2 the first is prevailing over the second. Things can change in the next three weeks but as of now, they are bad for Rudd, as people are reassessing him.
In a poll the Australian Financial Review put online this afternoon, star candidate Petter Beattie is getting trounced in the Queensland seat of Forde. The Liberals are on a primary vote of 54% to Labor's 33%; their two-party lead is 60% to 40%.
Remember that Queensland is the state where Labor must make gains. It's Rudd's home ground; Beattie is a former premier.
Polling published today by the Australian showed the Liberals set to take the NSW central coast seats of Dobell and Robertson; a Guardian Lonergan poll has them winning in a landslide in the Western Sydney seat of Lindsay (the poll was taking the night after Tony Abbott's assessment that candidate Fiona Scott had sex appeal – it probably helped her).
The Labor campaign is looking frayed. Rudd is showing signs of the faults that his colleagues used to criticise so strongly. This is serious when Labor is running a presidential pitch that needs the leader to be as flawless as possible.
The re-installed Rudd promised ad nauseam that he would be more consultative, but this seems to have fallen away. Campaign strain and logistics make old habits hard to break. The first question Rudd faced at his Perth news conference today was how widely he'd consulted about his Northern Australia policy, with its proposed drop in the company tax rate for companies headquartered in the NT.
He'd worked with the Treasurer, Finance minister and the broader leadership group, Rudd said.
Resources minister Gary Gray wasn't in the loop. Rudd said one would expect that during an election campaign, "when the final product of a policy is put out … the ministers are informed of that at that time".
Asked whether it looked like policy on the run, Rudd was dismissive of "process". "If you think that it's about an internal debate about processes … I'm not going there".
"I'm proud of what we've put forward. It's proffering a clear direction for the future You can have as many process debates as you like".
The tone was defiant. Given Rudd's wish to run things his way, it's easy to imagine how tough it must be getting for the campaign team, both the travelling crew and in Labor's HQ, located in Melbourne.
That location, incidentally, decided in Julia Gillard's time, has added to the inconvenience. All the action is in NSW and Queensland. Then there's the more serious problem that the campaign's foundations were put in place before Rudd took over and have had to be adapted to the new circumstances and style.
One small example of Rudd's approach is instructive: he summoned Mike Kelly, whom he has named as future defence minister if Labor is re-elected, to Darwin this week for the prime ministerial visit to the troops.
Kelly is the member for the bellwether seat of Eden-Monaro, which is said to be in nail-biting territory. His presence in Darwin wasn't essential. He'd have been better campaigning at home.
Rudd spent much of this week flying long distances: from north Queensland, to Darwin, Kununurra and Perth. Yet in the NT and WA there is only a handful of seats in it either way, nothing compared with NSW and Queensland.
This limited communications between the travelling party and the campaign team on the ground. (While Rudd can make calls from the plane the general communications are not Air Force One standard!) "He's hard to connect with on the road"; one campaigner said. "The best way of connection is to jump on the plane".
ALP national secretary George Wright had to fly north so he could have discussions with Rudd – in the air. That wastes a lot of Wright's time – and he's the man with overall charge of the campaign. (Again, Rudd has reverted to an old practice - documented in Speechless, by James Button, who wrote speeches for Rudd - of scheduling meetings during plane trips.)
Rudd and Wright are opposites: Rudd mercurial and highly mobile in tactics while Wright is much more into process and organisation. Wright, formerly with the ACTU and a key player in the campaign against WorkChoices, was in Rudd's office for a time during his first prime ministership. He couldn't put up with it and left.
Leaders often find it hard not to default to an earlier campaign. Rudd, it seems to some in the Labor camp, still has the Kevin '07 mindset, when he rode to victory on a cloud of optimism, a fresh face and a new product. Now he's recycled goods with faults that voters can be made to recall.
Labor has taken an early hit from a well-heeled Coalition advertising campaign. As a result, the ALP this week brought forward it advertising buy. It has put its finger heavily on the negative button, homing in on Abbott "hiding" planned cuts.
The ALP has appealed to its supporters in Queensland for personal anecdotal material about how they've suffered under Campbell Newman (being portrayed by Labor as the entree to the Abbott main course).
An email sent out from Wright this week said: "As a Queenslander living under Campbell Newman, you know what's in store for the rest of the country if Tony Abbott has his way and cuts essential jobs and services. Share your story below, to let the rest of Australia know what life under the Liberals' austerity really means."
Rudd started his second prime ministership elevating the positive and contrasting this with Abbott's negativity.
But now Labor has to pin its dwindling hopes on the dark side. If it can't inspire the voters with Rudd, it has to try to terrify them with the prospect of Abbott.