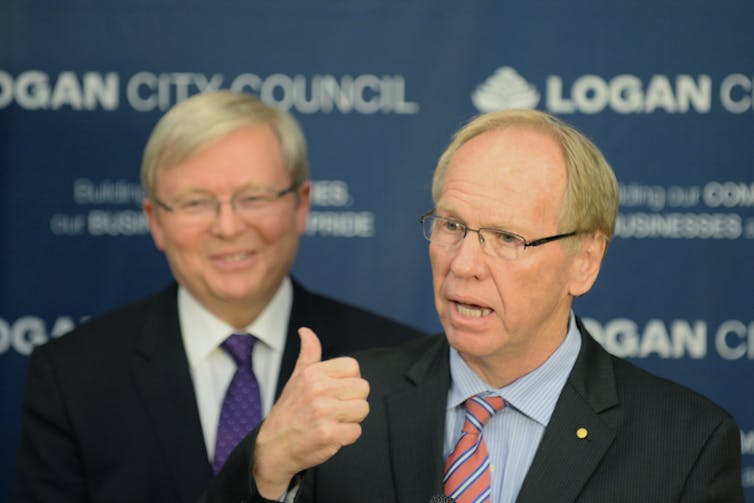 Kevin Rudd has done well to recruit Peter Beattie. Just as Bob Carr was a good catch for Julia Gillard. There is nothing wrong with a bit of recycling in politics, provided that, as with other products, the initial quality was good. Anyway, the prime minister is "pre-loved". Vintage is in.
Beattie would surely have to be a shoo-in for Forde, which is on 1.6%, although naturally Beattie is claiming underdog status (it's hard to find people willing to call themselves top dogs in this election). The LNP member, Bert van Manen, has only had one term in the seat.
The populist, so-Queensland Beattie, 60, should help Labor's vote generally in the state that is so vital for the ALP. The government must pick up seats there (and quite a few of them) to offset losses elsewhere.
But Kevin's Peter coup is also hilarious. Two years ago Beattie, asked about reports he was looking for a federal seat, said at 58 he was too old for a comeback, had no interest in getting back into politics and anyway, his wife would murder him. And then there are the many harsh things he has said about Rudd's judgement and disloyalty, his prediction that he would "never again get the numbers in caucus to be prime minister", and his advice that Rudd should quit at a byelection.
Everyone could have a good joke at this Rudd stroke. Liberal pollster Mark Textor quoted Monty Python, tweeting "Bring out your dead!"; someone with the Twitter handle "@DocEvatt" said "Hey @KRuddMP just letting you know I'm not up to much these days if you need a candidate for the seat of Barton".
Rudd opened the joint news conference in typical cheesy style. "I'm Kevin. I'm from Queensland and I'm here to help. His name's Peter, he's from Queensland, and he's here to help as well."
Rudd and Beattie (PB, as Rudd called him) could only take the high moral ground in relation to their previous differences.
All those old quotes were "water off a duck's back", Rudd said pre-emptively, knowing the Liberals had handed out the quotes to journalists. "What really matters is standing up for Queensland … What unites us as a team are our core and continuing values".
Beattie said it was "a measure of the Prime Minister's leadership that he was prepared to put that aside, approach me directly in the interests of what he thought, and I agreed with him, was the best chance of winning this seat…. It takes a bit of strength and a bit of guts from the Prime Minister to rise above that". And he was "delighted" that Rudd had not accepted his advice to leave parliament.
Beattie has quickly fitted into the Rudd style of doing everything yesterday. Approached a couple of nights ago, he moved into the electorate this morning. Happily, his brother lives there. "I've been close to my brother for a long period of time. I have moved into his house. He is currently away".
The former successful premier (in office 1998 to 2007, when he handed over to Anna Bligh) said one reason he was re-entering politics because "I want to see Queensland get a fair go".
It was a matter of balance. "The Labor party has seven seats in the state parliament. We have eight seats in the federal parliament. That's simply not fair".
Not fair? You can see what he's getting at but it is a matter of Labor having performed poorly at elections rather than a question of justice.
According to sources, ALP and Liberal research on Forde differed before the surprise new Labor candidate. Labor says it was not travelling well with then candidate Des Hardman. But it is understood Liberal research showed a likely loss for the LNP member Bert van Manen.
Tony Abbott described Beattie as "another flim flam man, who hit people with debt and deficit, [who] is just going to add to the leadership instability inside the Labor party. You might say to me, am I worried about Peter Beattie? Of course not. But I bet Kevin Rudd is".
Shadow attorney-general George Brandis, a Queenslander, hyperventilated, describing Beattie as a "blow in" and "carpetbagger" in running for this seat, a bit of a stretch when the man had been premier of the state for the best part of a decade. Brandis added: "I've had a number of conversations with him about Mr Rudd"; the relationship was "poisonous" and "toxic".
Beattie promises that if elected, he would serve a full term. Bob Carr has said the same (and he is standing for a six year term). If Labor goes into opposition, almost certainly Carr would be out of parliament fairly soon. It's easier for a senator than for a House of Representative member.
Beattie surely would have to stay. So would he be in the increasingly complicated leadership equation of a Labor opposition? Probably not (though always dangerous to predict). Opposition would be a hard slog, which no doubt has gone through Beattie's mind.
I might be wrong but to me Beattie had the look of a man slightly put upon. Or maybe he was just exhausted. He flew in early this morning from the United States where he has an honorary position with Clemson University in South Carolina, providing advice on liaison with universities in Queensland about research opportunities.
Is he really looking forward to weeks of foot slogging, doorknocking, defending his state record, explaining his new rapprochement with Rudd and all the rest? He's come to the aid of the party but, he's probably wondering, what will it do to his life?