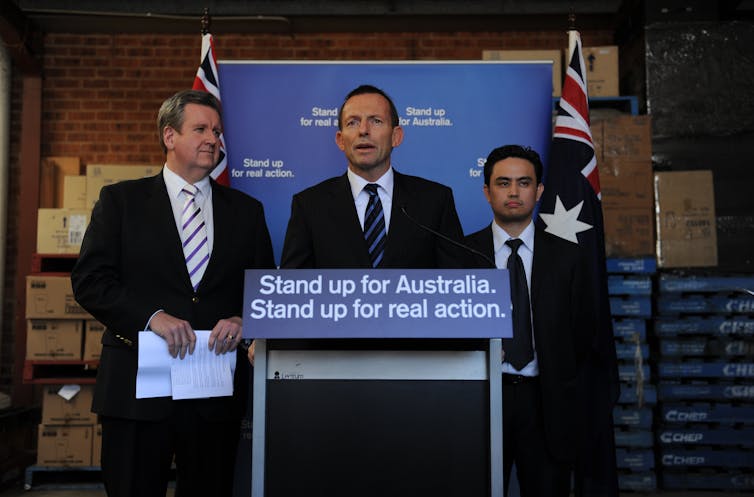 There are only 150 seats in the House of Representatives. You would think it would not be beyond the wit and wisdom of the major parties, which fight to be the government, to choose good, or at least appropriate, candidates – and to get rid of those found to be bad ones.
Unfortunately, it seems to be, as we (and they) are being reminded.
The Liberals have been embarrassed by their candidate for the western Sydney seat of Greenway, Jaymes Diaz. The video of an excruciating performance in which Diaz could not spell out the detail of the opposition's asylum seeker policy has gone viral this week. The grilling by the Ten Network reporter was very tough, but this wasn't a case of giving a political innocent a hard time. Diaz stood for this seat in 2010.
Then today Craig Thomson, the bane of Labor for the past term, was in the news, with Deputy PM Anthony Albanese photographed with the former ALP MP who ended up on the crossbench for his sins.
The opposition leapt on the Albanese-Thomson encounter; Joe Hockey suggested Labor was "doing secret deals to try and run a minority Government now and into the future."
This was far-fetched even for the "say anything" atmosphere of an election campaign. Thomson is running as an independent in his central NSW coast seat of Dobell, presumably to get severance pay. But he won't be around in the next parliament, whether it's hung or unhung. He does have preferences to allocate (presumably not many) but he tells The Conversation he did not discuss preferences with Albo.
Albanese said they were just having a drink. "What happened last night is I was having a beer with someone I work with. Craig Thomson was in the building. He came along for a beer. A personal chat. That is all. No big deal. Hold the front page - Albo likes a beer after work. It was one beer. We were there for about 10 minutes.
"The fact is as Leader of the House, I talk to a whole range of people all the time… I'll give you a big scoop - I have had a beer and been to the footy with Joe Hockey as well.
"I think it's good that parliamentarians from across the spectrum can have a chat and can engage in a way which is away from the differences that might be there politically."
The problem is less these incidents themselves – candidates do stumble and a beer with Craig is no big deal albeit an unfortunate look - than the fact that Diaz should not be a Liberal candidate now and Thomson should not have been a Labor one in 2010.
How the Liberals, including Abbott, have brought the Diaz problem on themselves has been documented by journalist Heath Aston.
Diaz and his father are migration agents and prominent in the Filipino community and the local area. Diaz ran for the seat (held by the ALP's Michelle Rowland) last time, losing by only about 700 votes. He brought a lot of his own money to that campaign and was very anxious to stand again in the seat, which is controlled by the party's right.
Abbott knew that he should not be selected again for this target electorate, which is on 0.9% and needs a tip-top candidate; he cogitated on the problem but in the end was unable or unwilling to do anything about it. The joys of local preselection combined with the problems of a factionalised NSW party.
When Kevin Rudd was asked on Tuesday about the Diaz performance he gave a very mild-mannered reply. "I understand the Liberal candidate for Greenway had a few challenges yesterday. I'm sure some of ours will at some stage or another."
"That's just life in an electoral campaign. If you've been through as many as I have you've seen anything happen."
In 2010 Rudd and the ALP knew, or ought to have known, that Thomson should be dumped after allegations came out in 2009 about his rorting while a union official. Yet he was re-endorsed in a local ballot in 2010 (before Rudd lost the leadership).
After going through the Thomson experience you would think Labor would have got a good candidate in place long ago in Dobell, on a margin of 5.1%. But it was only late today that the party named Emma McBride, a hospital pharmacologist and daughter of a former state minister, to run for it.
Earlier today Rudd, asked why Labor did not have a candidate there, said that there were a "number of possibilities for that seat". The PM reportedly had tried unsuccessfully to get his former economic adviser Andrew Charlton to contest but Charlton is probably quite good at calculating the probability of victory.
The voters of Greenway and Dobell deserve more respect than they have been receiving from the Liberal and Labor parties respectively.
PS POLLING: It is understood private Liberal polling this week has found the Coalition losing three Queensland seats (Brisbane, Forde, Bonner) and Hasluck in WA, while winning in five to six NSW seats (apart from those in which the two country independents are retiring), two to three Victorian seats, and two to three Tasmanian seats.