The recent election of José Maria de Vasconcelos, or Taur Matan Ruak as he is known, to the Presidency of Timor-Leste is not good news for women in that country.
Adding yet another member of the male military elite to a position of great prestige and power will not increase the political participation of women nor add to a culture of gender equity.
Justice and gender were listed last in his ten point election manifesto which concentrated instead on assisting veterans of the resistance struggle (those recognised as such are overwhelmingly male) and increased militarisation of the country – he favours a policy of mandatory military service.
A history of conflict
Ruak bravely fought from 1975 until 1999 against Indonesian occupation with Falintil, the Timorese guerrilla army. He rose through the depleted ranks to senior positions close to Xanana Gusmão (now the Prime Minister of the country). He became Commander in 1998.
After independence, when the national army was set up, he retained the position as the nation's top military commander, only resigning to run for President.
It is male elites from the resistance struggle, like Taur Matan Ruak, who now head the government, military and police, and the contemporary society they have shaped is heavily influenced by military thinking and behaviour.
These men have been engaged in a brutal and bloody war for most of their adult lives and suffered a variety of ill effects, including displacement, imprisonment, torture and loss of family, fellow soldiers, close friends and colleagues. They have made dreadful sacrifices for independence.
Just as disturbingly, their mothers, wives and daughters were often victims of sexual abuse at the hands of the Indonesian military or its militias, often because of their relationship to the fighters.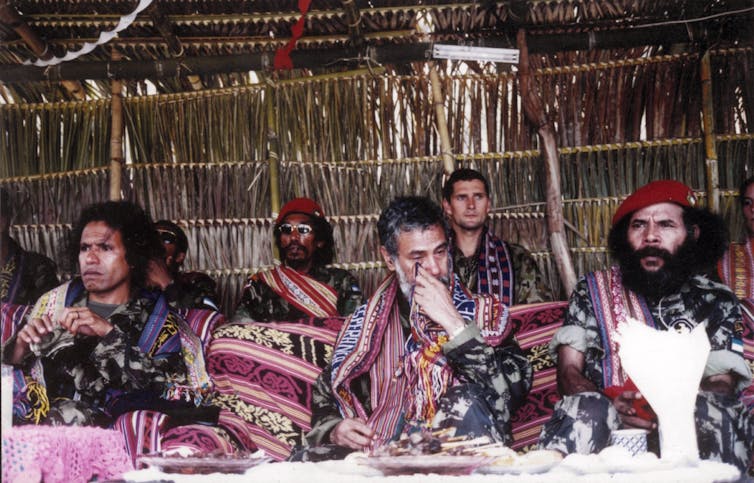 It is conflict within this leadership which led to the 2006 national political crisis and shattered the process of reconstruction. While these kind of events are common in post-conflict societies sorting out new political systems and hierarchies, such ongoing cycles of trauma, violence and conflict are also attributable to persistent militarisation such as that which exists in Timor-Leste.
Keeping women out
The absence of women in the 2006 crisis, in its causes and in its solution, emphasised their lack of influence in political and security affairs.
It was largely the male political elite at the forefront of this violence, but these gender dynamics have rarely been analysed by political commentators or in development and security reports on the period.
In a recent International Crisis Group report into Timor's veterans this dimension was missed entirely, as it has been in most of the political commentary on the recent elections.
Ongoing conflict, such as the 2008 shooting of the President, and an aggressive political culture, favours a type of strong, militarised masculinity that marginalises women and has a negative effect on their status and political participation.
Military mayhem
The dominance of men in contemporary Timorese society can be traced historically but is also re-enforced by a persistent militarisation, left by the Indonesian army and enduring after the conflict.
The National Commission on Truth, Reception and Reconciliationnoted that under the Indonesian occupation, the militarisation of the East Timorese male population was as comprehensive as it was systematic.
The plethora of gangs and militias that created the mayhem and violence of 1999 made their presence felt again in 2006 and remain powerful in Timorese society.
Indonesia also militarised the next generation of civil society through organised sporting activities and youth groups. Martial arts groups became popular and have become a contemporary problem. According to a June 2005 World Bank Youth Social Analysis Mapping and Youth Institutional Assessment there are approximately 20,000 registered martial arts members and as many as 90,000 unregistered members in Timor-Leste.
A violent or aggressive model of masculinity is promoted within such groups.
Gender blindness
Ruak, however, is of another era and does not display the hyper-masculinity of younger men such as the late Alfredo Reinado.
The older generation of male leaders, like Ruak and Gusmão were inculcated with a mix of colonial Portuguese and indigenous values which appear somewhat more modest.
Even still, there is a real gender blindness and lack of consciousness about gender issues amongst them that may be unyielding but can be challenged.
Gender equity and the right to equality has penetrated a collective consciousness and has been incorporated in the institutional discourses of government and many civil society organisations. This has led to a tension between symbolic and concrete actions and policies to enable increased economic, social and political well-being for women.
In concert with every country and community around the world on the journey toward the ideal of gender equity, men and women in Timor have myriad perspectives that often jar and clash in a difficult post-conflict environment. This makes their journey a particularly difficult and bumpy one.
The new President won't be able to avoid being part of that journey.