Myanmar is the "new frontier" of the Asia-Pacific region. With its large potential markets, abundant natural resources and strategic position, competition for control of the anticipated revenues intensifies pressure on all sides.
While economic development can quickly generate massive wealth, the extractive, agricultural and infrastructure-building industries are at risk of being concentrated in the hands of privileged elites. Such development has a potential to create and increase local grievances over social injustices and environmental damage. This, in turn, could disrupt fragile ceasefires in conflict-sensitive zones.
This is a dangerous situation in a country of over 55 million, home to 135 ethnic groups in which 70% of the population is made up of small-scale farmers. The nation is plagued by ethno-nationalist movements and long-lasting, deeply rooted sectarian divisions.
If this was not enough to cause instability, the nation's strategic position is essential to the US "rebalancing" in the Asia-Pacific region. The Obama administration has already called for congressional support for "non-lethal military assistance to the Myanmar military". This will no doubt be perceived by China – whose local influence remains considerable – as a serious threat to its border security and key resource transportation route.
The attention on economic development to resolve conflict is a controversial approach, one that can seriously compromise political and national identity.
Businesses, donor governments, international NGOs and the Myanmar authorities should take notice of the desperate situation of dispossessed small-scale farmers in fellow ASEAN member state Cambodia. A 2013 report, Bittersweet Harvest, which was co-funded by the European Union, reveals widespread land confiscations and forced evictions of rural people for government-controlled sugarcane plantations.
Following the 1993 UN-sponsored elections in Cambodia and the adoption of a new national constitution in September of that year, economic liberalisation led to extremely rapid economic growth, hitting 9.8% between 1999 and 2007. But much of this growth failed to deliver results for the poor. Socioeconomic inequality is rampant.
The newly installed "democracy" soon became plagued with things to be legitimately concerned about. Looking at the 2013 elections, it is not an exaggeration to describe Cambodia today as a de facto one-party state.
Over the weekend, Cambodian authorities dispersed opposition protesters from their rally base in the capital Phnom Penh, a day after police launched a violent crackdown on striking garment workers that left at least three demonstrators dead. A military police spokesman said:
They won't be allowed to rally, to protest, or to hold any political activities at the park any more.
Rights campaigners condemned the move as the country's worst state violence against civilians in more than a decade.
About 500,000 Cambodians are employed in the garment industry, which is worth over A$5billion a year to the economy in exports. The government has offered $100 as a minimum monthly wage, short of $160 asked by workers and pledged by the opposition.
Now that the Myanmar government has passed the Foreign Investment Law and the European Commission has decided to give the country access to the Everything But Arms (EBA) trade scheme, multinational sugar producers are expected to move in and acquire land for large-scale agricultural developments in rural areas. Not surprisingly, this raises concerns among small-scale farmers in Myanmar.
Australia is among a number of countries promoting aggressive economic engagement in Myanmar. It is also pushing for a new "democracy" starting with changes to the 2008 Constitution to allow Nobel laureate and National League for Democracy (NLD) chairwoman Aung San Suu Kyi to contest the prime ministerial position at the 2015 general election.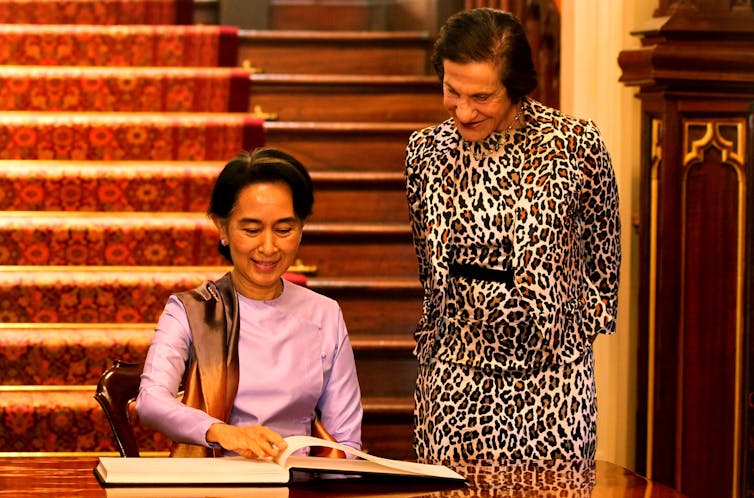 The main challenge for the NLD is not to win the election, but to promote inclusiveness and reconciliation. Suu Kyi has been criticised for not doing more to defend the Rohingya people. This Muslim community of about one million is a target of sectarian violence in parts of the predominantly Theravada Buddhist nation.
To this day, Suu Kyi has not acknowledged the existence of the Rohingyas, let alone their plight. That has created doubt in some circles about her will to champion a peaceful reconciliation process.
In an interview with ABC's 7.30, Suu Kyi called for people to "focus on ways to end the violence". On the ground, however, evidence shows the government's inability to contain the violence; bias on the part of local authorities and local security forces in favour of Theravada Buddhist monks inflaming violence; and extremist Buddhist rhetoric, which has gone largely unchallenged by the authorities and the opposition alike.
Even Aung San Suu Kyi's father, independence leader Aung San, was unable to resolve this long-lasting sectarian conflict, which has claimed the lives of many and caused large-scale displacements. The conflict has caused many Rohingya people to flee and seek asylum in countries like Australia.
Under the Coalition government led by Tony Abbott, aid has become "trade-dependent" and "performance-oriented" to support Australia's national interest. This – together with being an active member of the US-led alliance in the Asia-Pacific region – leaves little doubt as to the nature of our engagement in Myanmar.
What have we learned after 20 years? Are we about to make similar mistakes with Myanmar as we have made with Cambodia? Should economic development be the first priority when trying to "install" new democracies? Or should we rather focus on the needs of the populations - taking into account fundamental differences in ethnicity and religion?