The writing has been on the wall for Phones4U for a while now. The rapid decline into administration will be bad news for workers and customers but in truth, the company didn't help it's own cause as the mobile phone sector evolved away from the business model that made the retailer successful.
There are only four mobile network operators within the UK: Vodafone, O2, EE and Three. Every mobile sold has to work on one of these networks. These four operators are therefore competing for business and need to drive handset sales towards their networks. There are three key ways of doing this, direct selling, partnering with Mobile Virtual Network Operators such as Asda, Tesco and Virgin, and through independent third party retailers.
The attraction of a third-party retailer is that it is able to offer a range of handsets operating on a variety of networks. For the customer this means that under one roof they are able to consider a broad choice of packages and be guided into choosing the one best suited to their needs. This was the unique selling point that saw retailers such as Carphone Warehouse and Phones4U establish their high street presence at a time when mobile ownership was much lower than today and people needed more guidance. That is perhaps less important today when customers are not only more mobile savvy but also more easily able to compare packages, and buy them, online.
Mixed signals
For the network operator, a retailer can be a useful ally. They provide another high street presence and outlet for their products and very effective that can be. One in ten of EE's customers have been recruited through Phones4U. However, for all of these benefits to flow, a retailer needs to have a commercial relationship with each of the mobile operators. Break those links and the retailer is left high and dry with no products to sell and hence, no business. This is precisely what has happened to Phones4U.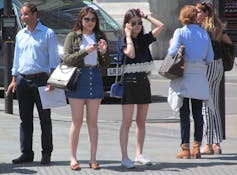 The customers the company pulled in for the operators are now left scratching their heads, although existing contracts will continue because they are in effect part of the operator's packages. Those who have recently pre-ordered an iPhone 6 will probably receive a refund, rather than their phone, but the greatest uncertainty currently resides with the validity of insurance policies taken out with Phones4U and what will happen to any phone that has been returned for repair.
It is a tough endgame for a firm formed in 1996 by John Caudwell. He sold it in 2006 for £1.46 billion and it was then acquired by private equity group BC Partners in 2011. In 2013, Phones4U generated more than £1 billion in sales and generated a £100m profit. So, why has it apparently all gone so horribly wrong?
To begin with, it has not all been plain sailing for the group. In 2008 the telecoms regulator Ofcom found Phones4U guilty of breaking the law over the mis-selling of mobile phone contracts which forced it to change its policies and practices. In more recent times, financial analysts have criticised Phones4U for growing their debt burden. That in turn gave it repayment obligations which impacted its commercial flexibility when negotiating new deals with those crucial network operators.
Changing model
Coupled with these internal company issues, operators have changed their policy too as a result of an overall 0.6% decline in retail revenues reported for last year. They are also looking ahead to a future of further revenue reduction where new regulation will impact call pricing and international roaming. This has driven them to consolidate their businesses by focusing on fewer strategic partnerships and preferring to deal direct with customers to preserve their own profit margins.
The response to these imperatives has not been sudden. The first operator to leave Phones4U was Three in 2012, followed in February by 02 which accounted for about 10% of their business. Then two weeks ago Vodafone who accounted for 25% of their business and now EE, who accounted for over 50% of their business, have confirmed this week that they will not renew their contract with Phones4U when it expires next year.
For a retailer that is totally dependent on these relationships, it was inevitable that Phones4U would be forced into administration with the future of their 6,000 staff and over 500 stores being put in jeopardy. If Phones4U does fold, as looks highly probable, then this will be a high street failure on the scale of Comet, which ceased trading in 2011.
Phones4U was no minnow. It had 11% of the UK mobile phone market and the net beneficiary of their demise will probably be their main competitor, Dixons Carphone, who currently have 20% of the UK market and whose share price instantly rose by 3% following the announcement from Phones4U. Dixons Carphone will then become the UK's last large-scale independent retailer bridging the gap between operators, handset manufacturers and us, the customers.
Of course the same market pressures which did for Phones4U apply to all remaining retailers, including Dixons Carphone. They are equally dependent on retaining commercially viable links with battling network operators seeking new ways to maximising profit margins against a backdrop of falling revenues. However, with over 20% of the retail market, an established brand and diverse product range that extends beyond mobiles – and one of its main competitors eliminated, of course – maybe Dixons Carphone can weather the storms in the mobile sector.