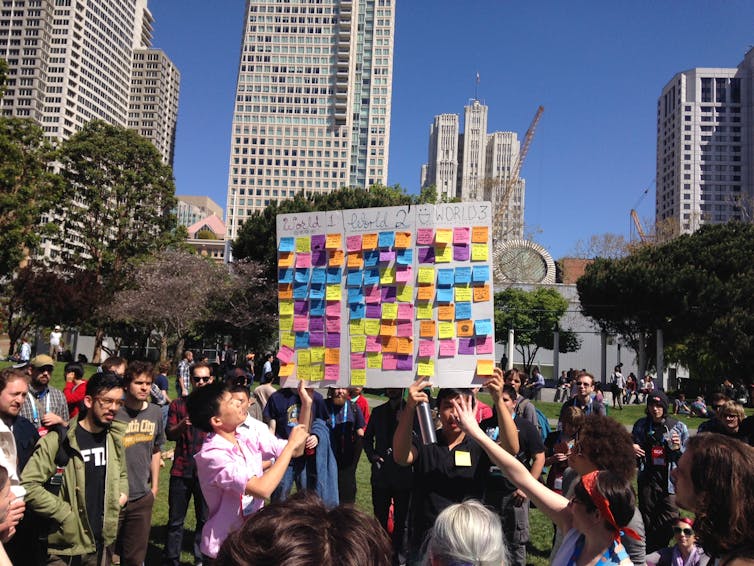 According to a press release sent out by the Game Developers Conference (GDC) at the end of last week, over 24,000 people attended the conference this year. One of the most interesting things about GDC is how it distills the entire, global games industry down to about three city blocks of downtown San Francisco. In this concentrated area, every aspect of what we call the games industry is represented (some better than others, of course), and not just the parts we want to admit exist.
There are the independent developers in their hoodies and brightly coloured dresses, and there are the slightly more formally dressed developers from blockbuster studios. There's the few industry legends wandering the halls, such as John Romero, father of the first-person shooter, playing DOOM deathmatches against anyone who challenges him. These are the "creative" people of the industry, the ones that critics like myself are most interested in.
But they represent just one aspect of the industry. In another wing of the conference hall, people in suits are discussing strategies to monetize free-to-play games. Down on the expo floor, you are just as likely to see a display of the newest pokie machines or advertising-enabling middleware as you are an exciting new game. GDC is where you get to see the games industry in its entirety: warts and all—not just the parts you want to see.
Except, it's not quite "all" of the industry. Or, at least, if it is the entire "industry", it is still not a complete picture of everyone who is contributing to this thing we call "videogames". No, to see that required that attendees took a break from the conference halls after lunch on Thursday of the week-long conference to see what was happening in a nearby park.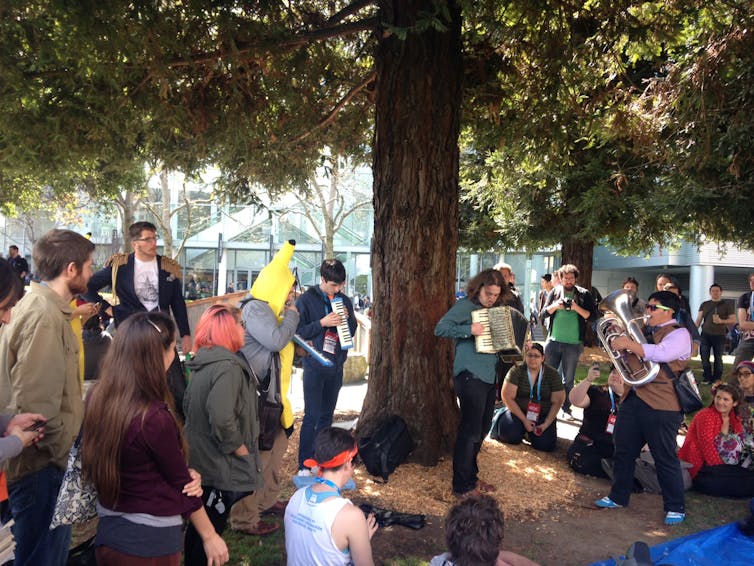 See, GDC might have had 24,000 attendees, but it draws even more people into its orbit who don't actually attend the conference: people who want to be around to hang out with attendees but aren't going to spend the $2000 required to actually attend the conference. These are the independent creators and students and critics who spend the days hanging out in the park or around the conference hall just to see their friends that, for one week, are all in the same city. Sometimes they might borrow a friend's pass to see one panel or check out the expo hall. For the most part, though, they just hang out.
Except, that is, on Thursday afternoon. For the second year in a row, the Thursday afternoon of GDC has seen this crowd of people in the park grow into the Lost Levels "unconference". Organised by a group of young indie developers (including Melbourne's own Harry Lee who co-directed the Freeplay Independent Games festival last year), Lost Levels is entirely free, open to everyone, and gives anyone the chance to spend five minutes giving a talk about anything they want.
Often these talks will be about games in some way, but no talk gets rejected from Lost Levels and people can submit anything they want. No shortage of students tried to cram their grand theories about Games And Poetry into a five minute talk. Critic and developer Liz Ryerson recited her powerful FUCK MARIO. Developer of IGF finalist Dominique Pamplemousse, Deirdra Kiai just jammed out for a while. And, stealing the show, Naomi Clark's performative piece with Ric Chivo was perhaps the most visible depiction of the tensions between what was happening in the park and what was happening across the road in the conference centre.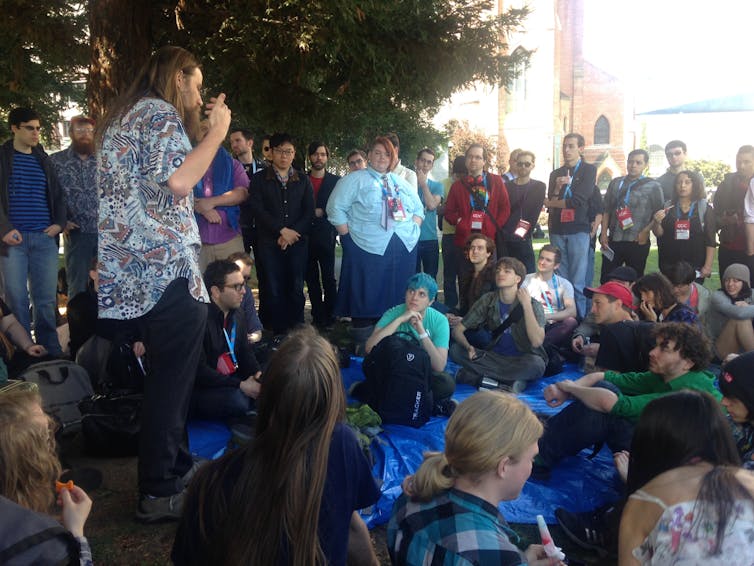 There's no sound systems or printed itineraries or stages. Just three vague areas where people are going to start yelling about whatever they are yelling about after the last person ends. It's practically impossible to actually plan what talks you want to see; you just have to wander up to a mob and hope you are seeing something decent (and that the person presenting is loud enough for you to hear them!).
The whole ordeal is a chaotic whirlwind. It makes some attendees grumpy—especially those who have wandered across from the GDC halls to see what everyone on twitter is going on about. It seems unprofessional and unorganised. Except, that's kind of the whole point of it. In some ways, the individual talks of Lost Levels don't matter (even if it is very important that it provides a space for such talks).
Rather, the point is just the sheer energy of it all. All these young, bright minds running around in the park in the sunshine. All the bemused and confused suits who were sitting in the park for lunch who aren't quite sure what is happening.
I don't want to make cliche claims about Lost Levels being "cooler" than GDC or anything like that. But it is exciting that it exists. It is exciting that videogames have matured to a degree that they have a counter culture that is increasingly impossible to ignore. It is exciting that I can think of as many games that I loved from the past year that came out of that park than out of the nearby conference centre.
Videogames are a lot of things, and Lost Levels represents that just as well as the expo floors and lecture theatres of GDC.