Australia ranks equal 15th overall in a new World Bank scorecard on sustainable energy. We are tied with five other countries in the tail-end group of wealthy OECD countries – behind Canada and the United States and just one place ahead of China.
Called the Regulatory Indicators for Sustainable Energy (RISE), the initiative provides benchmarks to evaluate clean energy progress, and insights and policy guidance for Australia and other countries.
RISE rates country performance in three areas - renewable energy, energy efficiency, and access to modern energy (excluding advanced countries), using 27 indicators and 80 sub-indicators. These include things like legal frameworks, building codes, and government incentives and policies. The results of the individual indicators are turned into an overall score.
The majority of wealthy countries score well in the scorecard. But when you drill down into the individual areas, the story becomes more complex. The report notes that "about half the countries with more appropriate policy environments for sustainable energy are emerging economies," for example.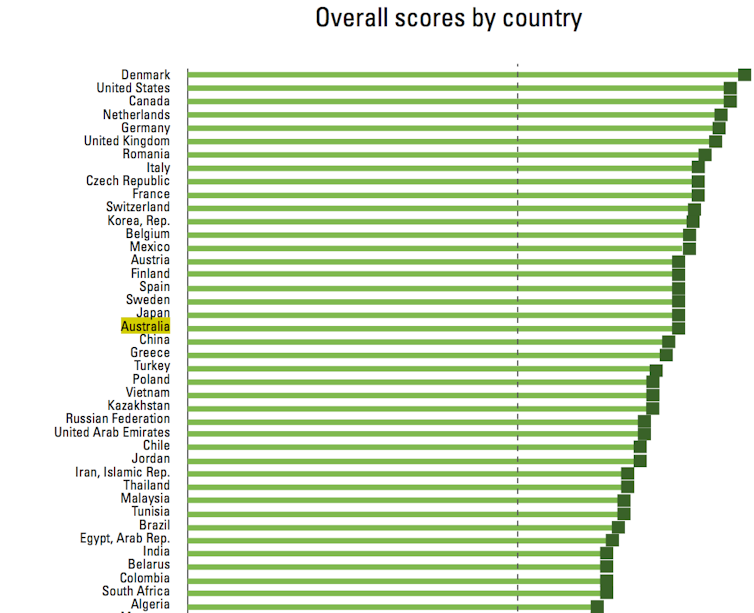 The report relies on data up to 2015. So it does not account for recent developments such as the Paris climate conference, the Australian National Energy Productivity Plan, the widespread failure to enforce building energy regulations, and the end of Australia's major industrial Energy Efficiency Opportunities program under the Abbott government.
Furthermore, Australian electricity demand growth has recently re-emerged after five years of decline.
But the World Bank plans to publish updated indicators every two years, so over time the indicators should become a valuable means of tracking and influencing the evolution of global clean energy policy.
Australia
Australia's ranking masks some good, bad and ugly subtleties. For example, Australia joins Chile and Argentina as the only OECD high-income countries without some form of carbon pricing mechanism. Even the United States, whose EPA uses a "social cost of carbon" in regulatory action, and has pricing schemes in some states, meets the RISE criteria.
Australia also ranks lower than the United States for renewable energy policy, at 24th. This is due to scoring poorly in incentives and regulatory support, carbon pricing, and mechanisms supporting network connection and appropriate pricing. But we are saved somewhat by having a legal framework for renewables, and strong management of counter-party risk. It's not clear how recent political uncertainty, and the resulting temporary collapse of investment in large renewable energy projects, may affect the score.
I have argued in the past that Australia is missing out on billions of dollars in savings through its lack of ambition on energy efficiency. Yet we rate equal 13th on this criterion, compared with 24th on renewable energy. It seems that many other countries are forgoing even more money than us.
In energy efficiency, we score highly for incentives from electricity rate structures, building energy codes and financing mechanisms for energy efficiency. Our public sector policies and appliance minimum energy standards also score well. Our weakest areas are lack of carbon pricing and monitoring, and information for electricity consumers. National energy efficiency planning, incentives for large consumers and energy labelling all do a bit better. Of course, these ratings are relative to a low global energy efficiency benchmark.
The rest of the world
Much of the report focuses on developing countries. There is a wide spread of activity here, with some countries almost without policies, and others like Vietnam and Kazakhstan doing well, ranking equal 23rd. China ranks just behind Australia's cluster at 21st.
RISE shows that policies driving access to modern energy seem to be achieving results. The report suggests that 1.1 billion people do not have access to electricity, down from an estimated 1.4 billion a few years ago. A significant contributor to this seems to be the declining cost of solar panels and other renewable energy sources, and greater emphasis on micro-grids in rural areas.
The report highlights the importance of strategies that integrate renewables and efficiency. But it doesn't mention an obvious example. The viability of rural renewable energy solutions is being greatly assisted by the declining cost and large efficiency improvement in technologies such as LED lighting, mobile phones and tablet computers. The overall outcome is much improved access to services, social and economic development with much smaller and cheaper renewable energy and storage systems.
The takeaway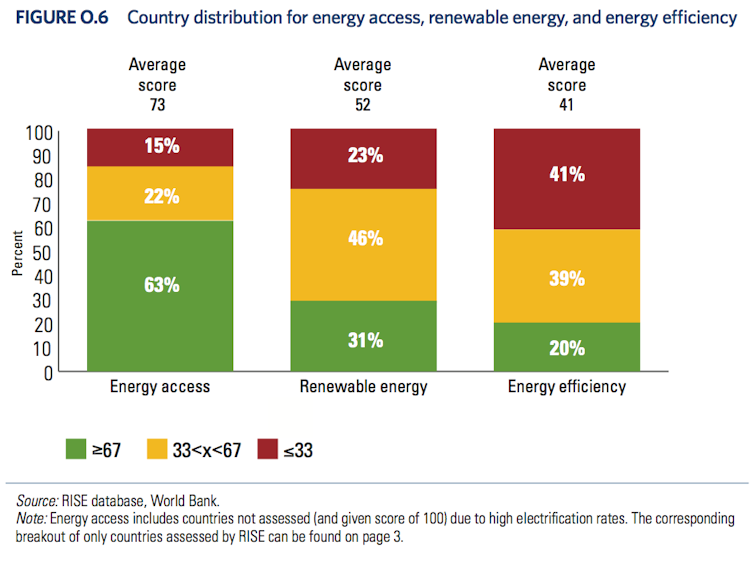 RISE finds that clean energy policy is progressing across most countries. However, energy efficiency policy is well behind renewable energy. "This is another missed opportunity", say the report's authors, "given that energy efficiency measures are among the most cost-effective means of reducing a country's carbon footprint." They also note that energy efficiency policy tends to be fairly superficial.
Australia's ranking on renewable energy policy is mediocre, while our better energy efficiency ranking is relative to global under-performance. The Finkel Review and Climate Policy Review offer opportunities to integrate renewables and energy efficiency into energy market frameworks. The under-resourced National Energy Productivity Plan could be cranked up to deliver billions of dollars more in energy savings, while reducing pressure on electricity supply infrastructure and making it easier to achieve ambitious energy targets. And RISE seems to suggest we need a price on carbon.
The question is, in a world where action on clean energy is accelerating in response to climate change and as a driver of economic and social development, will Australia move up or slip down the rankings in the next report?