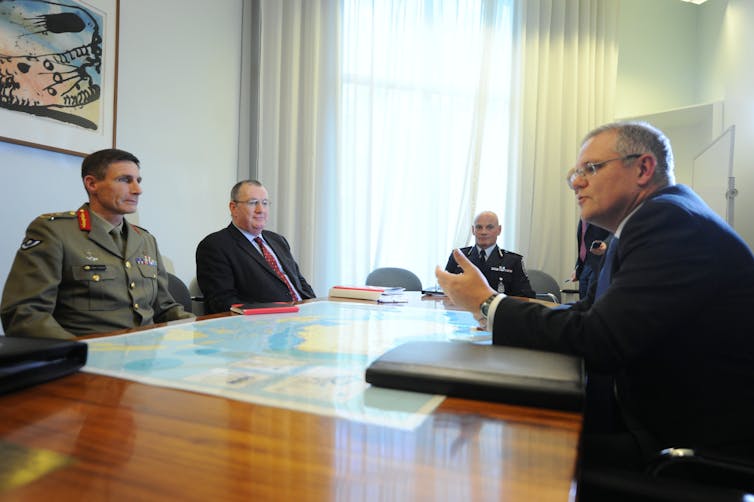 The government sounds as though it's going to war rather than fighting the people smugglers. A lieutenant general in charge, talking about a campaign plan; as much secrecy as possible; asylum seekers dispatched immediately to a very unhealthy place without the procedures previously thought necessary.
If the boats slow dramatically, and nothing goes wrong, the government will get away with it and be able to claim victory.
But if anything bad happened – such as someone getting really ill when that could have been prevented – it would be another story.
Probably the former Labor government has done the heavy lifting in this exercise, with its drastic PNG solution. The new government is just taking it further. We'll never quite know, because the Rudd solution, now being built on, ran only for a short time, before the election. Abbott will get the credit if the boats stop in a game of winner takes all.
If the Coalition had still been in opposition, and Labor had said it would announce arrivals weekly rather than boat-by-boat, Scott Morrison would be screaming blue murder. Now he boasts he's stopping the "shipping news". He didn't say previously that the old system should cease because it was helping the people smugglers. There is no good case for the new arrangement; the government is just doing it because it can.
As for the apparently total secrecy when a boat is turned around – "we are not getting into the tactical discussion of things that happen at sea," Morrison said -how will that work, minister? If you don't say a boat has been turned back, will the people smugglers do so? Hardly. Maybe word will get around the potential customers but don't you need maximum publicity as a deterrent?
On the other hand, there's method here: if the operation is shrouded in secrecy this considerably reduces the pressure on Indonesia, which is not happy about the turn-round policy. And indeed maybe you can avoid actually implementing this difficult measure at all (which would make the Navy happy).
Most serious, however, is the possible danger to people because of inadequate attention to health needs, given that asylum seekers are to be sent off within 48 hours. Morrison says these can be handled at Manus Island and Nauru."If people are fit to get on a boat, they'll be quickly deemed fit to fly," he said. "Issues relating to health and other matters will be progressed increasingly at the other end." One would worry about whether, in particular, things will be properly dealt with on Manus. There is concern with a communicable disease such TB, where time is required for testing.
The government has legal and moral responsibilities for people's welfare – unlike an opposition which can just mouth off.
The unfortunate military finds itself being used as the political shield in this operation. There is nothing like standing with a man in uniform when you want to add gravitas and get some protection against charges of excessive secrecy and the like. We know the navy never liked having to turn around boats; the military is presumably even less keen on finding itself at the frontline of the political action.
Tony Abbott faces a major test of his border protection policy when he visits Jakarta next week. The Indonesian government is unhappy about aspects (offering to buy boats as well as turnbacks). A huge amount of behind-the-scenes work will be underway to try to make sure the Indonesian are on board and maybe there will be some trade offs in other areas (the cattle business?). Abbott stresses his visit is about a lot more than boat arrivals but that will be taken as a vital marker of the success of his first overseas trip as PM. He is getting some positive signs: according to sources, the word coming to him from the Indonesians is that they are willing to put aside the public huffing and puffing and give Australia the benefit of the doubt. This doesn't mean they have changed their position, but they want to get the relationship with the new government started on the right footing.
Listen to the Politics with Michelle Grattan Podcast below, subscribe on iTunes or via RSS. This episode Michelle speaks to Greens leader Christine Milne.