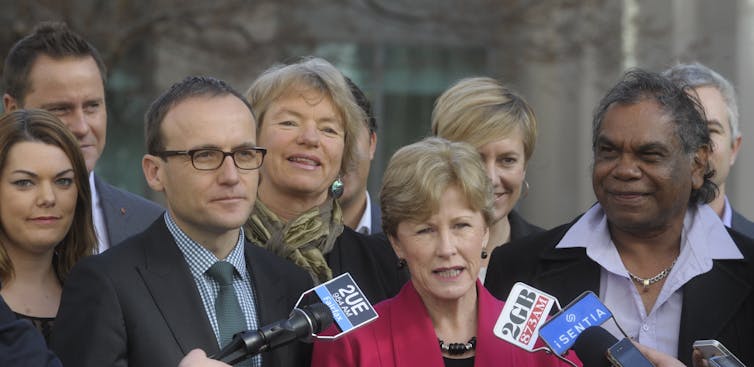 When it comes to parties' asylum policies, it's the Greens versus the majors.
As the boat flow has increased and the government and Coalition have sought to outdo each other in their responses, the Greens have found themselves increasingly at the very margin of the debate.
Earlier they copped blame for not facilitating the Malaysia solution, when it was thought it might have done some good. If they had, it's possible we might not be in the present situation.
But, as they face the danger of losing their sole hold on the Senate balance of power, the asylum issue is potentially a niche political opportunity for the Greens. They might peel off some Labor supporters on the left who can't stomach the PNG solution.
The Greens have today released a policy that stands in absolute contrast to Labor's and the Coalition's uncompromising stands.
They say that offshore detention centres in Nauru and PNG should be shut down, with Australia assessing the claims of people who arrive by boat. Asylum seekers in the community should be allowed to work; no children should be in detention anywhere; and 4000 more family reunion places should be opened in the humanitarian program to stop women and children getting on boats, the policy says.
The policy calls for an increase in Australia's humanitarian intake from 20,000 to 30,000 (costing $2.5 billion over four years), and the provision of an extra $70 million annually to the UNHCR to support asylum seekers in Indonesia, and to help fast track processing in Indonesia and Malaysia.
The Greens have also put out Galaxy polling done last week (with a national sample of 1015) which found that 48% of people did not trust the major parties to put caring for refugees before their own political interest (32% did and 20% were undecided).
In Victoria/ Tasmania the figure was 56%; in age terms the most sceptical of the parties were people 35-49 (54%).
The problem for the Greens with that finding is that while people recognise parties' political motives, many in the general population (especially in certain seats) are themselves not too concerned with the plight of asylum seekers. Their preoccupation is stopping them coming.
Greens leader Christine Milne says herself that what she describes as "barbarism" seems to win votes.
She accused Kevin Rudd and Tony Abbott of having "shamed Australia both at home and abroad", a point with which human rights lawyer Father Frank Brennan from the Australian Catholic University agrees.
Brennan told the ABC's 7.30 last night: "I am very concerned that what we have now got to is a situation when we go into electoral mode, where we as Australians are led by politicians who trash the processes that are necessary for detailed bilateral negotiations with neighbours such as Indonesia and Malaysia. And who trash our relationships with our poor Pacific neighbours, and who trash the appeal to our fine noble moral instincts as a community.
"We are now involved in a situation which is very high risk and all it's about is trying to buy votes".
It's hard to see how the major parties can take the bidding higher in this unedifying auction.