Rats send shudders down many peoples' spines, and may in fact be Sir David Attenborough's least favourite animal. But despite their poor reputation, rats are astonishingly successful.
Almost everywhere humans have built their cities, rats have set up their homes – to live with us and off us.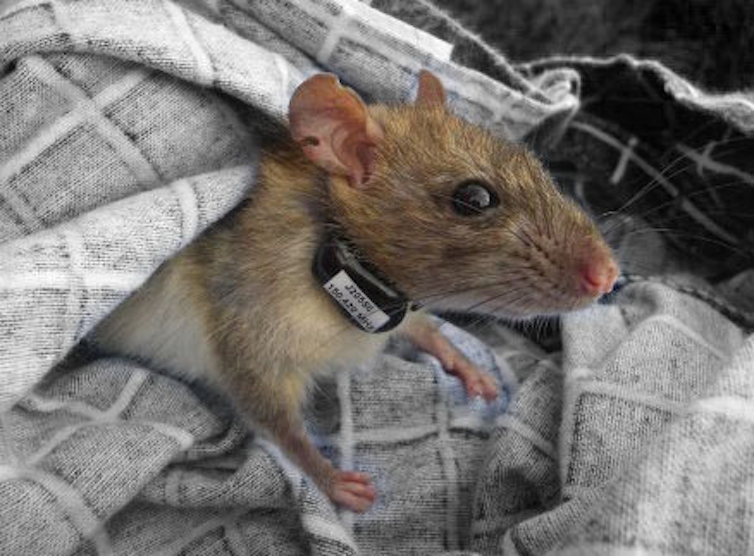 Know your rodents
In Australia we have two species of rat that can be considered truly commensal - a species that lives off the resources provided by us.
The black rat (Rattus rattus), or ship rat, is the species of rat that people will most often encounter in their houses in Australia. Then there is the brown rat (Rattus norvegicus), also known as the Norway rat (although it doesn't come from Norway). This is the species that is often kept as pets and used in lab research.
In the northern hemisphere, the much larger brown rats seem to outcompete black rats. But in Australia and New Zealand, black rats are more widespread and common than brown rats, for reasons we don't fully understand.
Australia also has 60 species of native rodents, including eight species of native Rattus that evolved from from ancestors which arrived about a million years ago. Similar in size to black rats, these native rats have probably prevented the spread of black rats into natural areas, as has happened in New Zealand and Pacific islands which lack native rodents.
It can be hard to tell a black rat from a native bush rat (Rattus fuscipes), but black rats are more slender with longer tails, and bush rats are chubbier. It is easier to pick a brown rat, which is more than twice the size of a black rat.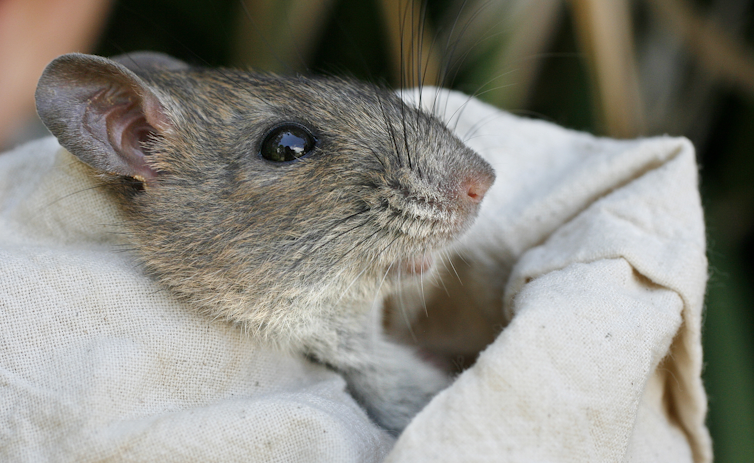 Arrival
Black rats probably came to Australia with the First Fleet. There are skeletons of black rats in the gun barrels of sunken Dutch ships off Western Australia, but there is no evidence that their invasion of Australia began before the English landed in Sydney, when they literally jumped ship.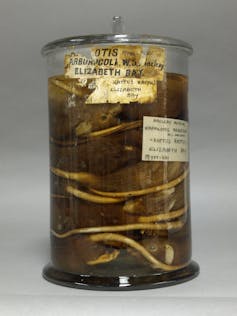 The Macleay Museum at the University of Sydney has the first recorded black rat specimens. These were initially thought to be a native species and given the name Hapalotis arboricola. In fact, there are loving descriptions of it climbing in local fig trees and entertaining the residents of Mosman. These rats were, however, black rats. They still climb fig trees in Mosman, and are still mistaken for native rodents.
The name black rat is a bit of a misnomer. We have trapped black rats from around Sydney Harbour in many colours, from light fawn, to chestnut brown with white patches, to light grey and sometimes dark grey, and only occasionally black. They can be very cute.
A very long engagement
Remains of black rats have been found in Indus civilisations from 4,000 years ago, and even earlier from Israel and the Middle East. They probably originated in India, and are likely to have adapted to human settlement many times in their history.
The black rat is now one of the most widely distributed animals in the world, perhaps only surpassed by humans and house mice. The live on every continent except Antarctica.
What brings them to our houses? The houses we live in provide rats with the secure, thermally stable homes they need to breed in. They eat a vast range of foods, and so can exploit our waste. The urban environments we have created are also relatively free of predators.
When conditions are ideal, black rats can reach very high numbers, giving birth to up to 12 young every five weeks or so. But the urban myths that there is one rat for every person, or that you are never less than six feet from a rat, have little support. In truth, we have no real idea of how many introduced rats there are in Australian cities.
Unwelcome housemates
Rats are often unwelcome housemates because of the diseases they spread in their urine and faeces, including leptospirosis (Weil's disease), salmonella, and E. coli. They are also hosts of ticks that transmit bacterial infections and induce allergic reactions.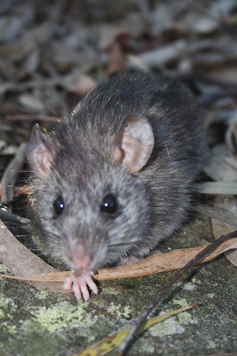 Black rats are important hosts of the parasites Toxoplasmosis gondii and rat lungworm - both of which can be fatal to native wildlife and humans. Rats are also famous for carrying the plague, which arrived in Australia in the early 1900s but fortunately died out. Australia remains plague-free.
Rat damage infrastructure when building their nests. They chew electrical cables, increasing the risk of house fires, although why they do this is not clear.
But they actually spend less time in our houses than many people think, more often making use of backyards. They seem especially to love aviaries and hen houses, which provides a ready source of spilled food and underground shelter.
Aliens, or just wild?
Just as native rats belong in natural environments, cities are rats' natural habitat. They may be introduced in Australia, but they have evolved in the urban habitats we have imported.
However, black rats can spill over from cities to remnant bushland, entering an environment that has not adapted to them. Here they have the potential to wreak all kinds of havoc.
Black rats are adept climbers and raid birds nests to prey on the eggs of small native birds, which may be one reason why these birds are uncommon in city parks. They also prey on other tree-dwelling wildlife such as small bats, skinks and spiders.
In contrast, native bush rats are clumsy climbers, and the type of lungworm carried by native rats doesn't seem to have the same impact on wildlife and people.
Black rats are aided in this conquest by humans. Almost 70% of rats living in bushland next to houses have visited those houses sometime in the previous two weeks. This undoubtedly helps to increase rat populations beyond what the natural environmental alone could support. In contrast, native rats rarely visit houses.
So even though black rats are native to our cities, they can still be pests to humans and other wildlife. Killing rats with poison or traps is one option, but the best strategy is to reduce their access to food and shelter. Make sure your neighbours are doing the same, and aren't providing a refuge for the rats jumping ship from your home.
This article is part of a series profiling our "hidden housemates". Are you a researcher with an idea for a "hidden housemates" story? Get in touch.