It's been 40 years since Elvis Presley last swivelled his hips, before his untimely death in 1977 at the age of 42.
To date, Elvis's singles – including Hound Dog, Blue Suede Shoes, and Suspicious Minds – as well as soundtracks and concert albums, have sold billions of copies worldwide.
From humble origins in Tupelo, Mississippi, in the space of just a few years Elvis became an international superstar of fabulous wealth. His name, face, and voice were then – and still are now – recognised in an instant. But though he is the "king of rock-and-roll", Elvis defies easy generalisation.
Born in a two-room shotgun shack in 1935, Elvis was a shy child, close to his parents, especially his mother. He was first introduced to performing for an audience through a local singing contest at the age of ten, and was influenced by gospel and singing in the choir at the family's evangelical church.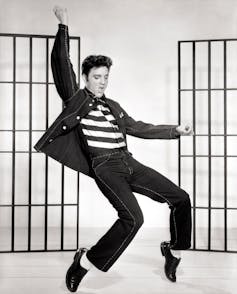 The Presleys moved to Memphis, Tennessee, in 1948. As a teenager, Elvis hung out on the iconic Beale Street, exploring the famed music scene and listening to white and black, urban and rural styles and sounds, especially rhythm-and-blues. This was also where he started experimenting with fashion and changing his appearance, not least his hair which he styled with Vaseline into a quiff.
During the summer of 1954, Elvis recorded a version of the old blues number That's All Right (Mama) in downtown Memphis. The recording was a sensation, and was played nonstop on local radio stations. From there, Elvis and his band evolved a distinctive rock-and-roll – or "rockabilly" – sound, blending different strains of music with an energetic vocal style, new rhythms and electric guitars.
In 1955, as his music career began to take off, Elvis signed with Nashville's RCA record label, a deal arranged by music promoter Colonel Tom Parker, who later became the singer's long-time manager. Elvis's first RCA single, Heartbreak Hotel, released in 1956, topped the music charts in the US.
As his music rose through the tracks, Elvis appeared on a number of US network television variety shows, most notably the Ed Sullivan Show, accelerating his national profile and fame. Soon after he also launched a movie career with Love Me Tender, which was a success at the box office if not with critics.
All shook up
With rose tinted glasses, it may seem that Elvis was beloved by all. But the singer was often the subject of controversy, provoking strong opinions among the public and in the press. His on-screen swagger and performance style, consisting of overstated gyrations and other body movements stressing the beat, thrilled his teenage audiences, shaping their fads and fashions.
Elvis was labelled a "sexhibitionist", and his suggestive manner was criticised by churches that claimed his moves corrupted the minds of young Americans. Outraged parents meanwhile equated rock-and-roll with disobedience and delinquency. Even Frank Sinatra waded into the debate, claiming the new music genre "manages to be the martial music of every sideburned delinquent on the face of the earth".
Rock-and-roll's biracial origins, a fusion of white country and black rhythm-and-blues, and Elvis's prominent role in developing the genre, also led to persistent accusations of cultural appropriation. That these debates played out against a backdrop of racial discrimination, segregation in the south and the national movement for civil rights only fuelled resentment towards Elvis.
Always on my mind
In 1958, Elvis was drafted for military service, a major event for fans and media. After basic training, he joined the 3rd Armoured Division and was stationed in Germany for two years. Yet the hits continued apace, including 1960's best-selling ballads, It's Now or Never and Are You Lonesome Tonight?.
During the 1960s, Elvis also starred in several prescribed Hollywood movies, usually musical comedies that were accompanied by a soundtrack album. However, by mid-decade Elvis's career was in decline, his chart success waning. Several years on from his last live stage performance, he launched a comeback with a celebrated television special, "Elvis", in 1968, which was followed by "Aloha from Hawaii" in 1973.
His career relaunched, Elvis's 1970s concerts in Las Vegas, where he had married Priscilla Beaulieu in 1967, were popular and profitable; the singer performing hits such as The Wonder of You, Burning Love, and "An American Trilogy in flared rhinestone jumpsuits.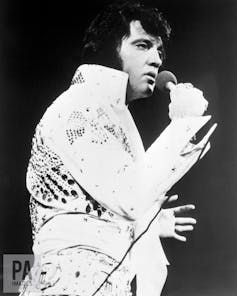 Sadly, after years of prescription drug misuse and in failing health, Elvis passed away on August 16, 1977, after suffering a sudden heart attack in his Graceland home. Thousands of mourners gathered outside his Memphis estate in private tribute to view Elvis's body which lay in an open casket. Commenting on Presley's legacy, the US president, Jimmy Carter, said: "His music and his personality … permanently changed the face of American popular culture."
From a shy young boy to global superstar, the icon of the 20th century that was Elvis Presley is still as enigmatic today as when he was alive. One of the most celebrated and influential popular musicians of all time, his gift and talent, flaws and failings are as enchanting now as they were when he first snarled his lips.