Sporting celebrities and stars have always featured centrally in the psyche of the Australian nation. Our athletes are portrayed as positive role models and many of their indiscretions and behaviours are tolerated such as "Mad-Mondays", sexting, allegations of physical abuse and drug abuse, to mention a few.
What we don't like our athletes having is a conscience and speaking up for political and social justice issues. This is the story of Peter Norman, silver medallist in the 200 metres at the 1968 Mexico Olympic Games and current holder of the Australian 200 metres record.
In 1968 the Australian was involved in one of the 20th century's most famous and striking images; when Tommie Smith and John Carlos, two US athletes with heads bowed and black glove fists raised into the sky gave us the "Black Power salute". Norman stood with them in support and wore an Olympic Project for Human Rights badge. The Salute effectively ended Norman's career.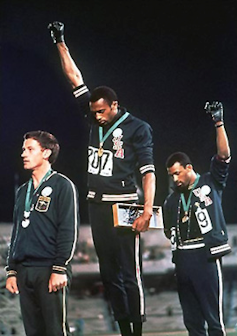 To fully comprehend the magnitude of Peter Norman's actions you would need to step back in time and consider the scene in Australia. All Indigenous peoples in Australia could vote for the first time in 1965; There was a referendum that all Indigenous peoples to be counted in the Census for the first time in 1967; and the forced removal of children was a policy still taking place.
Australia was not a crucible of tolerance. Norman, a teacher and guided by his Salvation Army faith took part in the Black Power salute because of this opposition to racism and the White Australia Policy.
In the US, where the black power movement was strong and widespread, Smith and Carlos almost certainly knew that to a certain percentage of the American population, they would become heroes, even though martyred. In comparison, Norman came back to horrendous criticism by the press.
The International and Australian Olympic Committees were also interested in retribution. Even as late as the 2000 Sydney Olympic Games, Norman was not welcomed. In 1972 he was overlooked for the Munich Games even though he had on numerous occasions made the qualifying time. Norman's name does not appear in books which talk about the 100 greatest Athletes or the 100 greatest moments in Australian sport.
It has taken almost 50 years to apologise to the late Peter Norman and his family and this largely due to the efforts of Labor MP Andrew Leigh. The apology raises a number of important issues for Australians and their fascination with sport.
The first is, why did it take so long? Second, what does this late apology say about race relations in Australia? Third, why has the apology been driven by an MP and not the AOC or even Athletics Australia? More importantly it says that while we want our athletes to be role models, there are certain conditions. Toe the line and remember politics and sport do not mix.
Even as late as August 2012, the AOC denied blacklisting Peter Norman. The time is right to tell the story of the former teacher who won a silver medal in one of the strongest sprint races ever run.
Indeed his athletic achievements warrant greater recognition on this alone. But Norman was more than this; his words to Smith and Carlos "I will stand with you" represents one of the high points of Australian sporting history.