Attending a global leaders summit might look easy – all interesting shirts, family-style photos and unusual handshakes – but these occasions can prove extremely difficult for leaders who focus solely on domestic politics or brand new leaders with uncertain electoral prospects.
Prime Minister Scott Morrison is both.
Morrison faces a busy week of foreign policy tests in his first big moment on the global stage. He first travels to Singapore for the ASEAN and East Asia Summit, then hosts Japanese Prime Minister Shinzo Abe's historic visit to Darwin before jetting off for the APEC Summit in Papua New Guinea on the weekend. This power week will be followed by the G20 Leaders Summit in Buenos Aires at the end of month.
This week, Morrison will have his first meetings with Chinese President Xi Jinping, US Vice President Mike Pence and Russian President Vladimir Putin, in addition to new (but not so new) Malaysian PM Mahathir Mohamad and Chinese Premier Li Keqiang.
---
Read more: With Bishop gone, Morrison and Payne face significant challenges on foreign policy
---
So what can we expect from Morrison's debut summit season and in particular his meetings with Xi?
Pundits have been speculating whether Morrison might try to use the August leadership spill and appointment of new Foreign Minister Marise Payne as a way of pressing the reset button on relations with China.
Payne's recent visit to Beijing was viewed by both parties as a success, so Morrison should have a more pleasant meeting with Xi than former Prime Minister Malcolm Turnbull might have.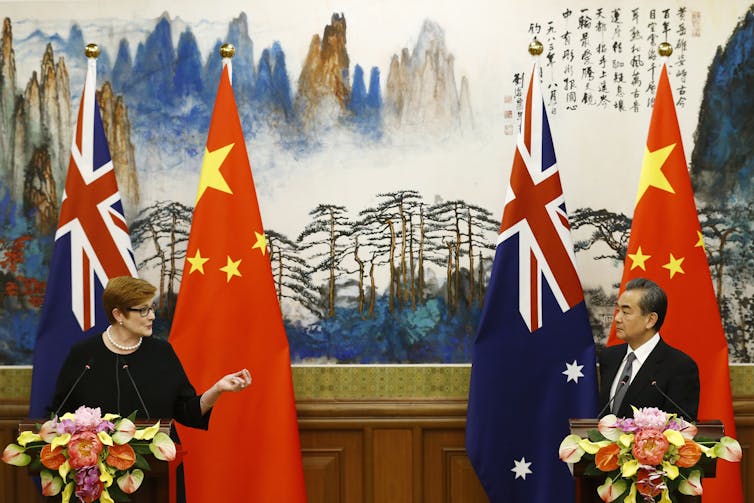 But Morrison's first months in office show a leader who speaks without due care to the reactions of foreign governments – floating the idea of shifting the Australian embassy in Israel from Tel Aviv to Jerusalem is the most glaring example – and a leader with little political capital to spare.
He needs to stick to the script this week.
Danger signs
Morrison has already courted controversy on foreign policy in a short period of time. He skipped the UN General Assembly in September. He also missed the Pacific Islands Forum in Nauru, forcing Payne to reassure Pacific neighbours that he wasn't "snubbing" them.
Morrison did go straight to Jakarta in his first overseas trip as leader to meet with President Joko Widodo and sign the Comprehensive Economic Partnership Agreement with Indonesia.
But he was then accused of playing "straight from Trump's songbook" when he mused about moving Australia's embassy in Israel to Jerusalem without consulting diplomats or generals beforehand. It was widely seen as a crude attempt to win the Jewish vote in the Wentworth by-election.
One downfall of Australian leaders is they can sometimes look parochial and small-town while on the big stage. For example, then-Prime Minister Tony Abbott made a cringeworthy speech to G20 leaders in Brisbane in 2014 about GP co-payments and stopping the boats. Opposition leader Bill Shorten described it as "weird and graceless".
In his case, Morrison failed to realise the negative reception his embassy musings would receive in Indonesia. Now, his meetings with Widodo are likely to be frosty, with no plans to sign the free-trade agreement by the end of the year.
Morrison's meetings with Xi, Putin and Modi
In his recent headland speech, Morrison seemed to adopt a Malcolm Turnbull-style line on taking a middle path with the US and China, noting that a confrontation between the two powers:
risks unimagined damage to economic growth and the global order. Damage where no-one benefits. Lose-lose.
Nevertheless, the speech was strong on values, many of which China does not share.
It is also not clear how Xi will view the recent Pacific push from Morrison, though he seemed to offer the possibility for partnership in the region.
Morrison's meeting with Putin at the East Asia Summit will likewise be interesting to watch. This is Putin's first time at the summit, but by no means his first rodeo. His presence is perhaps indicative of Russia's intention to pivot more attention towards the Indo-Pacific region, taking advantage of Trump's absence.
---
Read more: Russia is a rising military power in the Asia-Pacific, and Australia needs to take it seriously
---
In yet another foreign policy stumble, Abbott once famously vowed to "shirtfront" Putin over the downing of Malaysian Airlines flight MH17. Putin enjoys such displays of toxic masculinity; hopefully, Morrison can restrain himself.
Australia wants to enhance its partnership with India, so we should see Morrison make a beeline for Prime Minister Narendra Modi at the ASEAN meeting, hoping for one of Modi's signature hugs.
Before meeting Modi, Morrison will hopefully have carefully read the India Economic Strategy to 2035, authored by the former high commissioner to India and head of DFAT, Peter Varghese.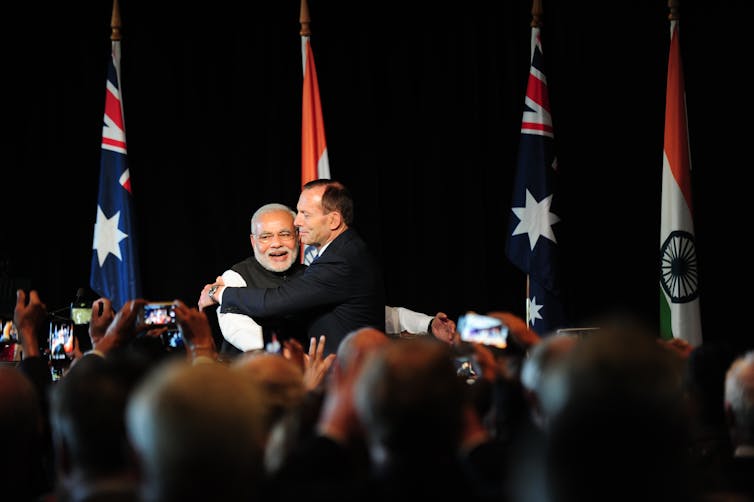 Our Pacific family
Last week, Morrison made perhaps his most important foreign policy speech – a major strategic announcement on the Pacific. He said Australia would open five new embassies and launch an infrastructure bank in the region to the tune of A$2 billion, and declared the Pacific "our patch":
This is our part of the world. This is where we have special responsibilities. We always have, we always will. We have their back, and they have ours. We are more than partners by choice. We are connected as members of a Pacific family.
The announcement came after he signed a deal for a joint naval base in Papua New Guinea. Both this and the infrastructure bank were seen as ways of countering Chinese influence in the Pacific, but Morrison did refrain from using any anti-China rhetoric.
---
Read more: For Pacific Island nations, rising sea levels are a bigger security concern than rising Chinese influence
---
This is noteworthy. Tess Newton Cain has pointed out that Australia often misses the right tone of respect and partnership in its announcements to the region.
But despite this new push for Pacific engagement, Australia is still seen as weak on climate policy – a hugely important issue to Pacific leaders. This could result in difficult conversations for Morrison at APEC, as PNG has invited many Pacific nations to attend for the first time.
Sit down, be humble
Even if Morrison puts his best foot forward to overcome his poor start on foreign policy, he will still have difficulty standing out in the crowd.
Even leaders require some political capital to stand out in those big rooms.
The churn in Australian prime ministers means that some foreign leaders may not consider it worth the time or energy to build a relationship of personal trust with Morrison if they view him more like a caretaker. Former Foreign Minister Julie Bishop had spent 10 years building up this diplomatic trust and stability in her various roles, but that was severed abruptly.
My advice to Morrison? Stay humble and listen. Read the briefs, listen to the diplomats and do everything Payne and DFAT Secretary Frances Adamson say to do, to the letter.