Jordan Spieth is a remarkable golfer who has rapidly reached the top of the game. He has achieved a seamless transition from precocious teenage amateur to one of golf's new superstars. He was astonishingly consistent in the 2015 major championships, winning the US Open and US Masters along the way.
His return to Augusta, Georgia for the 2016 Masters looked to be heading in the same direction. Going into the final two hours of the tournament, with nine holes left to play, the 22-year-old Texan had a comfortable five-shot lead. His physicality, technical efficiency, unbelievable putting skills and track record for finishing the job – "closing out" as it is often described – would surely get him over the line. Anything less than a ceremonial procession to a second green jacket seemed unthinkable.
Instead, of course, he let his lead slip away in the most spectacular fashion. Bogeys on the tenth and eleventh holes looked affordable, but then came the twelfth, where Spieth shot a four over par. Though he pulled himself together to complete the round respectably, his errors had left the door open for Englishman Danny Willett to step through.
From a psychological point of view, Spieth's demise is quite straightforward to explain. He may have found himself in a winning position on Sunday afternoon, but in truth he never looked comfortable with his overall game. He battled his way through some patchy ball-striking for the first 63 holes. Without some incredible putts and sheer determination, he would not have kept ahead of the pack.
But once Spieth holed the birdie putt on the ninth, his focus seemed to change from a determination to fight to a more anxious need to make sure he crossed the finish line – something he alluded to in post-match interviews. When you are committed to the fight, you are devoted to delivering a tactical plan, generating a smooth technique, attending to performance detail and staying in the here and now. Thinking about the result fuels uncertainty, hesitation and encourages a restricted carefulness. You abdicate control over your destiny and make yourself more vulnerable at the finish line.
This change of focus from a process to a result has long been associated with deteriorations in performance at the vital moment. Elite sportsmen and women are such that when they produce a peak performance, they are likely to win – and often even win when they play below their best. But if this kind of mindset becomes manifest, it can erode self-belief even at the highest level.
Consider Scotland's magnificent performance in last year's Rugby World Cup when they just failed to retain their own lineout ball in the closing minute of the quarter final against Australia – I suspect this kind of switch in focus was what was at fault. I would say the same about England's near miss in the T20 World Cup cricket final against the West Indies earlier this month, when the hard work had seemingly been done.
The challenge is to repeat the success recipe that allowed you into a winning position in the first place. That is the key to stabilising your level of performance and making it more difficult for an approaching rival (who is probably carrying considerable momentum and confidence).
Managing pressure
Like many, I am fascinated by Leicester City's adventure in the English Premier League this season. I suppose I'd like nothing more than the fairytale to come true for Ranieri, Vardy, Mharez, Morgan and co, who have become household names and rekindled our belief in the complexities and fascination of elite sport. But with five games left and seven points ahead of Tottenham Hotspur, the only team that can realistically catch them, it's not over yet.
Everybody in the Leicester team needs to be 100% clear on their job going into these last games. One technique I would use would be to get the players to write down three aims – not winning the game itself but qualities like demonstrating team togetherness, speed, clinical finishing, commitment to winning the ball, and maintaining that desire to showcase their skills. I would get everyone to agree that they will be judged on those things, so that they will be 100% committed to achieving them.
I might get them to review footage of times where they have achieved those aims in the past. That is a good way to strengthen the imagery in their minds of what it's like to achieve them. If the players focus on repeating what they do best rather than how many games they have to go, they are far more likely to deliver.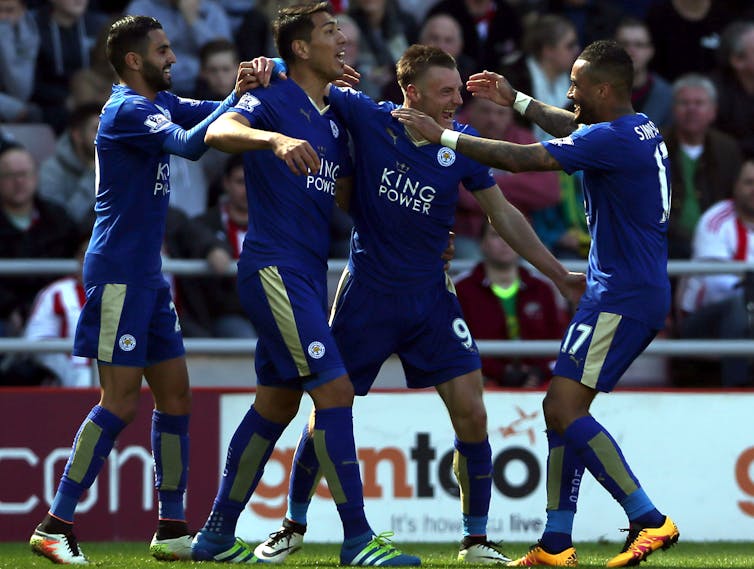 As for Jordan Spieth, his challenge is to pick himself up again. Veteran Nick Faldo has said it will scar him. I would suggest it's too early to say that. This is a young golfer who already has two major trophies in his cabinet. It would have been harder for him had he still been in search of his first. A couple of moments of ill discipline doesn't change a good golfer into a bad one.
He needs to take time to get the Masters into perspective, understand what went wrong in his thought processes and then focus on achieving his technical priorities in a similar way to the Leicester players. Instead of chasing records, he needs to focus on the controllable elements of his game. That way he will stand the best chance of engraving his name on golf's major trophies in future, and let the records take care of themselves.