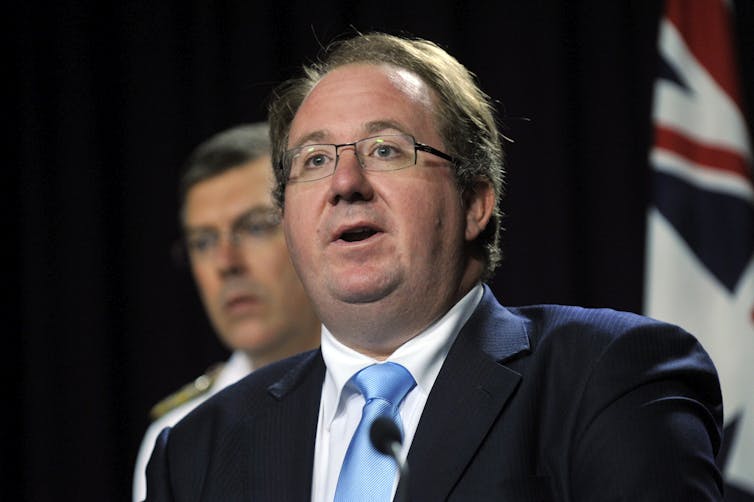 If Labor goes into opposition, or even if it stays in government, next term is going to be seen as a time for renewal.
A swag of former frontbenchers are quitting their seats, and some of those electorates are the plummiest of the plum.
As Labor comes to terms with the departure from parliament of a number of heavy hitters who were not expected to go, it has sought to rationalise the exodus under the rubric of "generational change".
But there are a couple of tests of whether the renewal will see a real difference, or more of the same.
Will the pattern of electing a large number of former apparatchiks – ex political staffers and former union officials – be continued?
And, after all the fuss about the gender battle in Batman, how will women do?
Early conclusions seem clear from a look at candidates chosen or lining up for preselection.
Those who are or have been political and union operatives have the inside running in Labor's 2013 "new generation" candidates in ALP held seats.
Who you know helps a lot. And in the case of the unions, they like to have their own in the parliamentary party.
On the other hand, if you are a woman, don't depend on Labor's affirmative action policy. When push comes to shove, the party boys often shove AA.
Victoria now has a heap of spaces for new faces, some filled and others being fought over. Under the so-called "stability deal" every seat in Victoria is assigned to a faction, except Batman, which has seen a right-left contest.
In Batman (on 24.8%, the safest Labor seat in the country, from which Martin Ferguson is departing), senator David Feeney secured the preselection this week when he won the local ballot.
That leaves open his Senate spot - number 3 on the Victorian ticket. It is yet to be determined but it's no prize. Feeney jumped because he was headed for defeat. On the other hand, an aspirant for future office could get cred by running.
In Gellibrand (24.1%, the second safest seat, held by Nicola Roxon) Tim Watts, a former Conroy staffer who most recently has worked for Telstra, is preselected; he's regarded as one of Labor's best-qualified new faces.
Some women in the party were concerned, however, that Roxon wasn't replaced by a female, and they became even more agitated when it was clear Feeney would defeat his woman opponent in Batman.
Scullin (20.6%) is another roll gold Labor electorate. Former Speaker Harry Jenkins is being replaced by the convenor of the Socialist Left, Andrew Giles, who worked for state Labor MPs and is now with Julia Gillard's old firm of Slater and Gordon.
Hotham (14%) has just come up, with Simon Crean's Monday announcement that he's departing.
It's a right seat, and Rosemary Barker, a state bureaucrat who was an adviser in the Bracks government, says she has the support of factional leader and former Senate leader Stephen Conroy and the Australian Workers' Union. She adds that there's a lot of support for getting good women candidates.
Another aspirant is Geoff Lake, a lawyer with Minter Ellison, who was Victoria's youngest mayor. When president of the Australian Local Government Association, he attended COAG meetings.
Lake is in Crean's old union, the NUW, which will be pushing for its slice of the action.
The outlook for Gillard's electorate of Lalor (22.1%, the nation's fifth safest Labor seat) is not clear. It's also a right seat under the stability deal. One name talked about is Kimberley Kitching, from the Health Services Union.
Kitching, wife of right wing Labor blogger Andrew Landeryou, ran in Gellibrand, where the preselection turned nasty.
In Bendigo (9.4%) Lisa Chesters is replacing backbencher Steve Gibbons, who's retiring. She comes from the union United Voice.
NSW is also seeing a senator, Matt Thistlethwaite, with an eye on a lower house seat – he's bidding for Kingsford Smith, vacated by Peter Garrett. Now a parliamentary secretary, before he entered Parliament Thistlethwaite was NSW ALP general secretary; before that, a union official.
Another contestant is Tony Bowen, a lawyer who is son of one time deputy prime minister, the late Lionel Bowen. Tony Bowen has said he was contacted by the NSW ALP head office and told "in no uncertain terms" not run against Thistlethwaite.
In Newcastle (12.5%), retiring backbencher Sharon Grierson is being followed as candidate by her staffer Sharon Claydon, while in Barton (6.9%, where former attorney-general Robert McClelland is leaving) the candidate is Steve McMahon, chief executive of the NSW Trainers Association, who formerly worked for a state Labor minister.
Pat Conroy, staffer to former minister Greg Combet, has Combet's strong support for his NSW seat of Charlton. A union official, Daniel Wallace is also after it, as is state MP Sonia Hornery, and a couple of others.
Both Conroy and Wallace are out of the same union, the Australian Manufacturing Workers' Union.
The decision by Gillard backer Craig Emerson to vacate his Queensland seat of Rankin has opened a battle between former MP Brett Raguse, who lost Forde in 2010, and Jim Chalmers, a former chief of staff to Wayne Swan. Raguse has said he has the support of Kevin Rudd.
In Capricornia (3.7%), backbencher Kirsten Livermore, who before entering parliament was a solicitor, and an organiser with the Community and Public Sector Union, is being succeeded as candidate by Peter Freeleagus, a coal miner and local councillor.
Over in Western Australia, Defence Minister Stephen Smith, tired of the long flights to Canberra, is vacating Perth. It is vulnerable, on a margin of 5.9% in a state that's difficult for Labor.
Former state Labor minister Alannah MacTiernan is about to announce whether she'll run – she made headlines earlier this year when she suggested Gillard should stand aside. Matthew Keogh, a lawyer with Freehills, is in the hunt, as are a couple of others with legal backgrounds.
The change of leader has opened spots but also led to complications. With the election timing uncertain, it is not clear whether there will be central or local preselections in the outstanding seats.