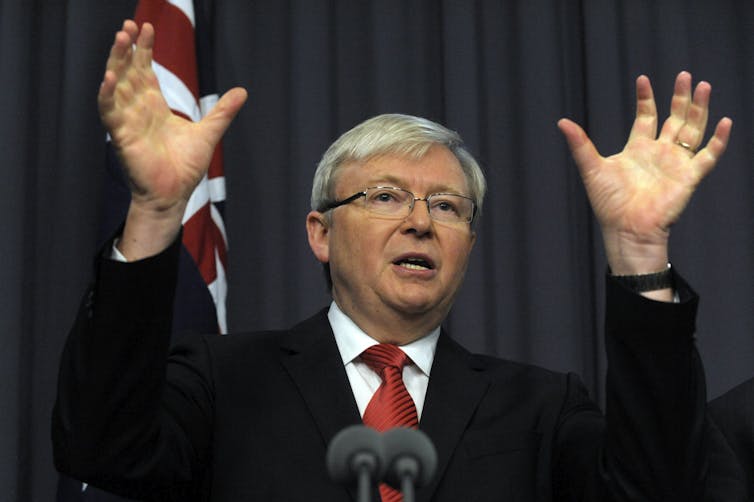 Kevin Rudd has moved to try to neutralise the big negative that NSW Labor corruption is expected to be in that state at the federal election.
His message to voters appalled by what's come out at the Independent Commission Against Corruption - which reports soon - is that he shares their disgust, and will make sure the NSW ALP cleans up its rules.
It's a sensible move - Rudd has not just to distance himself from the NSW situation but to be seen to act on it.
In tackling party reform Rudd is following in the footsteps of Gough Whitlam, who in opposition demanded changes (much bigger than this).
The last federal intervention in NSW was in 1971. The issues were internal abuses of power and rorting, rather the type of financial corruption we've recently seen.
With an election bearing down and with all the authority of his reclaimed leadership, Rudd is in a strong position to demand and get his way. The move has been well orchestrated with the factions.
Rudd's eyes are on NSW, which means some inconsistencies are potentially thrown up unless other states (without its problems) follow suit. For example NSW is to impose a ban on property developers standing as candidates, unless they divest themselves of relevant interests.
While the property development problem has been specific to NSW, consistency should require that such a provision applies in the party generally.
Two questions arise from Rudd's move. Will it change the behaviour of voters? And would he, assuming he was PM or opposition leader after the election, be able to carry forward broader party reform?
Voters will welcome what's being done, but many may ask why it has taken so long, and some will have become so disillusioned that they are unlikely to be swayed. Only time (and the polls) will tell.
Rudd may put out ideas and even a pathway beforehand but achieving wider party reform is a matter for after the election It is likely to be harder than the NSW intervention, whoever is leader.
Rudd is good with the rhetoric. "The time has come to modernise the Australian Labor Party. We need to open the windows and the doors of the great Australian Labor Party to the Australian community", he told today's news conference.
"We need to give people full voice, fair opportunity. We want of course continued full participation from members of our great Australian trade unions. We must also recognise there is a broader church in Australia who must be represented within the Australian Labor movement as well."
We can see the potential difficulties, from how the reform proposals from the Faulkner/Carr/Bracks report were treated.
Rudd would probably say (privately of course) that Julia Gillard didn't strongly enough push those changes, aimed at opening up the party and empowering members.
While that's true, there are many forces of resistance to party reform (ask former leader Simon Crean), including the trade unions, when their power is affected, and the reluctance of people these days to join parties.
One of the problems with the modern Labor party is that it is a shell rather than a mass organisation and altering that seems near impossible, although giving the rank and file more say would help.
Post-election, the caucus will debate a motion put up by departing MP Steve Gibbons to allow the parliamentary party to select the frontbench (the leader would still allocate portfolios).
Rudd took away this power but later admitted that was a mistake. He should reaffirm that if he is leader after the election he will support restoring that right, in whole or part.
A more radical issue is the push for the party rank and file to be given some say in the election of the leader, a system which operates in Britain and has been advocated by some party luminaries in Australia including NSW general secretary Sam Dastyari.
Although there are potential downsides to this, the revolving door of leadership in the last three years shows it is worth serious debate, and the PM sharing his thoughts on the matter.
Rudd also should propose an early ALP national conference, to be held soon after the election, to consider broad party reform, taking advantage of whatever momentum for change comes from a loss or win.