It used to be that hosting any of the major sporting events, particularly the Olympic Games and the FIFA World Cup, would carry significant prestige. It was an honour that would help to shape the legacy of a country or city. It could be a powerful moment of national symbolism and economic transformation.
Why then, over the last few years, have many advanced Western economies decided not to bid for such major events, and in some cases, even withdrawn their proposals?
Hosting an internationally prominent sporting event invites the global spotlight, provides an injection of tourism money, and a chance for a city or a country to rebuild or develop infrastructure. However, it also brings an immense financial commitment and great risk.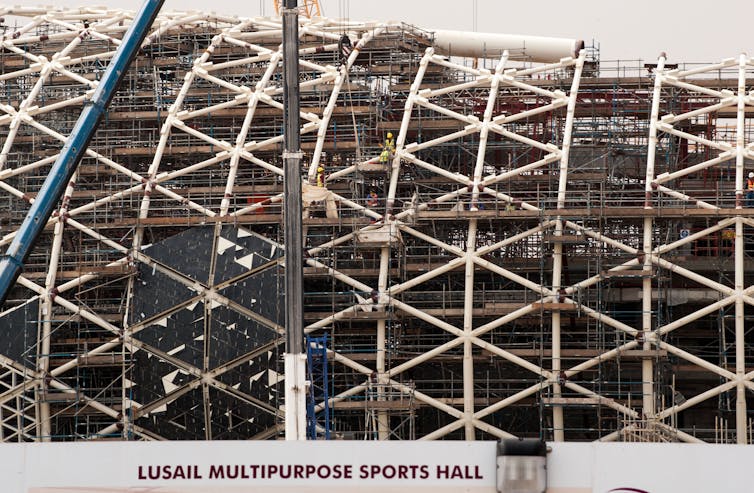 Blame it on Rio
The 2014 FIFA World Cup in Brazil came at a huge cost. It reached US$15 billion including cost overruns of at least 75% and was the most expensive in FIFA history. The cost of the 2016 Rio Summer Olympic Games was estimated at US$4.58 billion while costs overran by about 50%. Both mega-events were deemed poor investments. Brazil faced its worst recession in 25 years, there were cuts in healthcare and education and police went unpaid for weeks at a time.
Those kinds of costs have become hard to justify. The past couple of years have seen withdrawals from the bidding process by Boston, Budapest, Davos, Hamburg, Krakow, Munich, Rome and Stockholm. A lack of candidates meant the 2022 Winter Olympics was awarded to Beijing – a city not renowned as a winter sports hub. Away from the Olympics, London made a last minute decision to pull out of hosting the start of the 2017 Tour de France; less-fashionable Düsseldorf stepped in.
Emerging economies like Brazil, as well as Russia and Qatar, who will host the FIFA World Cups in 2018 and 2022 respectively, do not have the same simple economic rationale to consider. For them, such sporting events are an investment in their global positions; the cost overruns and apparent losses are in fact the price they are willing to pay for that product. The Bryan Fogel doping documentary Icarus, launched recently on Netflix, levelled accusations of just how far Russia was willing to go to acquire that prestige at the Sochi Winter Olympics.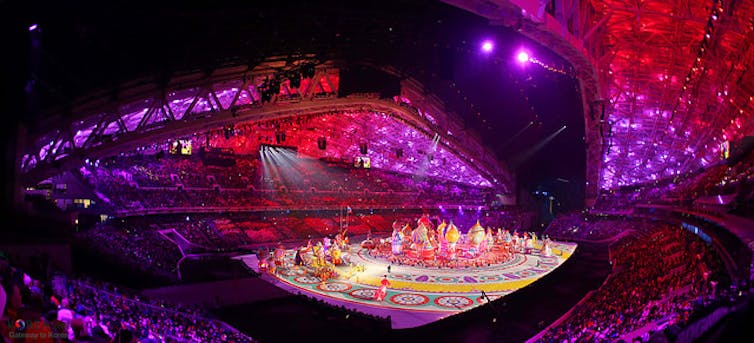 Declining allure
The Olympic Games and FIFA World Cup are attracting fewer bids, failing to hit their previous peaks, as illustrated in the chart below. You will notice a spike in bids for the 2022 Winter Olympics, which goes against the general trend, but in fact, most candidates withdrew and left Beijing and Almaty in Kazakhstan as the only candidates.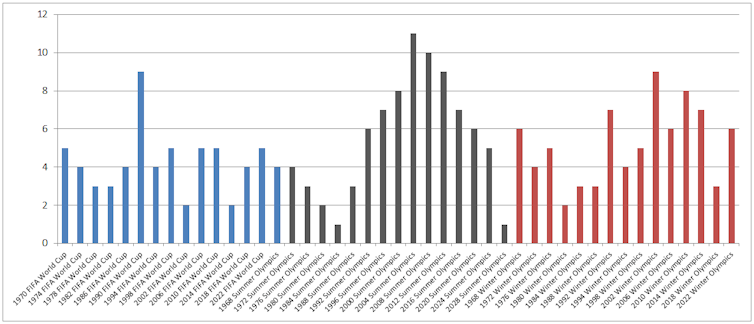 All four World Cups from 2010-2022 will be hosted by a developing nation. However, the next three summer Olympics will take place in major cities in developed economies – Tokyo, Paris and Los Angeles. So what has happened there? One explanation is that the International Olympic Committee (IOC) has been handing out concessions. Most importantly, the IOC changed its competitive process. It named the hosts for two consecutive Olympics to give bidders more preparation time. It also allowed both Paris and Los Angeles to decide the exact timing, and offered US$1.8 billion to the LA organising committee.
The IOC understood the declining appeal of hosting as it cajoled those two bidders into place. That's why it delivered the Olympics Agenda 2020, a plan intended to provide cost-saving measures and reduce the complexity of the bidding process.
So, is it worthwhile hosting such major sporting events? Looking at the Olympic Games, a study conducted by the University of Oxford found that in real terms the average cost overrun for all Olympic Games is 156%. It shouldn't be a huge surprise. Not many major projects have an absolute, unchangeable deadline for completion. That can ramp up costs as the opening ceremony approaches and money gets thrown at any remaining problems.

The same study established that the 2012 London Summer Olympics was the most costly Olympics at US$15 billion. The 1976 Montreal Summer Games showed the highest cost overrun at 720%. The table below demonstrates that the Olympic Games from 1968 to 2016 (summer and winter) have all encountered significant cost overruns.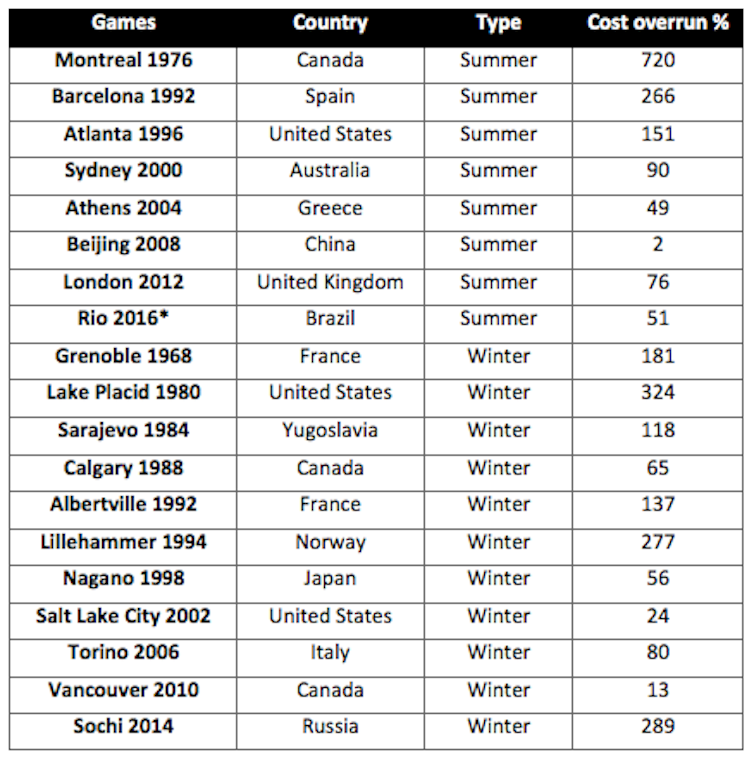 Emerging powers
The decline in enthusiasm for hosting mega-events has several driving factors. Crucial among them is the fragility of economies after the global financial crisis, and the growing inequality in the distribution of wealth and income. That brings increased cynicism around major sporting projects which need vast funding, and this is particularly true when there is no genuine guarantee of substantial, discernible benefits for taxpayers.
It used to be that everyone was playing the same game; countries would compete for the bragging rights and pay little attention to economic rationality or infrastructure legacy. But now, the countries that can most easily justify the risk are those with the most to gain on the world stage, rather than those with the deepest pockets. Russia and Qatar do not need to turn a profit, but they do want a stronger voice in global affairs.
For developing economies, mega-event hosting is motivated by globalisation and soft power. China and South Africa recently showed that it can be an exceptional opportunity to devise a new brand identity to both their local citizenry and global audience. The updating of your global image, however, can hit some obstacles. Both Russia and Qatar are hoping they will end up projecting an image of modern and advancing nation-states, but for now they are still saddled with the negative impression created by corruption and bribery accusations.