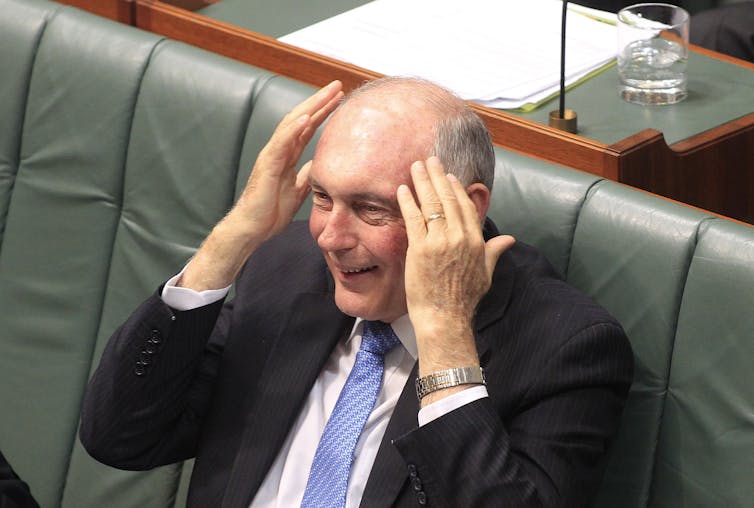 While most in the big end of town are relieved at the Abbott government's arrival, Holden is getting more than the cold shoulder. The Coalition is aggressively taking on the car maker that has its hand out.
Today saw a major tussle, as government frustration escalates at Holden's refusal to say whether it intends to cut and run from Australia.
Appearing before the Productivity Commission's inquiry into the car industry this morning, Holden chief Mike Devereux said General Motors had made no decision on its future in Australia; he also declined to say when it would do so.
This is despite reports that the company's head office has already settled on pulling out. The Wall Street Journal reported this week that according to people in the know "GM intends to close its two Australian plants and separately slash production in South Korea by as much as 20% by 2016".
On Friday Tony Abbott tried to flush out the company, urging it to stop keeping everyone on "tenterhooks".
In Question Time today acting Prime Minister Warren Truss increased the pressure, declaring he had written to Devereux in the wake of his PC appearance.
The letter is tough. "I note your statement today that 'there's been no decision made at this point'. However, your comments failed to provide a commitment that Holden will remain in Australia well into the future," Truss wrote.
"Instead, your comments merely confirmed that a decision to end manufacturing in Australia remains a live option and has not been ruled out.
"As you will be aware, this growing uncertainty is impacting on Holden's workers, their families and the supply chain.
"It is the Australian government's view that GM Holden must immediately provide a clear explanation of its future intentions and explain what its plans are for its Australian manufacturing operations.
"An immediate clarification of GM Holden's future plans is needed to end the uncertainty for Holden's workforce, its suppliers and the people of Australia."
In his letter Truss noted that through the Automotive Transformation Scheme, more than $1 billion had been made available to the industry in recent years, with another $1 billion there between 2015 and 2020. The Coalition had also scrapped Labor's $1.8 billion change to FBT arrangements that would have hit the industry.
At the PC hearing, Devereux would not be specific about what further assistance the company would need. The government knew, he indicated.
"The budgetary cost … of losing this industry would dwarf the cost of keeping it," he told the hearing.
"We need a public/private partnership over the long term to be able to be relatively competitive and to have GM be able to do what it wants to do which is build where we sell."
Holden claims the $1.8 billion of federal money it got in the past decade has led to $33 billion in "economic activity" and $127 million a year of PAYE taxes.
In face of the government's demand for Holden to come clean, Labor says it should be the other way round. "How are they able to actually make a call on their future plans when the government refuses to reveal its plans?" said former industry minister Kim Carr in the Senate today.
The debate about Holden's future is another early test of the "dries" within the government and, after a big rebuff on the ADM bid for GrainCorp, they are clearly winning this one. Having Abbott on Friday say without qualification that there would not be extra money for the industry was critical. He is locked in.
Industry Minister Ian Macfarlane remains a voice for Holden but colleagues appear to have their hands over their ears.
Treasurer Joe Hockey told Parliament there were "a hell of a lot of industries in Australia that would love to get the assistance the motor vehicle industry gets", including foreign owned businesses that would love to be able to remit taxpayer money to their head offices.
The language is significant. The Coalition is not talking about the car industry or Holden as iconic or even vital, as politicians have been wont to do (and some still are). Hockey's reference to Australian taxpayers' money going abroad was pointed.
Holden's shilly shallying about its intentions is also making it easier for the government to push the company onto the back foot. While the government's motive is to try to shift blame, it is also not unreasonable for it to seek greater transparency, as the PC sought.
That the government has set up the PC inquiry but has now pre-empted it (with Abbott's comments) is less than best practice in how to make policy. On the other hand, it would be a turn up if the PC recommended new handouts.
If Holden does announce it is going, following Mitsubishi in 2008 and Ford's 2016 manufacturing shutdown, there will be a backlash against the government. The issue's timing generally is awkward given the March election in South Australia, where the car industry is crucial
But on a longer view, it would be better to take the pain earlier than later, after yet more money was poured in to no avail.
Listen to Shadow Treasurer Chris Bowen on the Politics with Michelle Grattan podcast, available below, by rss and on iTunes.