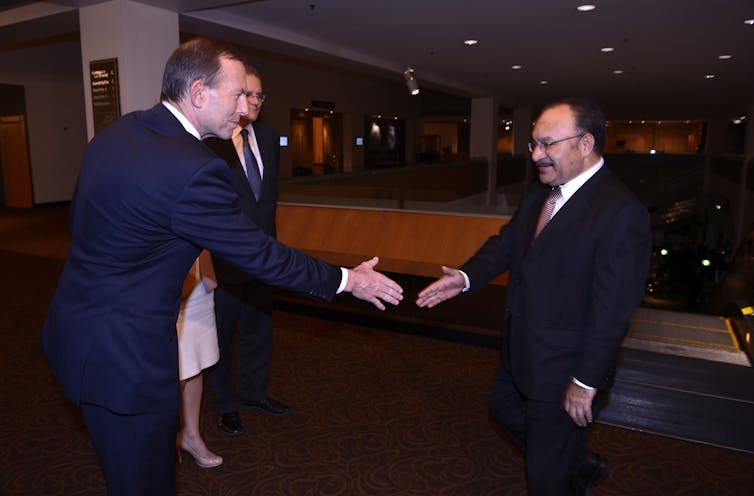 If anyone doubts the shambles into which Australia's asylum seeker policy has descended, consider this. Boat people sent to Manus Island under an earlier attempted "solution" have now been removed to make room for those who will go there under the PNG "solution".
Kevin Rudd's drastic plan to stop the boats will only be able to be properly judged in retrospect. If it works it will be seen as a bold and brilliant initiative. But, getting on for a week after its announcement, no one has any certainly whether it will achieve its objective or fail disastrously.
Boats are still coming – and there has been another tragedy off Indonesia with people drowned – but then you would not have expected an instant cessation.
If the deterrent fails, the consequences don't bear thinking about. Failure will cost a fortune, lead to internal problems in PNG and tensions between PNG and Australia, and force a search for a fresh solution - one for PNG as well.
In those circumstances, Australia would be condemned internationally for treating people appallingly without being able to argue that a successful end justified unfortunate means.
The implementation problems are obvious. The health checks of those who are to be sent to Manus take a couple of weeks – it will be about another 10 days before people are dispatched. And they won't include women and children. These limitations dilute the initial deterrent.
The Manus centre has modest capacity and building more (and setting up centres elsewhere in PNG) will take time. If there is an overflow and more people can't be sent, the deterrent will be weakened.
Remember the government had quickly to stop sending people to Nauru and Manus previously because of lack of room, and that was one reason why the resort to an offshore solution didn't have the desired effect.
Immigration Minister Tony Burke, charged with trying to make this policy operational, now also has to get to the bottom of allegations by a former security officer at Manus that rape and other abuses occurred there. There are claims of similar behaviour on Nauru.
While the government scrambles to deliver its announced policy, opposition leader Tony Abbott finds himself in a minefield on an issue that used to be mostly safe territory for him.
Rudd accuses Abbott of undermining the message and aiding the people smugglers by questioning the policy. It's a try on by Rudd, but the charge holds dangers for Abbott in the present climate.
Newspoll found the public was marking the government up on its ability to handle the asylum seeker issue and marking the Coalition down. The Australian reported the move had lifted Labor's credibility on dealing with boat arrivals to its highest since Julia Gillard announced her East Timor solution (an attempted fix before the 2010 election that later came to nothing).
Yesterday, after the Coalition had suggested that the Australian government had handed a blank cheque to PNG and ceded control over how the proposed aid money was to be spent, PNG lashed out at Abbott.
The PNG High Commissioner issued a sharp statement in which he "warned Australian politicians to observe international protocols and courtesies when discussing relations with other friendly sovereign nations and not impugn the dignity of our leaders who are attempting to assist Australia in this very complex issue of asylum seekers".
PNG Prime Minister Peter O'Neill, who disputes the interpretation the opposition has put on his comments about PNG setting priorities for the aid money in the deal, expressed "disappointment" at the way Australian politicians were carrying on the debate. O'Neill has accused the opposition of misrepresenting what he said in private discussions with it when he was in Australia last week.
"I don't see why we should be dragged into a debate that is now taking a new twist to represent individual interest and political interest in Australia", he said. "We are here resolving Australia's problem.
"We are not going to put up with this kind of nonsense. … Try and be respectful", he said.
"It does not matter who comes into power. This issue will remain to be discussed and implemented, whether it is Coalition or Labor. And as a result they will have to deal with us and let us deal with it in a respectful manner towards each other."
The sensitivities of PNG are understandable, especially as the arrangement is potentially difficult for the government there.
Equally, on the cusp of an election campaign, of course Abbott has a right to criticise or question aspects of the policy – especially as he would inherit the agreement and would be faced with accepting, modifying or repudiating it. But it is hazardous territory for him.
We do not have details of many aspects including estimated costs of looking after the asylum seekers and the aid package Australia is providing.
Presumably Rudd is buying more time so the required savings can be found (to put in the economic statement the government proposes), but terms and conditions of the deal, as well as costs and offsets should be provided fully and as soon as possible.