Only recently have government and family violence services had access to data specifically on economic abuse. We analysed ABS data that identifies, for the first time, the extent of economic abuse in Australia. We established that disability, health status and financial stress were significantly associated with economic abuse, especially for women.
Our research revealed that 15.7% of women and 7.1% of men had experienced economic abuse in their lifetimes. We also found that 63% of women who were experiencing high financial stress and 24% of women with a disability or long-term health condition had a history of economic abuse, compared to the population average of 15.7%.
What is economic abuse?
Economic abuse is a hidden form of intimate partner abuse. Victims are often unaware it is happening – until they are in the process of separation and divorce, or are experiencing severe financial stress. Economic abuse occurs between intimate partners when one controls or manipulates the other person's access to finances, assets and decision-making to create dependence and control.
It is a powerful abuse tactic, which leaves victims financially incapacitated — a major reason why people don't leave abusive or violent relationships. Economic abuse is recognised as a form of family violence in law in Victoria, South Australia, Tasmania and the Northern Territory.
Where are the data hiding?
The Australian Bureau of Statistics interviewed 17,050 women and men in Australia in 2012 about their experiences of violence in the community and in their homes. For the first time, data included items that measured economic abuse, but these were hidden in the emotional abuse statistics. The ABS defined economic abuse when a partner:
stopped or tried to stop you knowing about or having access to household money
stopped or tried to stop you from working, earning money, or studying
deprived you of basic necessities (such as food, shelter, sleep, assistive aids)
Damaged, destroyed or stole any of your property.
We included an additional important item:
stopped or tried to stop you from using the telephone, internet or family car.
Prevalence rates fluctuate depending how it is measured. For example, a recent report in the UK found that 35% of British adults had experienced economic abuse. The researchers used 31 items (such as "I have to ask my partner's permission before I make a purchase" or "My partner has fraudulently put debts in my name").
Compare that to data from Canada, which showed 3% of women and 2% of men reported experiencing economic abuse. In that survey, three items were used (your partner or ex-partner damaged or destroyed your possessions or property; prevented you from knowing about or having access to the family income even if you asked; forced you to give him or her your money, possessions or property).
Despite these measurement advancements, the ABS data do not include items on debt generation or being coerced to sign contracts or be guarantor. These are common tactics of economic abuse. The research also fails to include cohabitating relationships, which excludes young adults not yet living together and "live apart together" relationships. These two facts alone likely result in an underestimate of the prevalence of economic abuse.
But the ABS did ask respondents if these tactics were used to "prevent or control your behaviour with the intent to cause you emotional harm or fear". This caveat is important as economic abuse, like other forms of intimate partner violence, is a pattern of behaviour, which often starts with seemingly innocuous or caring behaviours, for example: "Don't worry, I'll look after all the banking." Victims often don't recognise financial control in their relationship as abuse.
We found that of the 15.7% of women and 7.1% of men who experienced economic abuse in their lifetimes, the risk peaked between the ages of 40 and 49. In this age group, 20.9% of women and 10.3% of men reported economic abuse. We see that prevalence is halved among 18-to-29-year-olds, but this is likely to be an underestimate.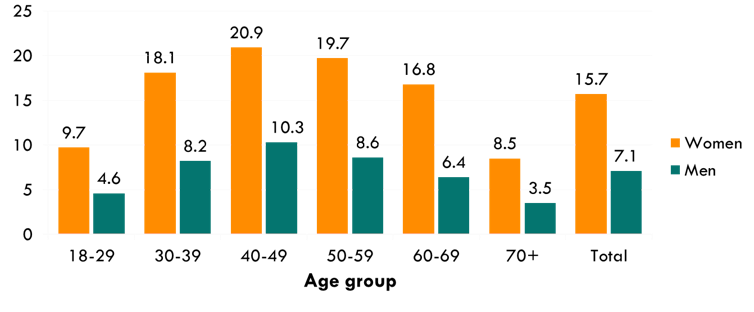 We were also interested in which factors were significantly associated with economic abuse for men and for women. We included marital status, education level, employment status, personal income, health status and disability status. We also included experiences of emotional abuse or physical violence in a relationship. We had access to markers of financial stress (for example, being unable to pay bills) and financial resilience (whether they could raise A$2,000 in an emergency).
Financial stress and disability status associated with economic abuse
We found that 63% of women who were experiencing high financial stress and 24% of women who had a disability or long-term health condition had a history of economic abuse, compared to the population average of 15.7%. This was even after we controlled for other factors, including divorce/separation status and history of other forms of relationship abuse. Economic abuse, for men, was only associated with a history of intimate partner emotional or physical violence.
Unmasking the hidden problem: role of banks, welfare and health services
This study points to the need for banks, credit providers, utilities, housing and welfare services to be acutely aware that when customers present with financial problems, there is a significant chance of underlying economic abuse.
Our previous research has highlighted the ways in which the banking sector and financial literacy programs can minimise the impact of economic abuse and family violence. Particular attention should be given to people with disabilities or long-term health conditions. They are more vulnerable to intimate partner violence and economic abuse.
Subtle abuse subtle interventions
Interviews with practitioners confirmed that women are not aware that debt generated in their name (for example) is a form of intimate partner violence. Young people in particular were unaware of the risk.
There are significant challenges for prevention strategies. Victims are unlikely to see themselves as victims, and are unlikely to identify with domestic violence services or websites unless other forms of abuse are occurring.
Our research is now specifically investigating the experiences of economic abuse in young adults (18 to 29 years old). Experts have identified that they are particularly vulnerable, but they may hold the key to insights for the development of intervention and prevention strategies.
---
Are you aged 18 to 29 years and would like to tell your story of economic abuse? To find out more about this research project please contact jozica.kutin@rmit.edu.au
For support and information about economic abuse and other forms of family violence contact 1800 RESPECT (1800 737 732).