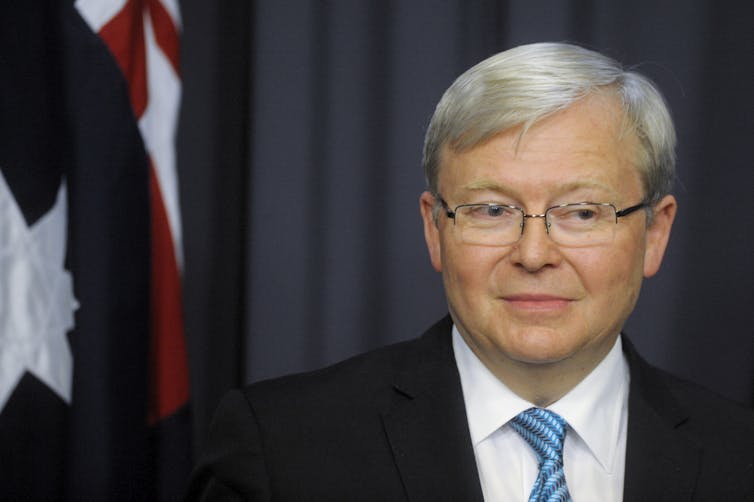 Kevin Rudd is a one-time diplomat and a former foreign minister. He knows the significance of precise wording. So his line today about Tony Abbott and Indonesia was startling.
Answering a question at his first full news conference after returning to the prime ministership, Rudd said that he wondered whether Abbott, with his turn-back-the-boats policy, was "trying to risk some sort of conflict with Indonesia".
"Conflict" is a very strong term. What did he mean? Asked to clarify, he said: "I'm talking about diplomatic conflict but I'm always wary about… where such things go … you really need to have some pretty cool hands on the tiller when you're dealing with the Indonesia relationship".
He conjured up the image of Day 1 when "Field Marshal Tony" put out the order to the captain of an Australian naval frigate to turn back a bunch of boats, with an Indonesian naval frigate on "the other side of the equation".
"I'm simply putting a spotlight on a direct policy conflict", he said.
He threw in a qualifier - that he was not suggesting Abbott would intentionally put the relationship at risk - but his aim was to present Abbott as a loose cannon who can't be trusted with delicate international matters. He was raising a big scare.
Convincing people he can get the boat inflow – which his policy helped restart - under control when Julia Gillard failed is one of Rudd's most difficult challenges. In western Sydney in particular, this has been a killer issue.
His approach will be at least threefold.
Redefine the problem as particularly one of stopping people who are seeking a better life (economic refugees) rather than fleeing persecution. Foreign Minister Bob Carr started this during the week.
Second, talk to Indonesia about what more could be done.
And third, raise the scare about Abbott.
The opposition was predictably outraged. But it had got a glimpse of how toughly Rudd, despite his exhortation that political discourse needs to be elevated, will fight.
He will be trying to put the frighteners on across a suite of issues. Industrial relations of course. But today the second scare was economic – the danger of Abbott taking us into recession.
Invoking the British experience of austerity, he said: "If Mr Abbott adopts that approach, as he and his economic spokesmen have said they will, let me say this very bluntly: he will tip Australia into recession and bring about significant unemployment". (For the record, shadow treasurer Joe Hockey has said the Coalition would not embrace "austerity" policies.)
Rudd seems set to adopt a "whatever it takes" approach to the coming election.
But there are dangers - if he goes too far, he forfeits his credibility. Also he risks muddying the positive image he is trying to project.
While he targeted Abbott, Rudd also used his news conference to say something about himself. Believe it or not – some colleagues will remain sceptical – he's become a team man, a much more consultative leader second time around. He is talking to colleagues constantly, and cabinet will be involved in most decisions.This is to counter those claims (featured in Liberal advertising) that he was a control freak and egomaniac when PM before.
"If I have learnt one thing from my previous period as prime minister [it] is the absolute importance of proper orderly consultation with cabinet colleagues on any major decision of the government".
Asked about his preference for moving to a floating carbon price more quickly than the present timetable, he said he was "very mindful of due process. I want to discuss this fully with the cabinet, including the budget implications".
With all due consultation, Rudd needs to change the carbon policy to at least partially neutralise Abbott's promise to scrap the tax. If he brought forward the float of the price from the proposed mid-2015, the Australian price would fall from its present high to the very modest European level.
There are two problems though. The budget would be hit, and unless parliament were recalled to change the present model (not a good idea), the new policy could only be a promise at the election.
One announcement Rudd did make was a fortnight extension (from this weekend) of the school funding negotiations.
This is more significant than it sounds, because it signals Rudd is now committed to this reform, after there had been some doubt about his stand.
He said he would talk with the Victorian, Queensland and Tasmanian premiers and the NT chief minister (he neglected to specifically mention WA but this seems to have been inadvertent). Victoria has asked for more money; Rudd said "I'm a reasonable guy" although "the parameters for variation are very, very narrow".
Rudd is putting himself under some pressure here. Does he think he can be a more effective negotiator than Julia Gillard - that he would be able to get at least Tasmania and Victoria on board? There is a feeling in the Labor camp that the premiers might be more malleable if the polls show Rudd doing well.
Unlike carbon pricing where Rudd will recast policy, the school funding policy is being presented as a continuum between the Gillard and Rudd governments.
If Rudd can't land key premiers, he might calculate that he can turn the funding issue to Abbott's disadvantage in the campaign, especially as the NSW Liberal government would lose out if an Abbott government failed to honour the agreement Barry O'Farrell signed with Gillard.
Meanwhile, Rudd has to appoint a schools minister to help with the fine print. Peter Garrett, a few days ago in the middle of the negotiations, has left the frontbench and is heading out of Parliament at the election.
It must strike even Rudd, who never lacks self-confidence, as more than slightly odd to have to enter the Gonski game, where the play is well advanced, with a minister (yet to be named) who is also just coming onto the field. But that's how things are in Canberra, with an election just around the corner.