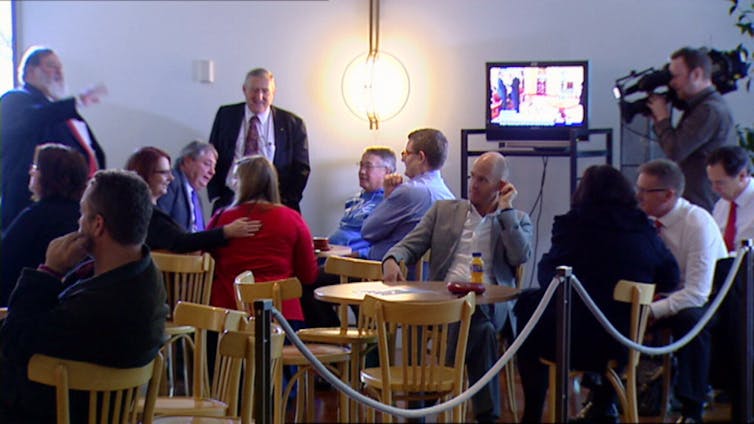 Julia Gillard's legendary resilience was on display the morning after the night before, when she put in an appearance at Parliament House's bustling coffee shop.
It wasn't all bad, she told supporters - now she had the opportunity to hang out at "Aussies".
Soon the dumped prime minister was joined by former treasurer and close ally Wayne Swan, who'd abandoned his blue tie for a blue hoodie. Above their table was a TV set - showing pictures from Government House of the new prime minister being sworn in.
Around the ministerial wing, the boxes were being brought in to pack up the files and personal possessions of not just the former PM but no fewer than six ministers who have quit in the leadership tussle.
A swag of ministerial staff will be scrambling for jobs with incoming ministers, expected to be announced tomorrow, or looking for work outside Parliament House.
Gillard's controversial Scottish communications advisor John McTernan, who has been a high profile target for the Rudd forces, plans to stay in Australia for the immediate future. He doesn't anticipate being called on by the Labor Party (though he would be happy to help), but will be looking to do some work as a political commentator. McTernan is famously on a 457 visa, so presumably he'll have to sort out new arrangements now that he has parted company with his employer.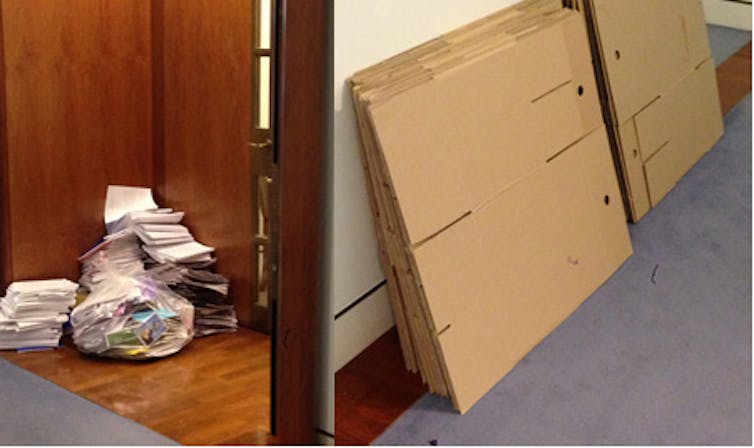 At noon in the House of Representatives the new (or recycled) PM talked about the contributions of Gillard and Swan.
"I acknowledge [Gillard's] great achievements in taking the Fair Work Act through the parliament. I acknowledge her great achievements in bringing in a national scheme for the testing of literacy and numeracy across the Australian school system," Rudd said.
He canvassed Gillard's "great achievements in delivering better funding for Australian schools" and her "great work as a standard bearer for women in our country".
When it came to Swan - from whom Rudd is deeply estranged - the PM stressed a dual effort.
"I would also like to acknowledge the work that the former Treasurer did with me to prevent this country from rolling into global economic recession," he said. "I acknowledge the strong work done by the former Treasurer in assisting me and other members of the Cabinet in dealing with that crisis."
Swan's place as Treasurer has now been taken by Chris Bowen, one of Rudd's main numbers men, who in March was packing boxes after quitting the ministry following the bungled leadership coup. The ultimate example of the cliche that "whatever goes around comes around."
Rudd referred to the hardness of political life and told MPs they should remember that "we are all human beings… so let us try, just try, to be a little kinder and gentler with each other in the further deliberations of this parliament."
The kinder, gentler line has been something of a refrain from various players in this hung parliament, which has seen more preaching than practising of it.
In reply Tony Abbott, who said politics was sometimes far more brutal than it needed to be, quickly homed in on Rudd's praise for Gillard, whom the opposition leader said should have been dealt with by the Australian people in the election not by the faceless men in the caucus.
"If the former Prime Minister's achievement is as substantial as her replacement has just indicated he believes, why was she dragged down last night? That is the explanation that the Prime Minister owes us - he owes it to the Australian people."
With Rudd having adequate crossbench support, the opposition didn't even try to bring out a no confidence notion.
The agony and anger of last night is still heavily with many caucus members.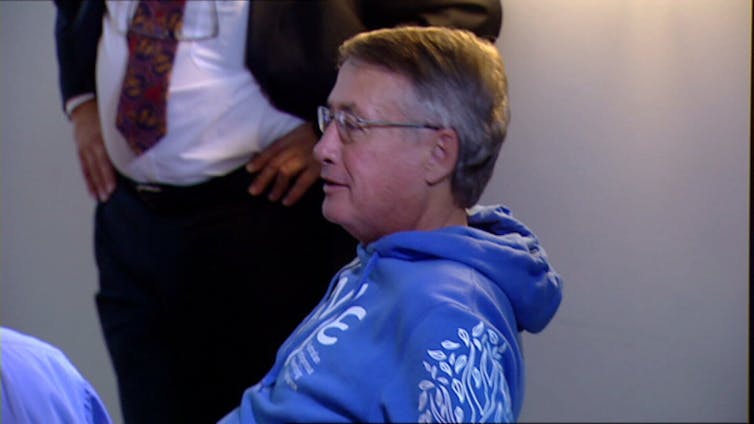 Finance Minister Penny Wong, who switched her backing from Gillard to Rudd, told the ABC Gillard had been "a great Labor champion" and had also "changed the nation" as our first female prime minister.
"She is also a friend. But, ultimately, I had to weigh that personal loyalty against loyalty to the Labor Party and to the people we represent. I had to decide who I thought would offer the best contest at the election.
"So, yesterday, I made the personal decision that I could no longer support Prime Minister Gillard. I met with her to advise her of that fact and it was the most difficult decision of my political life," Wong said.
Wong would not go into detail about how Gillard had responded but said that "she always, including in that conversation, demonstrated enormous dignity and enormous class".
Resources Minister Gary Gray, who before the challenge was one of Gillard's most vocal supporters, is staying on in the ministry but he remains angry about what has happened.
In his ABC interview, he acknowledged he'd said Rudd "can't govern" because he didn't have the courage and strength needed. "I did say those things," he said. But "I now have to deal with a reality and the reality is that my caucus colleagues have spoken.
"A new Prime Minister has been appointed by the Labor Caucus and I have the responsibility to make a decision. I have made that decision and Kevin has asked me to stay in the portfolios that I currently serve in and I will do that."
His earlier comments had been "heartfelt" - made in the "heat of anger and frustration".
Lashing out at some colleagues Gray said; "I think the internal behaviours of some in our Caucus over recent years have been simply beneath contempt."
It is generally acknowledged that Rudd regained the prime ministership primarily because caucus members believe he will be a much more appealing campaigner than Gillard. But paradoxically, Gray believes the change will harm rather than help him in his marginal Western Australian seat.
Asked if he thought he had a better chance of holding Brand he said; "I think I have a worse chance. Not because of the leadership of Kevin Rudd, but because I have made clear to my constituents my strong support of Julia Gillard, so I know that position will create a massive local difficulty for me."
"Having said that, I have to get on with the practical pragmatic business of helping the Government be as good as it can be."
In parliament, independent Rob Oakeshott revealed in his valedictory speech that he had sent a text to Gillard just before the caucus vote. It said: "Your father would be proud of you".
As indeed he would have. Especially of the way in which she has handled defeat.