Ryanair has had the week from hell. The budget airline has cancelled around 2,000 flights, affecting up to 400,000 passengers, and unleashing a wave of terrible headlines and withering commentary. But how did such an unexpected, unprecedented drama come seemingly out of the blue for one of the world's fastest-growing and most profitable airlines?
It must be salt in the wound for Ryanair CEO Michael O'Leary that this has come in the fourth year of his flagship "Always Getting Better" programme which promised revolutionary change to fix "the things our customers don't like". Mass cancellations may well be on that list now.
Customer service improvements included allocated seating, a new website and app, new crew uniforms, and a range of family products which, within the first three years, have been credited with delivering a 50% increase in passenger numbers and positioning the carrier as Europe's biggest, carrying 120m passengers. The share price improved by two thirds over the same period.
A wing and a prayer
Backing up this commitment to customer service and explosive growth, the airline ordered 175 Boeing 737-800 aircraft in 2013 at a cost of some US$16 billion. A year later, it placed a US$22 billion order for up to 200 new Boeing 737 Max 200 aircraft. This so-called "gamechanger" plane fitted an eight extra seats per aircraft, an innovation seemingly valued at US$1m per plane per year in revenue. All told, it was a massive investment that will result in a fleet of 520 by 2024 with an annual capacity of 150m passengers.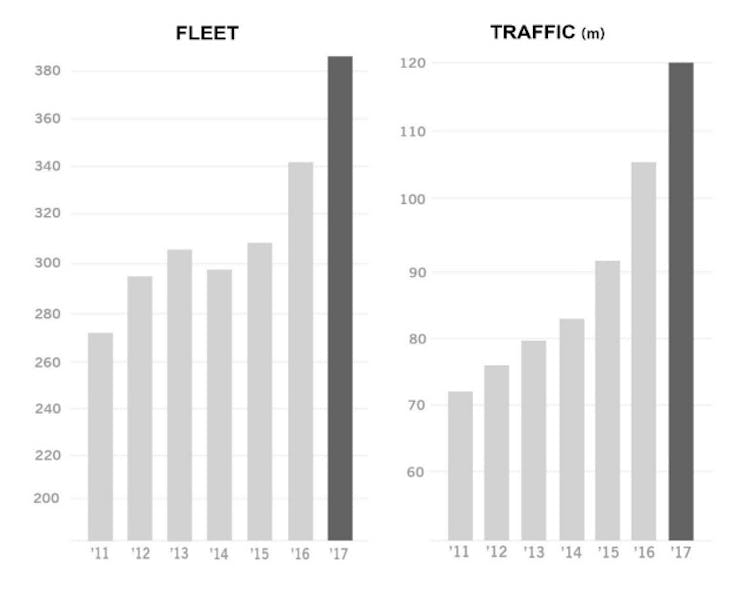 O'Leary announced record annual profits of €1.3 billion at the end of May and proclaimed at the time:
We have seen profitability double … over a three-year period and frankly I see no reason why that trend won't continue.
But there has always been some turbulence in the air.
Apology accepted?
Earlier this month, the European Court of Justice (ECJ) ruled that Ryanair could no longer handle all employee dispute resolution through the Irish courts, regardless of where staff were employed. Ryanair attempted to calm investor nerves about the impact of that, but analysts predicted the ruling could increase the carrier's cost base by 5% (the equivalent of about €100m by 2019).
This news was quickly overshadowed by the announcement of the flight cancellations, but certainly contributed to the market reaction, which saw some €1.4 billion wiped off the company value within a few days.
Ryanair's mea culpa was (eventually) full and frank. The firm accepted that it had "messed up". It attributed the cancellations to a regulatory change in pilot and cabin crew annual leave arrangements requiring a transition from an April-to-March year, to a calendar year system. However, competitors pointed to an exodus of Ryanair pilots to fellow budget airline Norwegian Air Shuttle. A brief war of words between the two firms highlighted the tension of the last few days and added an intriguing look at how competitive the industry has become.
Relations between O'Leary and his pilots have not been all sweetness and light, least of all when he described pilots in general as "glorified taxi drivers". On September 21, he announced at the firm's AGM he could reclaim one week of pilots' annual leave in order to reduce further flight cancellations. The pilots have yet to respond, but it is unlikely to improve a deteriorating relationship.
Whatever the issues which forced Ryanair's hand, there is little doubting the huge impact on customers. A failure to publish the list of cancelled flights at the same time as the cancellation announcement led to considerable anger and inconvenience. One Irish Member of the European Parliament even wondered if Ryanair was in breach of the EU's Unfair Commercial Practices Directive.
Booked customers were left not knowing if their flight would operate and prospective customers unsure if they should make a booking at all. O'Leary, at least, is used to putting out fires, and was soon back to apologise again, acknowledge the reputational damage and accept the affair would cost some €25m.
He also claimed that there would be no recurrence; a claim which he could not stand by just a few days later. The frustration here for many is that the resourcing issues described by the airline could have been identified some time ago. One analyst described Ryanair's explanation as "football manager excuses".
All this makes the company's response to the ECJ ruling all the more difficult to accept, particularly given its effect on the share price. The Irish Travel Agents Association said on RTE radio that the resourcing issue has been known about for years and should have been addressed sooner. UK Aviation Minister Martin Callanan, has weighed in to demand full compensation for passengers.
There has been no word yet from the Irish Aviation Authority, which is responsible for issuing Air Operator Certificates. It also audits operators on a regular basis for "competence and adequacy of resources in areas such as management and organisational structure, crew training, aircraft maintenance, flight planning and support". What it makes of Ryanair will make for interesting reading.
One thing is clear in this fast-moving story. The pilots are not laying down for the boss. Pilots at 30 of the company's 80 European bases rejected a £12,000 bonus to work extra days. Instead, they want an answer to concerns over working conditions. It may be that Ryanair was blinkered as it rode the crest of a wave of eye-catching plane orders and passenger growth. It should be a warning to other airlines that if you are chasing rapid expansion, the people in the cockpit need to be taken along for the ride.