Less than two days before meeting with the Premiers at the Council of Australian Governments (COAG), Prime Minister Malcolm Turnbull lobbed an innovative idea on the table.
The Federal government would cease funding for public schools, but continue supporting non-government schools.
But the fact that an idea is innovative does not make it worthwhile.
This proposal appears to be a response to a budgetary problem, not a way to improve educational outcomes. It is just not clear what educational problem it is intended to fix.
If the Prime Minister had proposed that all funding would run through one level of government, we would have an interesting debate on our hands. (In practice, only states could feasibly do this, since Canberra has neither the will nor the skill to run or oversee the 10,000 schools spread across Australia.)
But this is not the proposal he has taken to COAG.
Instead, he is proposing to stop federal funding to government schools, shifting $5 billion off the books of the federal budget, in return for giving states a share of income tax.
The kicker is that he does not trust states with non-government schools, and wants Canberra to keep control.
Given how this has been introduced, do he and education minister Simon Birmingham really expect states to keep chipping in the $3 billion they spend each year on non-government schools?
Dale Kerrigan in the great Australian battler movie The Castle would have an answer: "tell 'em they're dreamin'".
What is the situation today?
There is no doubt that Australia has educational problems.
In the last month alone, major concerns have been raised about the effectiveness of Australian schooling from the right, the left, and the centre.
The OECD also weighed in last week. Referring to the international PISA tests, OECD education director Andreas Schleicher said:
"Australia has lost a lot of students with very good results, it's very significant this round and I think that's something to really think about."
Something must change
The history of school funding in Australia is long, complex and messy.
Many saw the 2011 Gonski Review of Funding for Schooling as a new beginning, with its focus on needs-based, sector-blind funding for all students.
But the "unity ticket" declared by the then opposition leader Tony Abbott before the election was not to last.
As of today, each of the school sectors receives different levels of funding from federal and state governments, as well as private funding.
The $50 billion government spend on schools in 2013-14 was split about 70:30 between states and territories (A$36 billion) and the Federal government ($14 billion).
The split differs by school sector: the federal government funds only 13% of the $38 billion spent on government schools, but 74% of the $12 billion that governments spend on non-government schools.
Even worse, the deals and the details are different in each state and territory.
Funding of Australian schools is an opaque mess.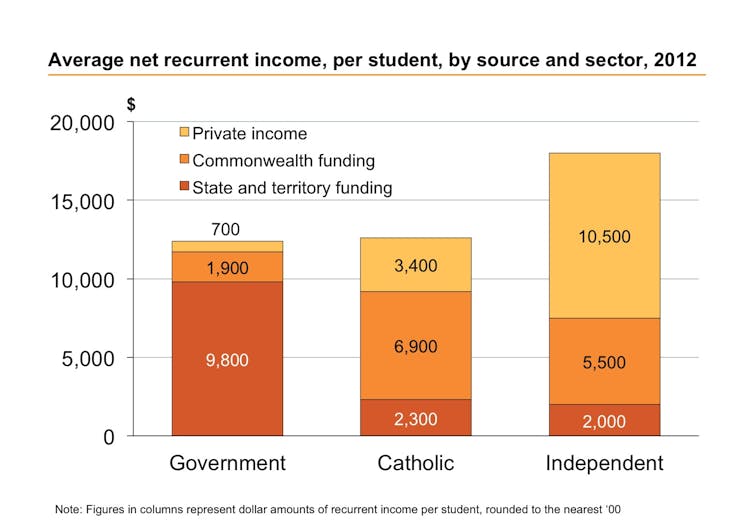 What impact would divided funding have?
The proposal has been introduced too suddenly for a full analysis. But here are some of the early arguments.
Improving accountability
The education minister has claimed that the new arrangements would improve accountability. States deliver education services. Giving them responsibility to raise the revenue for schooling might mean they make more effective spending decisions.
This holds some weight, and would definitely hold true if one level of government had responsibility for all education funding as well as managing schools. But this is not what is on the table. In fact, accountability would be more divided than before, and cooperation between sectors would be even harder.
Allocating resources
Resource allocation will also be harder than today. Effective spending decisions means channelling resources to where they will make the biggest difference. But in the new model, each level of government will have an incomplete picture of which students are thriving, and which are struggling.
Relying on federal-state relations for priority setting and allocating resources is very dangerous. Coordinating eight different state and territory funding approaches with a national formula for non-government schools will be an administrative nightmare. Or perhaps coordinating funding decisions is not even on the table, a more terrifying thought.
Warped incentives
Bizarre incentives arise when different levels of government support different school systems. State governments would save money if students moved out of government schools. The federal government could cut costs if more students went into the government system.
Bureaucracy backfire?
Worst of all is if the premiers call the PM's bluff, leaving Canberra to fully-fund non-government schools.
Given Turnbull is signalling that states can't be trusted to act in the interests of the non-government sector, why wouldn't they?
State governments might then step back from regulating non-government schools (for example, teacher registration or accrediting new schools), given they provide no funding.
Canberra would have to pick up the pieces, ending up with more bureaucracy rather than less. This would be a terrible outcome. Federal policy makers know little about regulating service delivery.
This is not education reform
There is no chance of sector-neutral funding decisions under the proposed arrangements. The model is deeply divisive. Even as the government says it supports needs-based funding, the hope created by the Gonski report would be dead, buried, and cremated.
The proposed split funding arrangement is not education reform. It has big risks, and few if any clear benefits.
It looks like nothing more than a cost shifting exercise by a federal government in desperate need of fiscal repair. It distracts from the main game: increasing learning progress for all students.
School education is an investment, not just a cost
High-performing countries view education as an investment, not as a cost. This proposal appears to take the opposite view. But it is penny-wise, pound-foolish.
Failing to educate all young Australians will have a much higher cost in future.