The speech lasted 70-odd minutes and was interrupted at least 70 times, mostly by standing ovations from supporters, but also from occasional interjections from less sympathetic lawmakers.
There was also policy to dissect in President Joe Biden's State of the Union address. Some of it was new, much of it wasn't – which meant that The Conversation was able to pull from its archives articles that shed light on and provide context and analysis to some of Biden's proposals. Here are what scholars had to say on three policy themes that emerged.
1. Reforming the police
Biden may well have been planning to push for police reform in the State of the Union address before the recent release of footage showing police officers fatally beating Tyre Nichols. But that incident – the latest in a series of high-profile deaths of Black men at the hands of police – has again shined a light on the failure to address systemic problems in the nation's policing.
In front of an audience that included Nichols' mother and stepfather, the president called on Congress to "finish the job on police reform," while referencing the George Floyd Justice in Policing Act – a bill that failed to pass into law amid gridlock in Congress.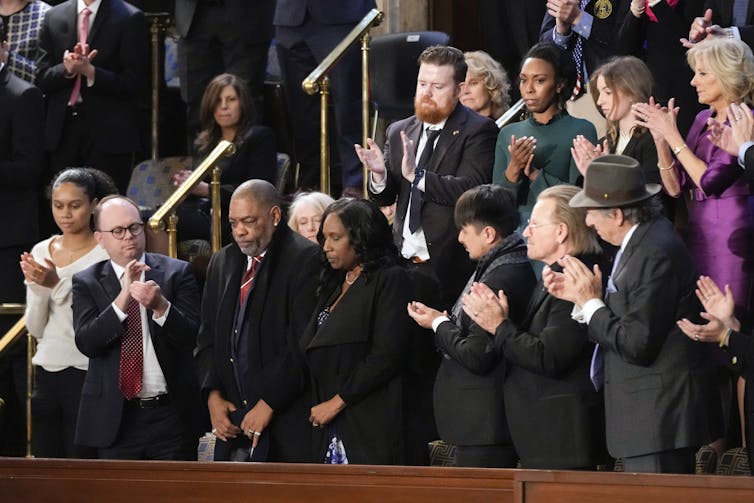 The bill would have addressed some of the problems of U.S. policing. It includes a ban on racial profiling by all law enforcement agencies and an end to the "qualified immunity" that protects officers in civil lawsuits. It would also expand the powers of the Justice Department to hold departments to account over civil rights violations.
But, as Alexis Karteron, associate professor of law at Rutgers University – Newark, notes, it isn't a sufficient fix. The problem is the federal government has only limited power when it comes to effecting change among the nearly 18,000 police departments in the U.S.
"For those looking to the federal government to solve what's wrong with policing in America, federal legislation can't ensure that every police department will make meaningful changes. That's because the [George Floyd Justice in Policing Act] reflects the hard reality that the federal government has almost no control over state and local police departments," Karteron writes. She adds that even if it is passed, the likelihood is some of those agencies would sue, "arguing that the federal government is attempting to coerce them into adopting policy reforms they do not need or want."
Which is why some policing experts, such as Thaddeus L. Johnson and Natasha N. Johnson at Georgia State University, have suggested that reform is best undertaken at a local level. That would leave the federal government to play "a clear role in regard to financing reform and addressing nonpolicing issues that contribute to crime, such as underlying poverty and the lack of green spaces."
Federal money could also help police departments recruit and train police officers. Biden in 2022, announced plans to add 100,000 officers nationwide as part of his policing plan. Research from criminologists Ian T. Adams of the University of South Carolina, Justin Nix of the University of Nebraska Omaha, and University of Utah's Scott M. Mourtgos suggests that adding officers would help reverse a trend that has seen many leave the profession since the protests that followed George Floyd's death. In Memphis, where Tyre Nichols was killed, police staffing has dropped by nearly a quarter in recent years.
---
Read more: Tyre Nichols' death prompts calls for federal legislation to promote police reform – but Congress can't do much about fixing local police
---
---
Read more: Federal police reform talks have failed – but local efforts stand a better chance of success
---
---
Read more: Memphis police numbers dropped by nearly a quarter in recent years – were staffing shortages a factor in the killing of Tyre Nichols?
---
2. Tightening gun controls
The State of the Union comes just 38 days into the new year, but already there have been 60 mass shootings in the U.S., according to the nonprofit Gun Violence Archive. Brandon Tsay, who disarmed the gunman at the Jan. 21, 2023 deadly attack at Monterey Park, California, was among the attendees in Congress to hear Biden speak.
Biden detailed what his administration was able to do to promote gun control, notably through provisions contained in the Safer Communities Act. Hailed by Biden as "the most sweeping gun safety law in three decades," the act was limited in scope, but experts believe its modest reforms will save lives.
Among other provisions, it gives support to states to pass so-called "red flag laws" that allow authorities to seize the firearms of individuals deemed to be a threat. Political scientist John A. Tures of LaGrange College has examined the effectiveness of red flag laws.
He found that states that passed such legislation saw significantly lower firearm death rates than states without them.
"In 2020, if there were no red flag laws, I estimate that 52,530 Americans would have died in gun deaths. The number actually recorded was 45,222, indicating red flag laws saved 7,308 American lives that year," Tures writes.
Lives – mainly female ones – will also be saved by the closing of the "boyfriend loophole," which had allowed some people with a record of domestic violence to keep and buy firearms. The Safer Communities Act extended the wording in a federal ban to "those who have or have had a continuing relationship of a romantic or intimate nature." April Zeoli at Michigan State University writes that closing the boyfriend loophole will save lives. But she notes in a separate article that recent court rulings may allow domestic abusers to keep their guns.
Meanwhile, Biden called for a ban on assault weapons "once and for all." Such a ban once existed but was allowed to lapse. But do bans on assault rifles work? Yes, writes Michael J. Klein of New York University, who was part of a team that analyzed the impact of the federal ban on assault rifles in place for a decade from 1994.
"We calculated that the risk of a person in the U.S. dying in a mass shooting was 70% lower during the period in which the assault weapons ban was active," he writes.
---
Read more: Red flag laws saved 7,300 Americans from gun deaths in 2020 alone – and could have saved 11,400 more
---
---
Read more: Will closing the 'boyfriend loophole' in gun legislation save lives? Here's what the research says
---
---
Read more: A judge in Texas is using a recent Supreme Court ruling to allow domestic abusers to keep their guns
---
---
Read more: Did the assault weapons ban of 1994 bring down mass shootings? Here's what the data tells us
---
3. Taxing the rich?
Biden came to the State of the Union armed with economic data showing robust job growth and evidence that once-soaring inflation is beginning to fall.
With the United States' increasing national debt as a backdrop, Biden outlined a plan to boost government revenues through a minimum tax for billionaires and a quadrupling of the tax on corporate stock buybacks.
Even if Republicans in Congress were to approve the measures, it is unlikely to set a course for a new era of progressive taxation. As Gabriel Zucman and Emmanuel Saez, economists at the University of California, Berkeley, explain, similar plans eyed by Democrats in recent years hardly amount to squeezing the uber-rich; in fact, they do little to reverse the decadeslong trend toward regressive taxation, in which lower earners pay a larger percentage of their earnings in tax than wealthier ones.
The two economists conclude that although it would "increase taxes on millionaires significantly," the 2021 proposal put forward by Democrats would "largely leave billionaires off the hook, despite the explosion of their wealth during the pandemic."
---
Read more: 'Tax the rich'? Democrats' plans to make the wealthy pay a little more will barely dent America's long slide from progressive taxation
---
Editor's note: This story is a roundup of articles from The Conversation's archives.