A Japanese messaging app called Line has filed for an initial public offering (IPO) valued at nearly US$10 billion. For an app almost unknown outside Japan it's an audacious move. However, messaging is there simply to suck you into Line's mobile world, where the real profits are made. Unlike its rivals, it is already making good money, and its potential is obvious.
Last year, Line was the world's highest grossing mobile app aside from games such as Candy Crush and Angry Birds. Considering its revenue comes almost entirely from Japan, this is an impressive achievement. So what does Line do differently?
The messenger itself doesn't look like the poster child for innovative apps. Instant messaging apps have existed for a long time and WhatsApp, Viber and BBM are all much more familiar to audiences outside Japan. In many respects the app appears to just be a "cute" imitation of these other instant messaging systems.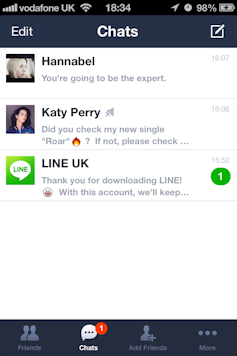 This initial similarity places Line in good company. WhatsApp, with slightly more active users, was bought by Facebook earlier this year for US$19 billion. Viber, with fewer users than Line, was bought for US$900m.
Both WhatsApp and Viber were bought by online giants who saw messaging as a way to harvest data and extend their commercial reach. But, equally, other messaging apps exist with totally different business models including Surespot, offered under an open source license and promoted as donationware, or Telegram an open source encrypted messaging app which runs cryptographic challenges with rewards for hackers who manage to intercept messages.
Below the Line
What makes Line's business model so different, and the answer to why it could be worth US$ 10 billion, is revealed by clicking on the on the app's "More" menu. The "sticker shop", "theme shop", "games", "Line apps" and "official accounts" are all part of an extensive range of opportunities to extract payments from Line users.
So here is the recipe for Line's success. Combine a closed ecosystem with potential for add-ons (similar to that used by Facebook) with some social sharing and gifting between users, while focusing on some key "teen" interests to keep the cool kids on board. Deliver this all within a mobile app that accesses a lot of your personal info and that can, almost coincidentally, send messages and you have yourself a US$10 billion company.
Looking through the other apps developed by Line a clear model emerges. Free extensions include games, mini-avatars, stickers, camera and even an anti-virus application. The majority of these open up still more options for in-app purchases with the actual cost of any purchase (on the Android version at least) further obscured by the in-app currency "Line Coins". The documentation of costs is minimal with very few web pages actually putting a price onto items or the coins themselves. In Line-land, everyone is on a cruise ship.
While its messaging rivals are driven by advertising and subscriptions, Line more closely resembles the "freemium" model employed by gaming app developer King where games are free but users pay in-app for extra lives. Just as addictive games such as Candy Crush lock players into King's ecosystem, so Line users are attracted by the messaging and stick around to buy some extras.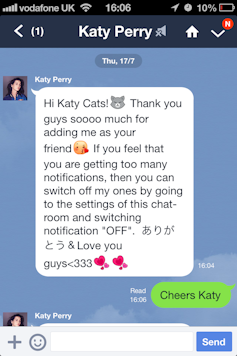 The focus on teen interests is evident throughout Line. The "Official Accounts" option lets you add Paul McCartney to your contact list along with 9m others and visit his official Line account and its 38 posts. However, the choices are limited with only 8 other official accounts including Katy Perry, Rafa Nadal and FC Barcelona. At this stage "Official Accounts" appear as a statement of sentiment rather than a fully populated feature of the app.
The "theme shop" allows purchases of a Snoopy, Mickey Mouse or Stitch theme and the "sticker shop" also offers Doraemon, Frozen and SpongeBob Squarepants characters. This sets the general tone for the app and begs the question of whether US$10 billion will cover all the image rights bills from Disney and MTV.
The public offering comes at a good time. A general enthusiasm for mobile firms, and the still emerging business principles of m-commerce, mean Line will almost certainly succeed in securing support for its IPO.
Line's potential success as an app, however, lies in its ability to deliver an ecosystem for in-app purchases rather than any real need for yet another instant messaging app. When you finally succumb and download Line because everyone else is using it, it will most definitely look very different.