Oscars nominations and winners this year offered an unparalleled level of racial diversity. In the headline categories, Lupita Nyong'o won for Best Supporting Actress, Alfonso Cuarón was the first Mexican to be nominated and the first Latino to win Best Director, for Gravity, and 12 Years A Slave was the first film with a black director – Steve McQueen – or producer to win Best Picture.
In addition, Chiwetel Ejiofor and Barkhad Abdi were nominated for Best Actor and Best Supporting Actor.
But looking back over the history of the Academy Awards reveals an industry that is dominated by white men. Minorities are badly under-represented in the "top six" categories of Best Actor and Actress, Best Supporting Actor and Actress, Best Picture, and Best Director.
Who makes the best pictures?
Cuarón was the first winning Latino in the Best Director category. Steve McQueen would have been the first black man to win, had he done so. Of the four Asian directors, all male, who have received nominations, only Ang Lee has won. Kathryn Bigelow was the first woman to win the category in 2008, and only the fourth nominated. Given these figures, it is perhaps not surprising that no woman of colour has ever been nominated.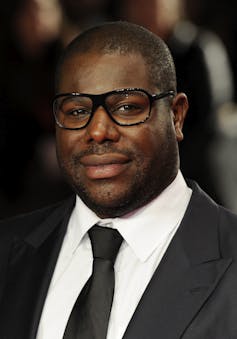 No film with a female producer of colour has been so much as nominated for Best Picture. Only four with either a male black producer or director have ever been nominated, including 12 Years a Slave.
In the gender-specific acting categories, Hattie MacDaniel was the first black woman to win Best Supporting Actress in 1939 for Gone With the Wind. It took 51 years until the next: Whoopi Goldberg for Ghost (1990).
Halle Berry was the first, and to date only, woman of colour to win Best Actress, in 2001.
Black men entered the Best Actor winners list much later, with Sidney Poitier in 1963 for Lillies of the Field, although they have had more success overall with three later winners.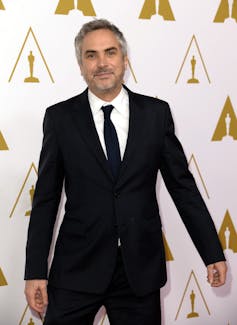 This year is the 86th time that the Oscars have been awarded. This snapshot given makes for stark if not necessarily startling reading.
The numbers of women and people of colour who are nominated and win reflect the composition of Academy – and the industry it represents – far better than they do the movie-going public. A 2012 Los Angeles Times report found that 94% of Academy members were Caucasian, and 77% were male. In the past two years, the Academy has made moves to improve the diversity of its membership.
In 2013, Cheryl Boone Isaacs, an African American woman, was elected president. She has been quoted as saying:
the Academy has really pushed forward, and I know my election is part of this … a recognition of the diversity that has been able to rise.
At the Oscars, Boone spoke of the future of the Academy, mentioning its "increasingly diverse and global membership." According to an update of the Los Angeles Times study, the members in 2012 and 2013 were more diverse than in earlier years: 69% in both years were male, with median ages of 50 and 49 respectively, while 87% in 2012 and 82% in 2013 were white. Overall, membership is still 93% Caucasian and 76% male, while the average age increased from 62 to 63.
Host Ellen DeGeneres joked at the start of this year's ceremony: "Possibility number one: 12 Years A Slave wins. Possibility number two: you're all racists," before announcing "our first white presenter".
It would be overly simplistic, and unfair, to suggest that the overwhelming dominance of white male winners and nominees can be explained by white male Academy members consciously and deliberately vote for other white males. Rather, what these figures show is that America is, in reality, far from the equitable post-race society it likes to see itself as.
Women and racial minorities do not, overall, have the same opportunities that white men do. Breaking into a highly competitive industry is never easy, but when that industry is historically white and male it is easier if you are both.
Awards such as the Oscars, Golden Globes, and BAFTAs claim to recognise the "best" cinematic offerings and contributions of the year. But "best" is always a subjective judgment, as Cate Blanchett acknowledged in her acceptance speech for Best Actress, and it ignores the structures of culture and industry which exclude minorities.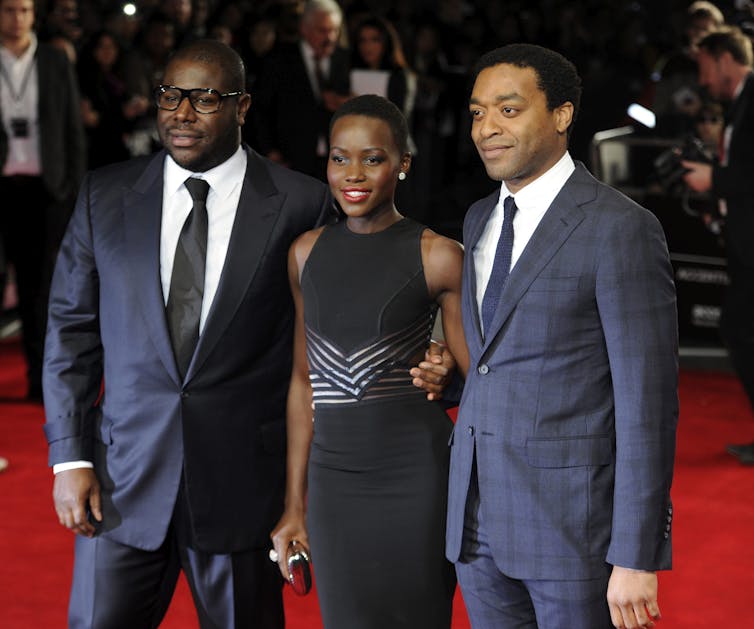 The Oscars and the Academy that awards them are a product of US culture, society, and history, but they are global news, and have lessons for us whether or not Australians win, as Cate Blanchett and Catherine Martin did this year.
Australian screens are dominated by Hollywood products, and the Oscars are much bigger news here than any local award ceremony. Australians, like Americans, want to see their country as a place of equal opportunities, where talent and determination count for more than an individual's race, gender, class, or religion when it comes to fulfilling one's dreams.
Nominations, and successes such as those of Nyong'o, Cuarón and 12 Years A Slave are important, not only because they recognise the talents of the individuals, but also because they are beacons of hope for the future. But taken out of context they can mask underlying issues.
Looking again at the nominations in this year's top six categories, only Cuarón and Abdi were not part of 12 Years A Slave. Without that single movie, the picture would be very different.
At the end of her acceptance speech, Nyong'o said:
let this little statue be a reminder to me and every little child, that no matter where you are from, your dreams are valid.
Everyone's dreams are valid, but the history of the Oscars is a reminder that not everyone faces the same hurdles fulfilling them.
See further Oscars 2014 coverage on The Conversation.