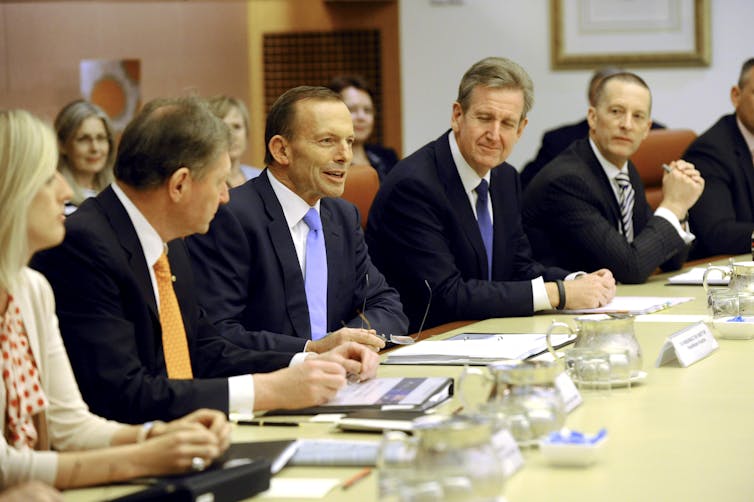 Kevin Rudd cast the Council of Australian governments as the workhorse of the federation. For Tony Abbott it is more of a hacking pony, good to have but with relatively light duties.
Abbott's first COAG was overshadowed by the Holden announcement and the demands for large scale assistance from the Victorian and South Australian premiers. The federal government will respond early in the week, with cabinet on Monday considering a package.
Despite the public attention on Holden, the COAG meeting and its communique gave a clear sense of the priorities of Abbott and his government.
The standard joint news conference was preceded by a signing ceremony to implement "one stop shops" for environmental consideration for projects. When this system is fully operating, the states will handle not just the assessment part of the process but approvals as well. Not surprisingly, there are concerns from the environment lobby at so much state power.
The agreements are part of the attempt to reduce "green" tape but also reflect Abbott's view of how federalism should work. (Note that he went through a "centralist" phase when and after he was a minister in the Howard government but he's over that now.)
The approach was spelled out at the start of the communique. The states "are sovereign in their own sphere. They should be able to get on with delivering on their responsibilities, with appropriate accountability and without unnecessary interference from the Commonwealth."
COAG is not to get too deeply into the weeds. "In future, COAG will focus on a few important national priorities, and on outcomes rather than process."
Abbott wants to be known as the "infrastructure prime minister" and COAG is on the job. It asked for "urgent" work on how to speed up the delivery of projects (including fast-tracking planning approvals), advice on the next major transport reforms, ways to boost private sector investment in projects, and how to give priority to projects that increase productivity and growth.
Abbott's determination to try to make a difference in indigenous affairs came out strongly; he is focusing on getting children to attend school every day. He told the news conference: "We all know that for far too long, too many excuses have been made for indigenous kids in particular not being at school. This must stop. It must stop soon."
There are to be some tough measures involving both shaming and direct enforcement, including publishing twice-yearly data on school attendance for all students broken down by indigenous and non-indigenous; truancy officers, and spot audits.
COAG's councils are to be shrunk in number from 22 to eight): federal financial relations; disability reform; transport and infrastructure; energy; industry and skills; law, crime and community safety; education; and health. Indigenous affairs and deregulation are to be in the terms of reference of each of them, and considered directly by COAG as standing items, reflecting the importance the government attaches to them. COAG itself will meet twice a year.
Abbott has used COAG to reaffirm that his controversial, generous paid parental leave scheme will go ahead on July 1, 2015. State public servants are to be covered by it; the federal government says the states won't be left worse off under the new arrangements.
On one crucial issue, a big danger sign has gone up. The costs for the national disability insurance scheme are blowing out.
Abbott reaffirmed the strong general support for the scheme. But he also stressed it must be sustainable.
The "launch" sites have been renamed "trials", with the emphasis on lessons to be learned. Disability ministers will report in March on progress with the trials, "including options to improve the implementation of the scheme and ensure the scheme operates on insurance principles to deliver positive outcomes for people with disability in a fiscally sustainable way".
It's early days, but the signs are there that this could become a problem area over the next couple of years, regardless of its bipartisan support.
Listen to the Politics with Michelle Grattan podcast, available below, on rss and iTunes.