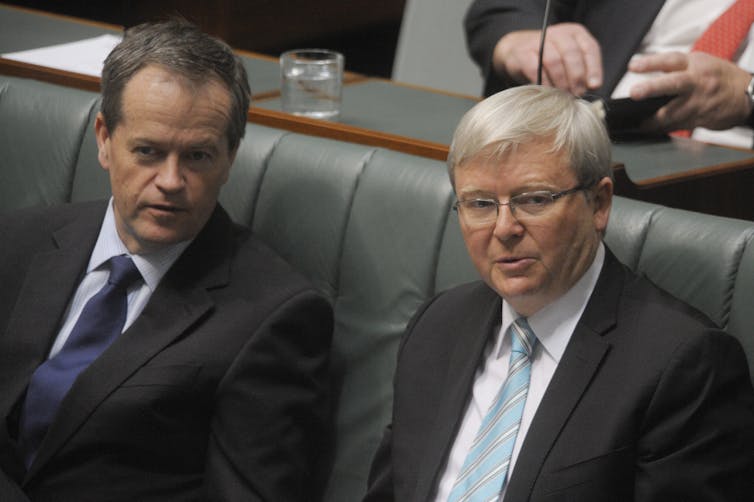 The government this week is inching forward in its battle to get sign ups to its Better Schools plan – aka Gonski – but it still needs support from Victoria and the Catholics for the great leap that would make a real difference.
Education minister Bill Shorten and his Victorian counterpart Martin Dixon had their second round of talks today and a third is planned. With the fast-approaching formal Sunday deadline, it's a game of give and take with a lot at stake.
Today Shorten won support from the Independent Schools Council of Australia. The federal opposition quickly pointed out that under the legislation passed before parliament rose, these schools get their earmarked money anyway. But that's not the point.
To have the council backing the plan and giving reassurance is significant. Its executive director Bill Daniels said the commitment that no school will be worse off compared to their 2013 government funding had been built into the calculations of the new model. Such a comment limits the opposition's scope for scare campaigning.
Shorten is still working on the Catholics – today he met Ross Fox, the executive director of the National Catholic Education Commission and Stephen Elder, from its Melbourne office.
What some players do is affected by the actions of others. The Victorian government is more likely to be amenable if the Catholics as well as the independents are on board.
Shorten has his negotiating reputation in the spotlight. If Victoria can be persuaded to sign – and it's line ball - Kevin Rudd would have the two biggest states, strengthening his position on an important issue in the election campaign.
Queensland has shown no indication of real interest in a deal – even basic negotiations have been hampered by Campbell Newman being away - but it becomes less important if Victoria is won over. Western Australia has said it won't sign before the election.
Today's agreement with the ISCA follows the Labor state of Tasmania signing on yesterday. It joined NSW, South Australia and the ACT.
Rudd, meanwhile, was trying to round up the Northern Territory while he was in Darwin - his frustration was obvious. "I don't know what is going on up here, but in previous times, if the prime minister of Australia came to Darwin and said, 'I want to invest $300 million in your schools', it would take about 45 seconds to get an immediate and positive response".
The schools plan, even without Victoria, has become a deeper problem for the opposition now that Rudd and Shorten have replaced Julia Gillard and Peter Garrett.
The opposition's position is that it won't honour the agreements if the plan doesn't win overwhelming support (though how, given the Senate's composition, it could unwind the deals now enshrined in legislation is hard to see).
Given Rudd's campaigning skills, it looks a politically risky pitch, especially when it would mean repudiating the O'Farrell Coalition government.
But Abbott was undeterred today. "We've said that we don't think there's anything fundamentally wrong with the existing system. We will keep the existing system until we are confident that there is a better system to replace it and until we're confident that it is affordable."
His education spokesman Christopher Pyne took to playing the man, issuing a press release headed "Who can trust Backstabbing Bill?"
The opposition, however, would be unwise to think it can just bluster its way through on schools.
In this week's Essential poll, people were asked what Labor policies Rudd should dump, keep or change. On the Gonski education reforms, 44% said keep them, only 15% wanted them dumped, and 16% said they should be changed (the don't knows were 25%).
The Rudd government will be hoping Victoria might see a message for it in those figures.